As ever, our residents have been busy across all of our care homes, enjoying activities and celebrations. Here's a look back at some highlights from May.
Celebrations at Alton care home for resident's milestone 100th birthday
At our Alton-based residential care home, The Lawn, resident Frederick Bowpitt (known as Bill) had a lovely day marking his milestone 100th birthday. Celebrating his Centenarian Day, Bill enjoyed a packed day of celebrations.
Find out how he celebrated and more about his life here.
Emergency respite care supports family in need

Redcot care home in Haslemere, Surrey recently answered an emergency immediate assistance call from a family who were extremely anxious to find a respite stay for their mother.
The family of 82-year-old Felicity contacted Jan Daly, Care Home Manager at Redcot to see if they had capacity and availability to care for Felicity on an immediate respite basis.
Read Felicity's experience here.
Malvern care home residents help to plan surprise party
Elaine Banks is Care Home Manager at Bradbury Court, one of our three Malvern care homes. Specialising in dementia care, Elaine is a much-loved member of the team, frequently going above and beyond for residents and staff.
To show their appreciation, the care home organised a roaring surprise 40th birthday party for Elaine to mark her special day!
Find out more about our Malvern care homes here.
Retired nurses celebrate International Nurses Day
RNNH care home welcomes everyone, but retains a strong link to its nursing history. With this proud link in mind, residents and staff had a wonderful day celebrating International Nurses Day.
One resident who joined the celebrations was herself a nurse and has been at RNNH for 15 years!
Read more about our Bournemouth care home here.
Dementia Action Week highlights key services
During Dementia Action Week (17 – 23 May) we were proud to highlight some of our key services for older people living with dementia.
We shared fantastic tips from our Woking Day Care Manager Fran, as well as heartwarming stories from our care homes. To end the week, we congratulated our two newest Dementia Champions at Malvern Day Care and Kidderminster Day Care Centres. They recently received their certificate after completing their training. Well done Linda and Julie!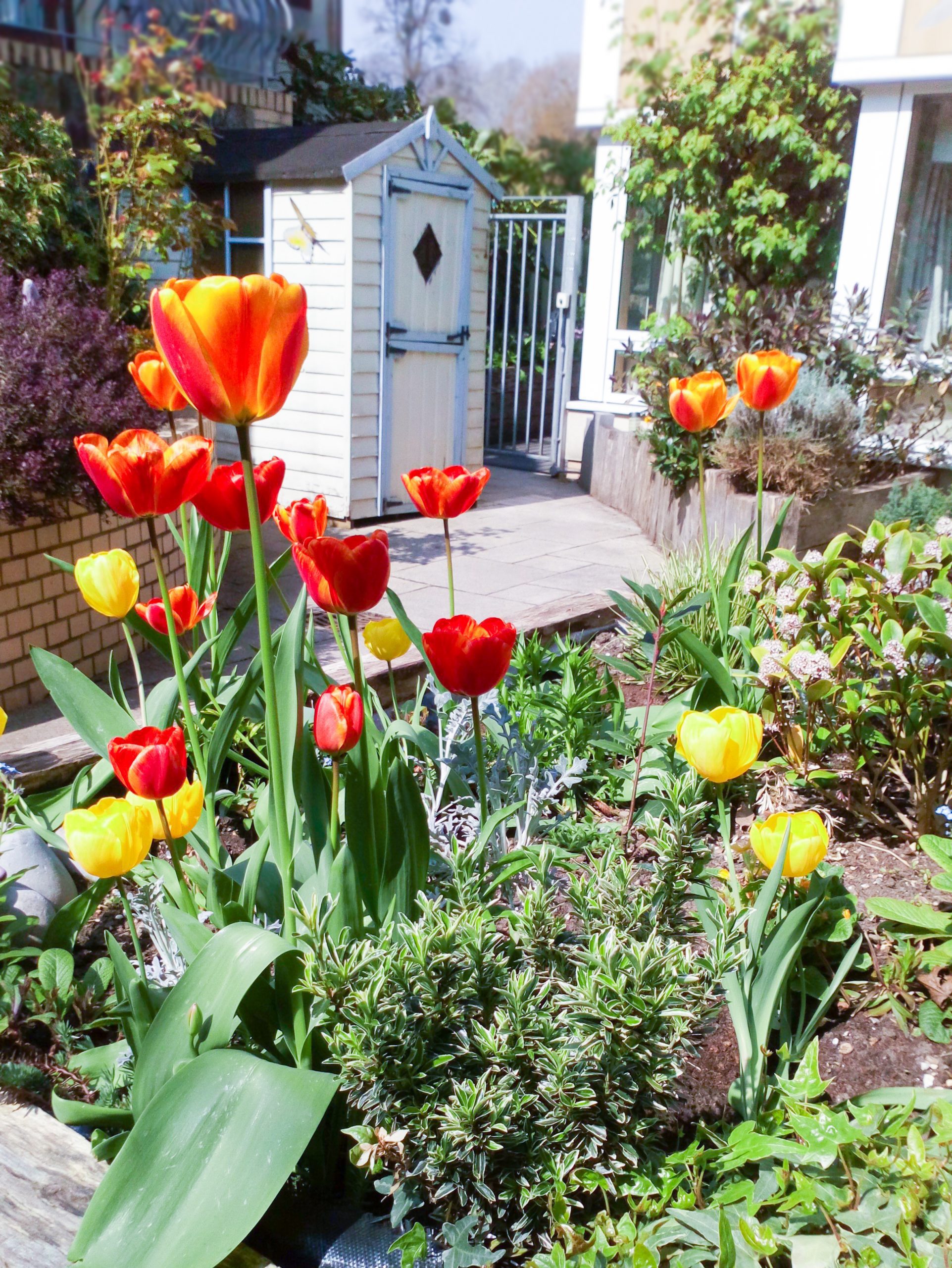 Bulbs-a-bloom at Bradbury Court care home
Bradbury Court care home resident's hard work planting bulbs and tending the gardens has certainly paid off! The patio area is looking absolutely stunning is and is the perfect place to sit and enjoy the nice weather.
Find out more about our Malvern care homes here.