Friends of the Elderly Goes The Extra Mile For Its Residents, Their Families and Staff.
Friends of the Elderly, the charity which runs care homes and services for older people throughout England, has continued to put the mental and physical health and well being of its residents and staff at the heart of all its activities during this unprecedented time.
Building on the success of its existing #MessageofSupport campaign, Friends of the Elderly is going that extra mile and focusing on the little things it does that have a positive and meaningful impact on the daily lives of its residents and staff, ensuring they are connected to families, loved ones and their local communities, whilst maintaining the highest quality of care during the lockdown period.
'It's the little things…' is a creative two-way communication designed by Friends of the Elderly to help its residents, care home teams, families and friends to keep in touch while they are missing each other. The platform allows them to express their own 'little things' as a way of sharing their love and affection whilst at the same time, looking towards the future and what they are looking forward to doing – together as lockdown eases.
Head of Marcomms at Friends of the Elderly, Jessica Stone said: "'It's the little things …' is giving our residents, their families, our care home staff and volunteers a way to share positive messages, keeping them connected during these difficult times. We believe 'It's the little things…' is a lovely way for everyone to express the little things that matter the most to them about each other; their happy moments, love, appreciation and gratitude to show how much we all value each other and are looking forward to spending time together again."
 Andy Cumper, Manager at the Bernard Sunley Care Home in Woking said: "As part of 'It's the little things…' we have created a virtual church service with the help of our local Vicar. As we are unable to have the Vicar physically visit the home every Friday as before, we felt many residents were missing this activity for their spiritual wellbeing. Now, we are able to livestream the service into all lounge areas every Friday for the residents to enjoy."

At New Copford Place in Colchester, the team has rolled Wi-Fi out within the home and set-up Skype on all the tablets. The Skype sessions are part of the weekly activity planners to ensure that residents are able to have a personal Skype session with their families. Whilst at The Old Vicarage Care Home in Wallingford, Oxfordshire, the activity staff team has kept the residents motivated and celebrated VE Day, The Queen's Coronation and Birthday, alongside holding a Picnic Week and a cheese and wine evening.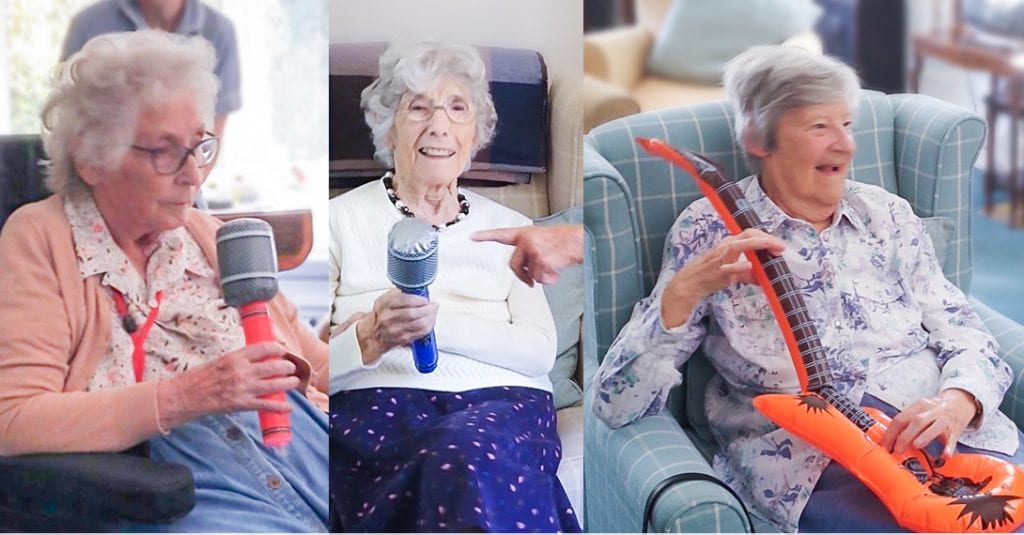 Over in Haslemere, the team at Redcot Care Home has continued with their varied programme of activities including craft time, gardening and music sessions, with the sing-along gatherings using the home's Alexa which have proven to be very popular indeed!
At The Lawn Care Home in Alton, residents have been enjoying regular quiz afternoons and at Little Bramingham Farm in Luton, two singers have performed in the courtyard since lockdown which lifted everyone's mood and the residents celebrated Mother's Day with pink Cava and flowers.
In Bournemouth at the Retired Nurses National Home, the residents have made and sent greetings cards to their relatives and friends, and a pen-pal letter exchange has been set-up between a number of the residents and volunteers, a local cub scout group and a Duke of Edinburgh Award student.
Whilst in Worcestershire, the three care homes in Malvern – Davenham, Bradbury Court and Perrins House – lots of activities have been happening. A highlight has been the pop-up hairdressers 'Selena's Salon' that was created by staff so that residents can get their hair done. Plus, staff have been helping residents to make regular video calls and FaceTime chats helping them to keep in contact with their families and loved ones.
At Orford House in Coulsdon, Surrey, Care Manager Roxanne Webb said: "Our whole team has been involved in taking the residents out for short walks around our grounds. We've also ensured good communication between our residents and their families. This has been done over the phone or via the Facebook portal. We relay messages back and forth and it reminds our residents that they have families who love them."
Care Home team members have also been praised by residents and family members. Commenting on the Care Home Team at Bradbury Court, one family member said: "Their selfless professionalism, compassion and kindness is amazing. From our experience they have a total understanding of the very difficult position that residents' relatives are in at present and we have been completely reassured that they are doing everything possible to keep everyone safe. We are very appreciative and grateful for all they are doing."
The Management Team at Friends of the Elderly is also supporting all its teams through this difficult time. They have ensured that all care homes have good stocks of PPE equipment, have held weekly update video calls, set-up a Hardship Fund for staff, offered counselling services, arranged for pop-up shops for staff and they have also surprised the teams with gifts and treats.
A member of staff at Bernard Sunley Care Home said: "During lockdown, Andy our Home Manager has taken all measures to keep everyone safe. There is always plenty of PPE available and he's kept staff morale up – even treating us to pizzas on a Monday. Above all that, our residents' wellbeing is his top priority, he is constantly coming up with great ideas on how to keep our residents active and entertained."
Carol Bourne, the manager at The Old Vicarage said: "For me personally, I think Friends of the Elderly deserves a medal. I cannot stress how much support I have been given during this difficult time."
For further information, please contact: Press Office, Friends of the Elderly. Phone: 020 7881 1151 Email: pressoffice@fote.org.uk
NOTES TO EDITORS:
'It's the little things…' – How to help?
It's the little things that make a big difference. Share a positive message of kindness or perhaps a picture from your family that will let your relatives and our staff on the front line know just how much you care. In the attached pack, you'll find a blank message page where you can write your little things that matter and a #MessageofSupport. Perhaps your family could draw a special picture or a message that will make them smile! The 'It's the little things…' pack can also be downloaded at https://www.fote.org.uk/home/message-of-support-for-elderly/
Once you are happy with your 'It's the little things …' message send it to our team via email to messageofsupport@fote.org.uk and we will share it with our care homes, our residents, and staff to share positivity and to look to the future.