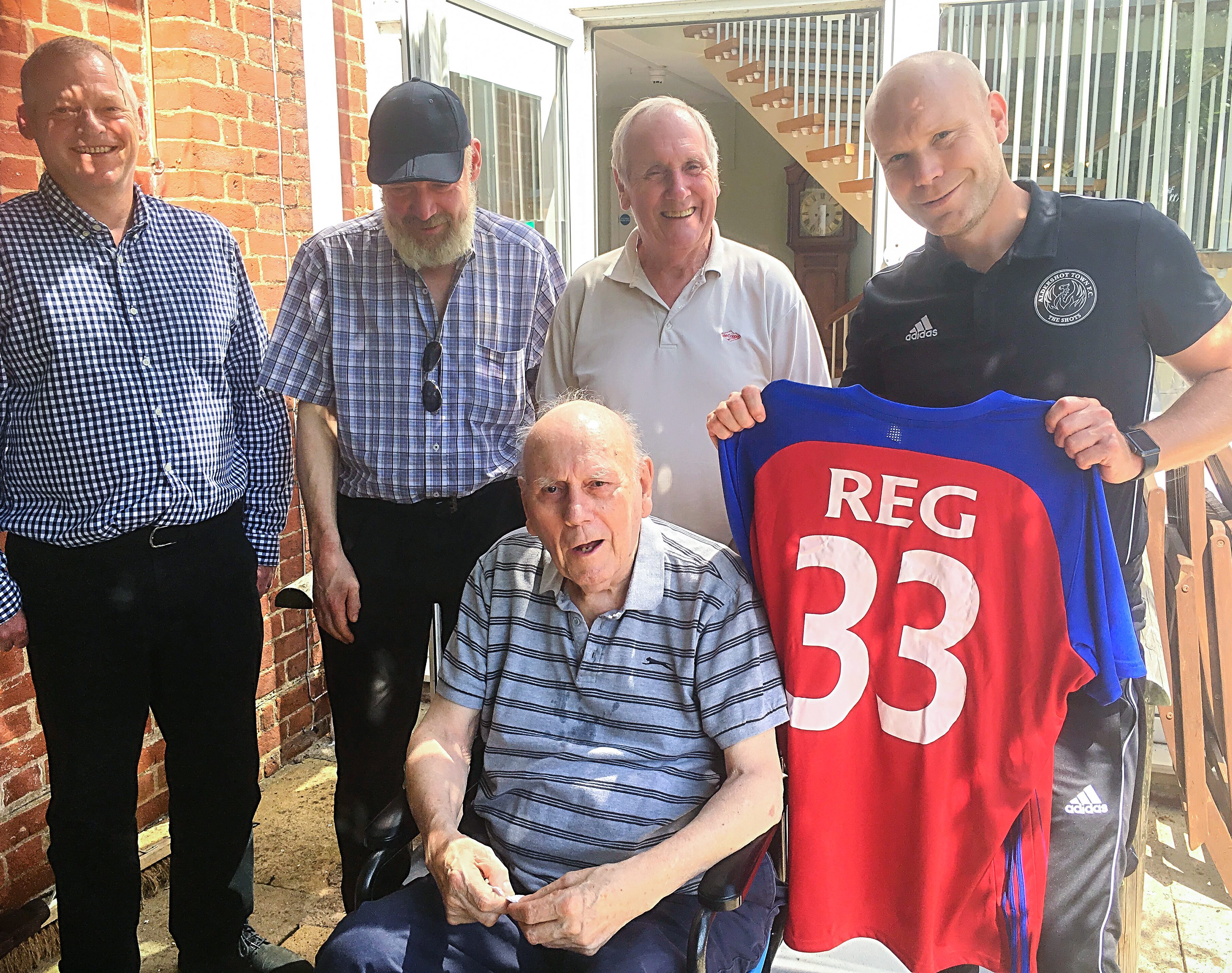 A resident from our Alton care home and a lifelong Aldershot Town FC fan got a surprise when the club's manager popped in to say hello.
Reg Cuff, 86, has followed 'The Shots' since he was a young boy, but ill health means he is no longer able to go to matches.
So when The Lawn care home told the National League team about their football-loving resident, the club decided to honour him with a special visit.
Manager Danny Searle popped down to the home and presented Reg with his very own first team strip with the number 33 on the back – the year of his birth.
Reg, a former Army veteran, said he was thrilled to have met Danny and to have his very own team shirt.
He said: "I used to go to Aldershot games all the time when I was younger, it was the highlight of my weekend – I must have been to hundreds of matches over the years. These days it's hard to get there so for the team at The Lawn to help arrange this surprise for me was just wonderful.
"It was lovely to meet Danny and the shirt looks great – it will have pride of place in my room!"
Manager Danny said he was delighted to have been able to make the gesture on the club's behalf last week.
He said: "It was really nice to meet Reg, a true life-long fan. This is what Aldershot football club is all about. Seeing the people who have supported us for all these years and saying thanks. We're a strong community club and we're still going because of the support of people like Reg down the years."
Reg, who has lived at The Lawn since 2013 was joined by his family for the special surprise football-themed event.
The Lawn offers residential and respite care, delivered by a skilled and compassionate team. The building itself is a Georgian period home that has been restored for the modern needs of residents and has beautiful grounds for them to enjoy.
For more information about The Lawn care home, email enquiries@fote.org.uk or call 01420 841 62.