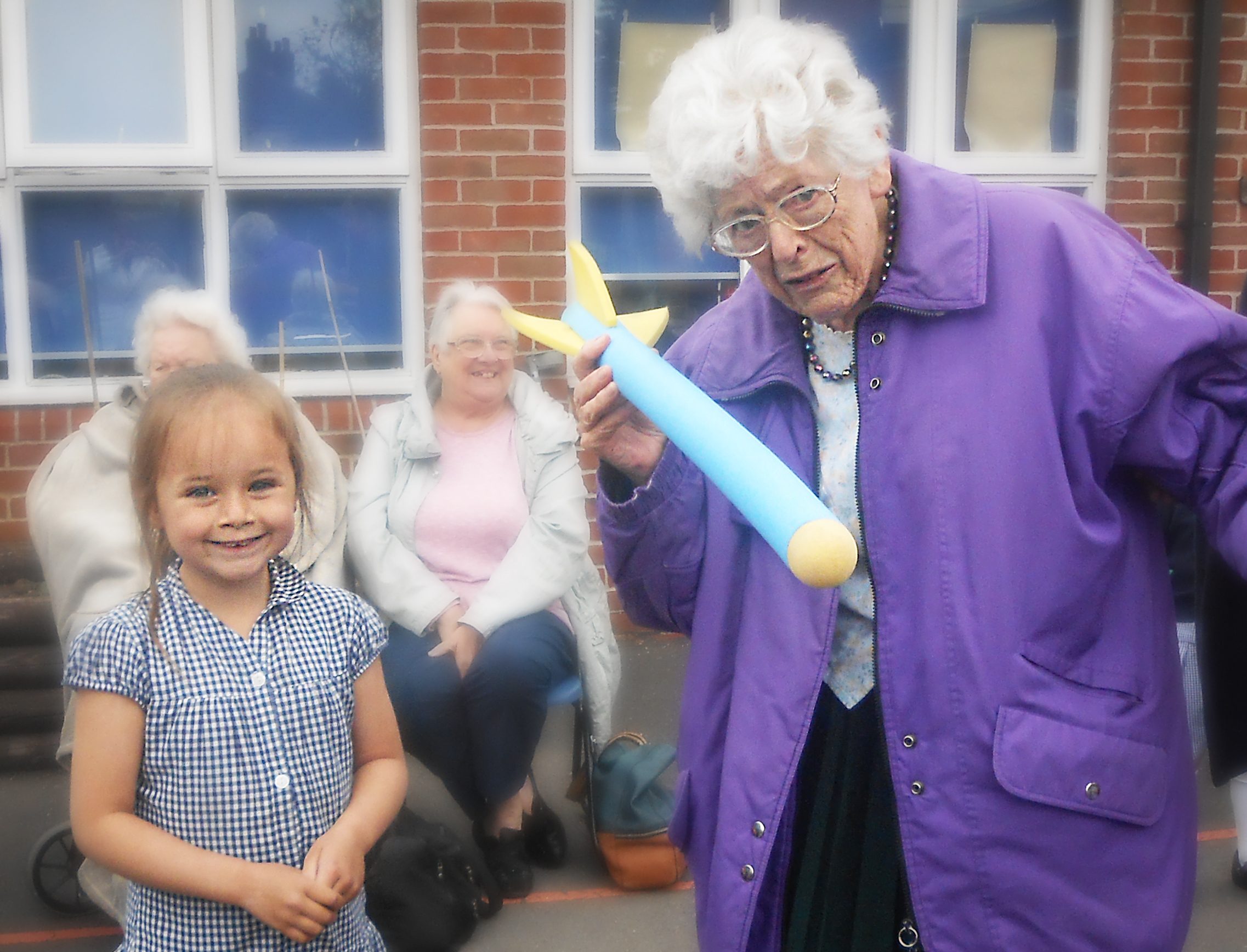 Children at St Walburga's Catholic Primary School recently welcomed 'veteran contenders' from our Bournemouth care home. Together they enjoyed sports day games at the school.
Six residents from the Retired Nurses National Home (RNNH), aged between 73 and 98 visited the school to join the reception class for their sports and games.
During the event, the residents competed in the egg and spoon race, javelin throwing and a parachute challenge. But it was Pat Tuffrey, 87, who made the biggest impression as she surprised everyone with her javelin throwing.
Pat said: "It was wonderful to go to visit our friends at St Walburga's – I can still give younger people a run for their money!
"I've always been very active and I love being around the children, they are such great company. The sports day was a treat for all of us, the children come to see us at RNNH every week, so it was lovely to go to the school and take part in their sports day games. I'm looking forward to defending my javelin success next year!"
RNNH is run by charity Friends of The Elderly. It has forged close links with St. Walburga's over the past few years. Every week, 15 children from the reception class visit the school and take part in activities with the residents. RNNH Activity Co-ordinator Robert Paton said it's something they all look forward to.
Robert said: "We love having the children here, they bring so much fun and laughter with them.
"Our residents love to do crafting, learning and sports activities with them, there's always something new to enjoy. Thanks to our wonderful volunteers – such as Grace Eaton who came to sports day – we're able to go to visit the school too from time-to-time.
"I was incredibly impressed with Pat and her javelin skills, she's a force to be reckoned with!"
Retired Nurses National Home welcomes everyone but retains a strong link to its heritage. Set amongst beautiful gardens, residents are cared for by a well-trained, compassionate team who offer personalised care and an active social calendar.
To find out more about the Retired Nurses National Home, please call 01202 396 418 or email enquiries@fote.org.uk.