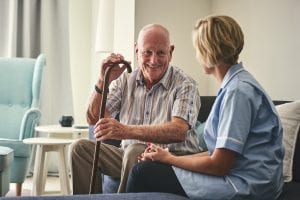 Friends of the Elderly takes the safeguarding of clients and residents extremely seriously, the practice of safeguarding protects vulnerable adults against abuse and harm. In 2017, as part of the organisation's dedication to safeguarding, a Safeguarding Adults Sub Committee (SASC) was started to monitor the charity's safeguarding work and report to trustees.
Once a quarter, the committee meets to review the charity's policies and procedures in place for safeguarding. The group also discusses statutory requirements, guidance, good practice and ensures all staff and volunteers have up to date safeguarding training.
What is important to note about the committee is that it's not just a group of senior management who are enforcing policy and procedure. Whilst there are four members of the Senior Management Team on the committee, there are also three external experts and two relatives of clients and residents alongside a service manager. The group has also previously included residents and service users and currently has two vacancies for representatives. This ensures that there is cross organisation involvement including those who it really impacts.
Suzanne Everest is a relative representative member of the Safeguarding Adults Sub Committee (SASC); she has a loved one living at our Redcot care home in Surrey.
Suzanne volunteered to join the SASC because she believes in the value of giving and has found volunteering to be mutually beneficial for both her and organisations she's worked with. Suzanne was interested in getting a glimpse in to the safeguarding elements of Friends of the Elderly.
Suzanne feels that having relatives as part of the SASC brings balance, "I think I bring a different perspective to the committee than those who work at Friends of the Elderly," Suzanne told us. "Whilst I'm not trained in care, as a relative I have a huge emotional investment in the care home and the care my family member receives. I see the points of view of both the resident and relative and I can share these perspectives with the group."
The focus that Friends of the Elderly has on safeguarding makes the home more attractive to Suzanne as a place for her relative to live: "The SASC gives me confidence that Friends of the Elderly is a forward looking and thinking organisation. I am very comforted by the priority that kindness holds whilst providing care. 'Kind carers' was my loved one's number one request when we were researching homes."
Summarising, Suzanne said: "I hope that both residents and staff benefit from the SASC as we bring together a variety of perspectives all working towards the same goal of achieving best practice and continuous improvement across Friends of the Elderly's homes and services."