Hello and welcome to my January Friends of the Elderly blog.
This month I'd like to share with you a little bit more about the structure of Friends of the Elderly and how we work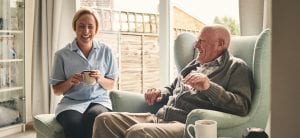 Our charity is a not-for-profit organisation, regulated by The Charity Commission, and dedicated to supporting the older people we care for. Not having shareholders to pay means any surplus funds we generate in the running of our care homes and day care centres are reinvested back into those services. For example, we have invested in new technology in all our care homes which integrates electronic care planning with acoustic monitoring to help keep residents safe. You can see more about this here.
We also provide grants for older people in financial difficulty, and we have a dedicated fundraising team who work hard to raise money to raise this grant money. We work with local community groups to deliver this important service, to ensure grants get to those who need them most, quickly.
Our trustees, who are unpaid volunteers with a wide variety of different professional and personal backgrounds, are ultimately responsible for making sure the charity is governed properly. They set the charity's strategic direction, enabling us to work towards achieving our vision of aspiring to a society where all older people have the opportunity to live fulfilled lives; something the charity has been maintaining since 1905.
I think this charitable work is summed up well in the award of an MBE in the New Year's Honours List 2022 to our immediate past Chair and now Patron, Kerry Rubie, for Services to Innovation, Leadership and Governance in Adult Social Care. My thanks go to Kerry and all the work he has done to support older people over the last twenty plus years.
I hope this information about how Friends of the Elderly operates in caring for the older people it supports has been helpful to you. If you have any questions, you can always email me at chiefexecutive@fote.org.uk
Kindest regards to you all – and I'll be back in February with my next blog where I will be discussing careers in care.
Steve
Steve Allen, Chief Executive of Friends of the Elderly, writes a regular blog which gives insight into his role at the Charity. He offers information and advice about important areas affecting older people and their families.
Steve can be reached at chiefexecutive@fote.org.uk. Watch this space for more of Steve's posts.