Hello, and welcome to the third episode of my Friends of the Elderly blog.
This month, I'd like to talk to you about the new technology we have installed and rolled out throughout our care homes which is providing additional safety, security and reassurance for our residents, their families and loved ones – and our care home teams.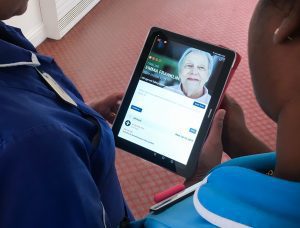 Last year, the Charity secured a grant for £295,000 from the Social Care Digital Pathfinders Programme, funded by Home – NHS Digital. This enabled us to work with two organisations – Ally Acoustic Monitoring and KareInn – to link acoustic monitoring with electronic care planning in our care homes.
One of the ways we have utilised this innovative integrated technology has been to develop a new way of working at night, which allows our care team members to safely respond to alerts rather than going into residents' rooms and disturbing their sleep.
Wireless-enabled acoustic monitoring devices have been installed in our residents' rooms – with their explicit consent, of course – which, with their Artificial Intelligence (AI) capability, filters out background noise that is unrelated to the resident's activity. Through their AI, the devices work out the resident's 'activity profile' based on sounds they make, then classifies and interprets sounds according to whether they are normal or abnormal for that person.
As a result, the devices can identify night-time events such as unusual movement or calling for help, and raise an alert to the care home team. The data received from the devices is then pushed to our new digital care planning system, where a resident's complete care history can be accessed securely.
When we first piloted the new technology in three of our care homes, the trial results showed that the care homes – which comprise of 90 registered beds – experienced a 55% reduction in night-time falls and a 20% reduction in hospital admissions, compared to the previous nine months. In addition, there was a 75% reduction in the number of unnecessary physical night-time checks conducted by the care teams. The results were so encouraging that the system has now been rolled out to our all care homes.
At Friends of the Elderly, we put the wellbeing, safety and security of our residents at the heart of all we do and I'm very pleased to say that the system has continued to make a positive and helpful impact. One example was at Bradbury Court, our dementia care home at our Malvern campus.
One night, the AI device alerted the night care team to a resident who was in distress. The care home team was immediately alerted to the resident's situation and were able to assist her straight away and call an ambulance. The resident had suffered a cardiac arrest but fully recovered and returned to the care home two days later.
The resident's daughter said that without the new system, her Mum's cardiac arrest could have potentially gone undetected until the next scheduled check, so she was very grateful that we'd implemented the new system.
One of our care home managers has said that since the new technology has been installed and implemented, they have learned so much about their residents which means their care has been further tailored to suit their needs, is more appropriate and beneficial to them. It's very reassuring that the care teams can assist residents before anything happens and they are much happier as they know they are providing safer care for our residents.
NHS Digital independently audited the project. The final report can be found here.
I hope this month's blog has been of interest and if you would like to find out more about how Friends of the Elderly can help you, our care home managers are always on hand and happy to talk with you. To set up a call please email enquiries@fote.org.uk or give us a ring on 020 7730 8263.
Kindest regards to you all – and I'll be back with my September blog next month.
Steve
Steve Allen, Chief Executive of Friends of the Elderly, writes a regular blog which gives insight into his role at the Charity. He offers information and advice about important areas affecting older people and their families.
Steve can be reached at chiefexecutive@fote.org.uk. Watch this space for more of Steve's posts.