Our 2020-21 Annual Review covers the updates from our charitable services. Read our welcome letter from our Chief Executive Steve Allen below, and download our full report.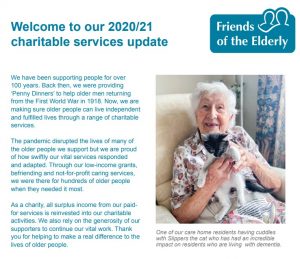 Welcome to our charitable services update
The 2020-21 financial year covered in this update is the most challenging year any organisation providing care and services for older people has had to face, and Friends of the Elderly has been no exception.
Since the onset of the COVID-19 pandemic in March 2020, we have done all that we can to support and protect our clients, residents, service users and staff. I am immensely proud and humbled by the dedication of all our staff during this period. Despite the day-to-day pressures of providing our services in these difficult times, we have adapted our services to meet changing demands.
Throughout the pandemic, we have seen an exceptional demand for our grant services. We believe that this increase highlights how threadbare the existing lifeline is for people who are desperately holding on. In response, we stepped up our grant giving by broadening the eligibility criteria of our grants programme and increasing the sums of money awarded. Alongside this, we have added a new Essential Living Cost category to help with food, medicines, delivery charges and anything else that becomes unmanageable as a result of the pandemic.
With the closing of our homes to all but essential visitors even before the government mandated it, it was vital that we provided extra support and activities for care home residents missing their loved ones. One such initiative was our dedicated inbox and accompanying hashtag (#MessageofSupport), which were flooded with kind words, poems, drawings and video messages. These messages of support offered a little joy and comfort to the older people in our care.
Despite the challenges of the last year, we managed to significantly increase the number of volunteering hours we delivered – through the provision of services including telephone calls to check in and practical assistance like picking up shopping. I would like to take this opportunity to thank our volunteers for their support and dedication. Their passion and commitment have been an inspiration to us all.
I am grateful for the continued dedication, fortitude and patience shown this year from everyone involved with the charity. This includes our care home residents, homecare and day care service users, and their families, our grant recipients and other clients, who are at the heart of our services, and who make my role worthwhile. Thank you to all our staff, our board of trustees, and the trusts, businesses and individuals who have supported us financially. We look forward to a future where we can build on the lessons and innovations of the past year.
Yours sincerely,
Steve Allen
Chief Executive