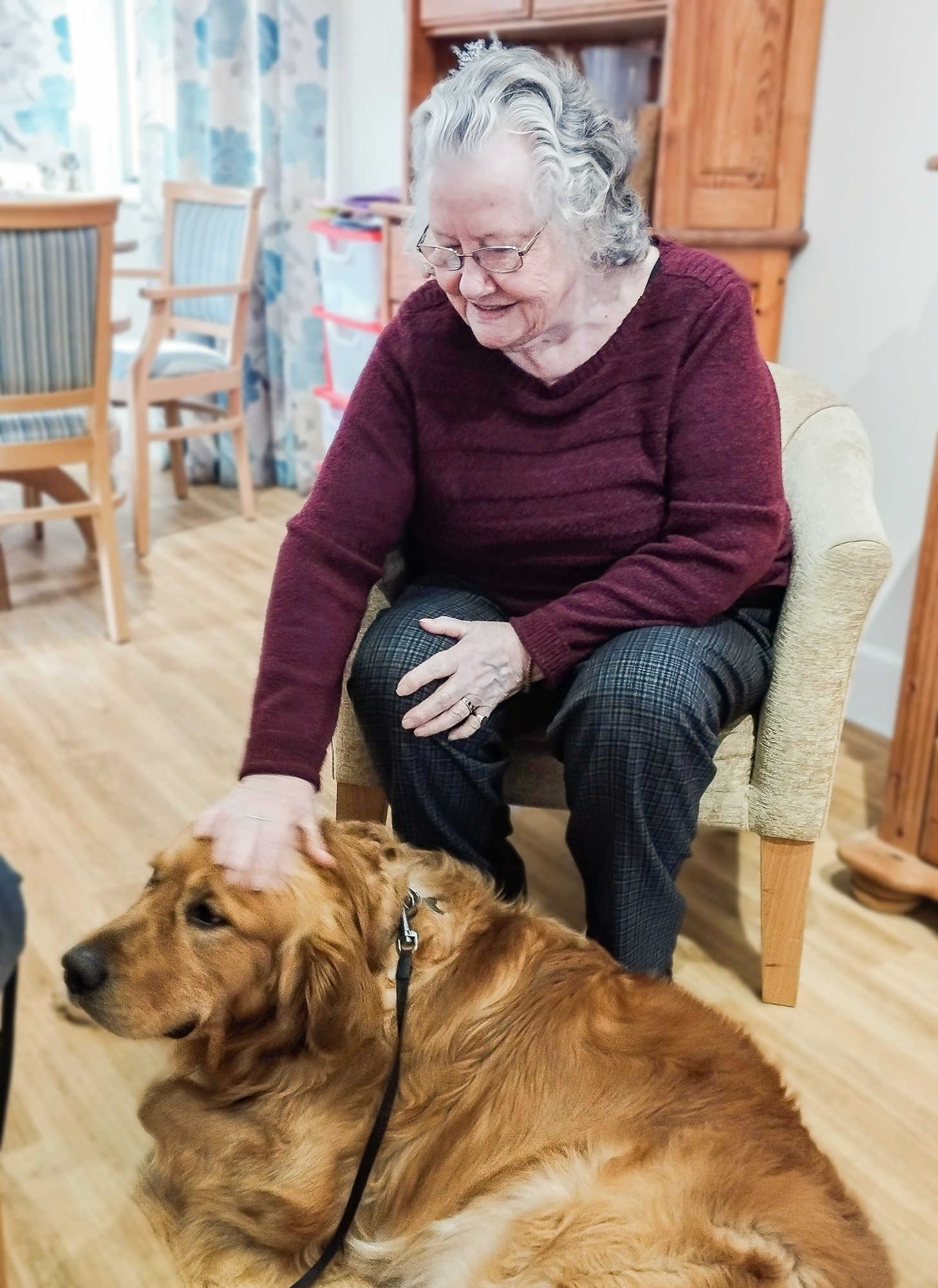 At our Malvern Day Care service in Worcestershire, which offers person-centred day care and support for older people living with dementia, clients enjoy weekly visits from Monty, a cheeky and loving Golden Retriever, newly accredited Pets As Therapy (PAT) dog.
Monty's owner, Craig Macbeth, had been wanting to register Monty as a PAT dog for a while, and thought that visiting our Malvern Day Care and interacting with the clients, would be a great, gentle way to start Monty's PAT trainee training journey – and, great news, Monty passed his PAT Assessment on 8th March.
"Monty is extremely affectionate and has such a caring nature," said Shirley Bradley, the Head of Day Care Services at Friends of the Elderly. "When I spoke to Craig about Monty becoming a regular visitor, we both agreed it would be an ideal fit that would not only benefit Monty and help his PAT career, but also bring so many benefits to our clients who are living with dementia."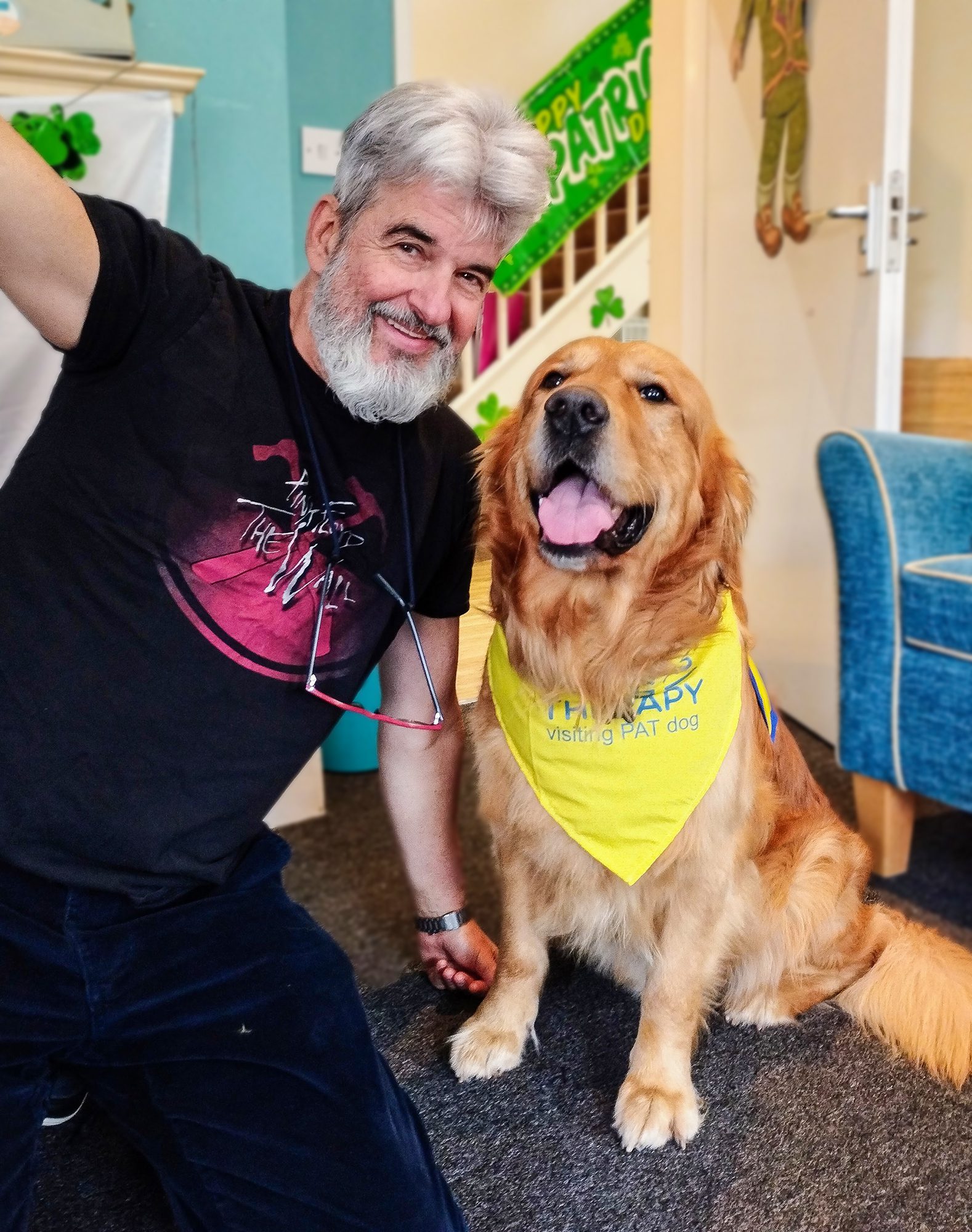 Monty has been visiting Malvern Day Care since November 2021 and has become a fast favourite with the clients. "Monty thoroughly enjoys his visits and loves seeing his friends at the day care service," said Craig. "I have had Monty for three years and he is such a people-person dog, so friendly, kind and fun-loving, he is a joy to be around and you can see the happiness he brings to everyone he meets.
"Monty's trained to be a Pets As Therapy (PAT) dog, not an Assistance Dog, the two terms can sometimes get a bit confused. As a PAT dog, Monty's role is to bring therapeutic benefits to those he visits. For example, by visiting and interacting with the Malvern Day Care clients, Monty can cheer people up, improve a person's mood, help someone get through a tough day and also help clients to reminisce about their much loved pets. Monty loves to be fussed and cuddled and that's nice not only for the clients, but also for Monty, he loves it," Craig added.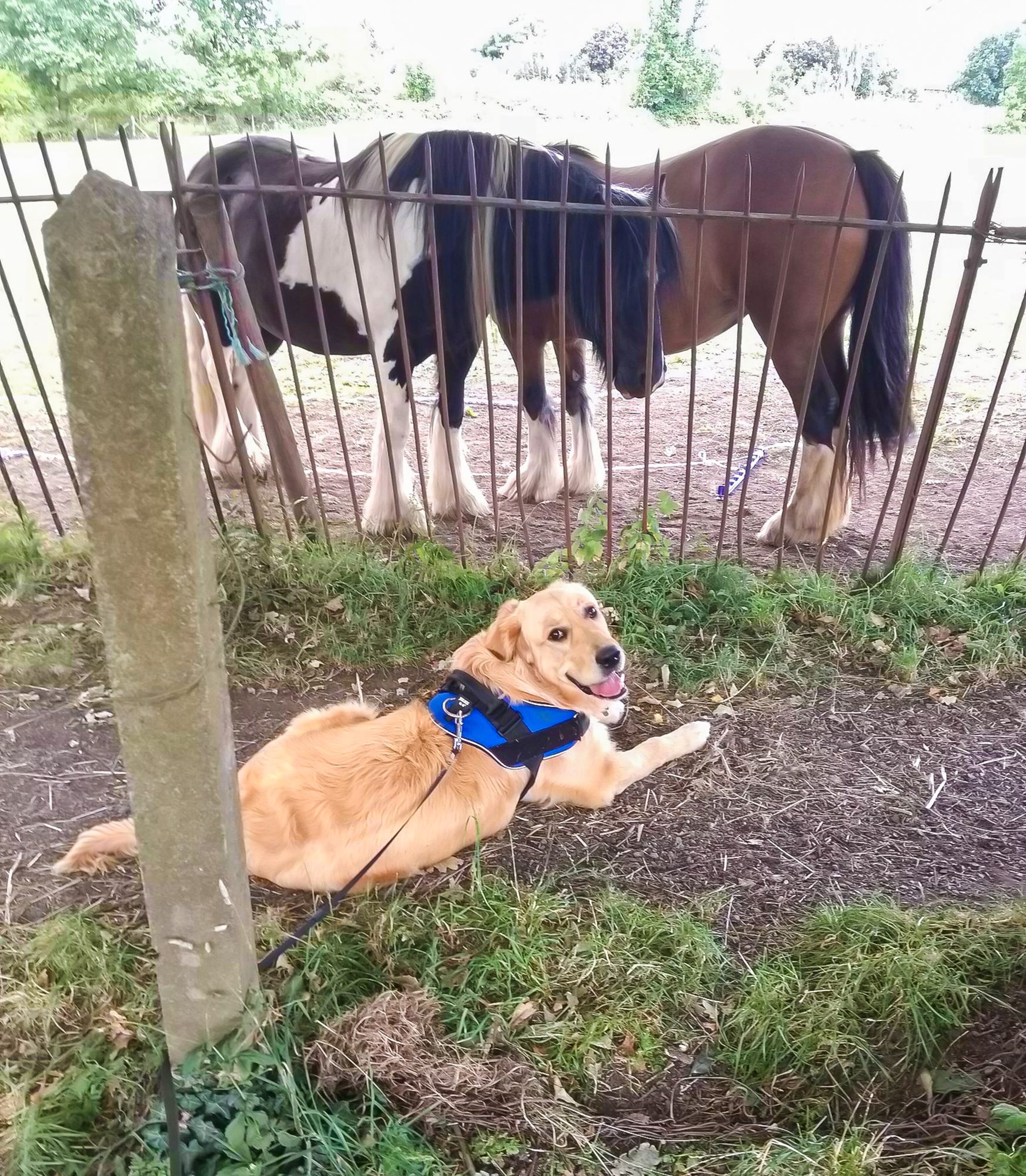 Monty loves routines and as soon as Craig gets his brush and special spray out – which makes him smell nice – he knows he's off to visit his friends at Malvern Day Care. "When Monty and Craig arrive, we have a quick chat and let Craig know if we have any new clients who haven't met Monty before," continued Shirley.
"We always like to make sure that new clients would be happy to meet Monty and have some playtime and cuddles with him. Monty then leads the way and makes sure he spends time with each person. It really is great to see how positively the clients respond to him.
"Monty is a bit of a showman and enjoys showing off his skills to an audience. He enjoys playing catch and return with his toys and is very good at giving his paw and rolling over – he has the funniest upside down smile when he's on his back, which always wins him one of his favourite treats, home-made Biltong, a South African snack," Craig added. "He absolutely loves the air dried, cured meat titbit delicacy."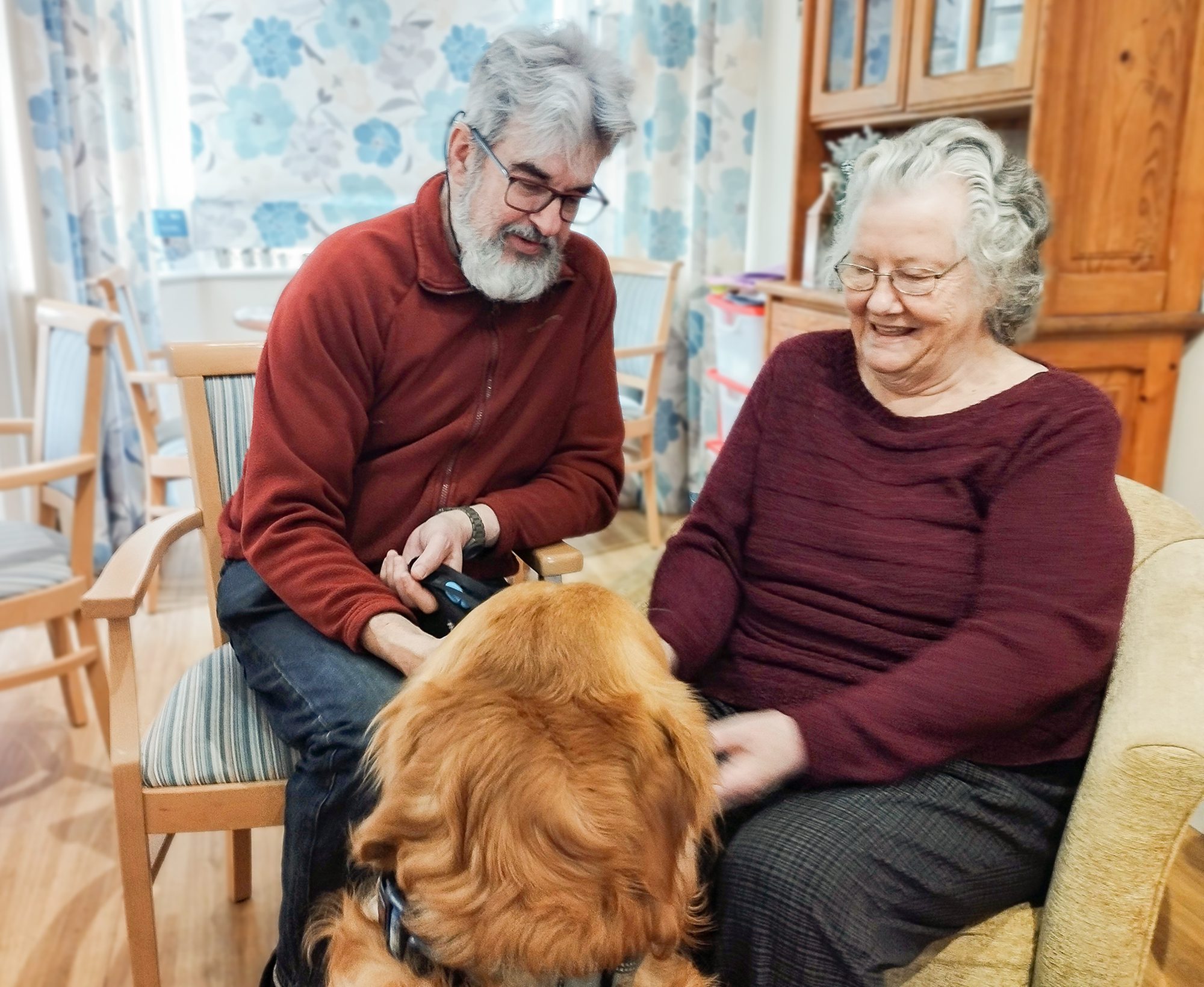 Talking of the benefits to the Malvern Day Care clients, Shirley continued: "Our clients really seem to love Monty's visits. He makes them smile and makes them happy. When he goes into the room, you can feel the atmosphere get even more upbeat, he has such a calming influence and the room lights up. To be honest, it also has to do with Craig as well as he is so approachable and likeable, the clients are comfortable with him and chat away gaily.
"We have one lady who just beams when Monty comes to visit. Some clients remember Monty's name and we love to hear that they remember this week on week. Another of our clients is a lady who is non-verbal and has sensory needs, but she really does seem to enjoy Monty's visits. Her eyes follow him around the room and her hand instinctively reaches out to stroke him when he's near her. It's so lovely to see how his visits are so positive for her."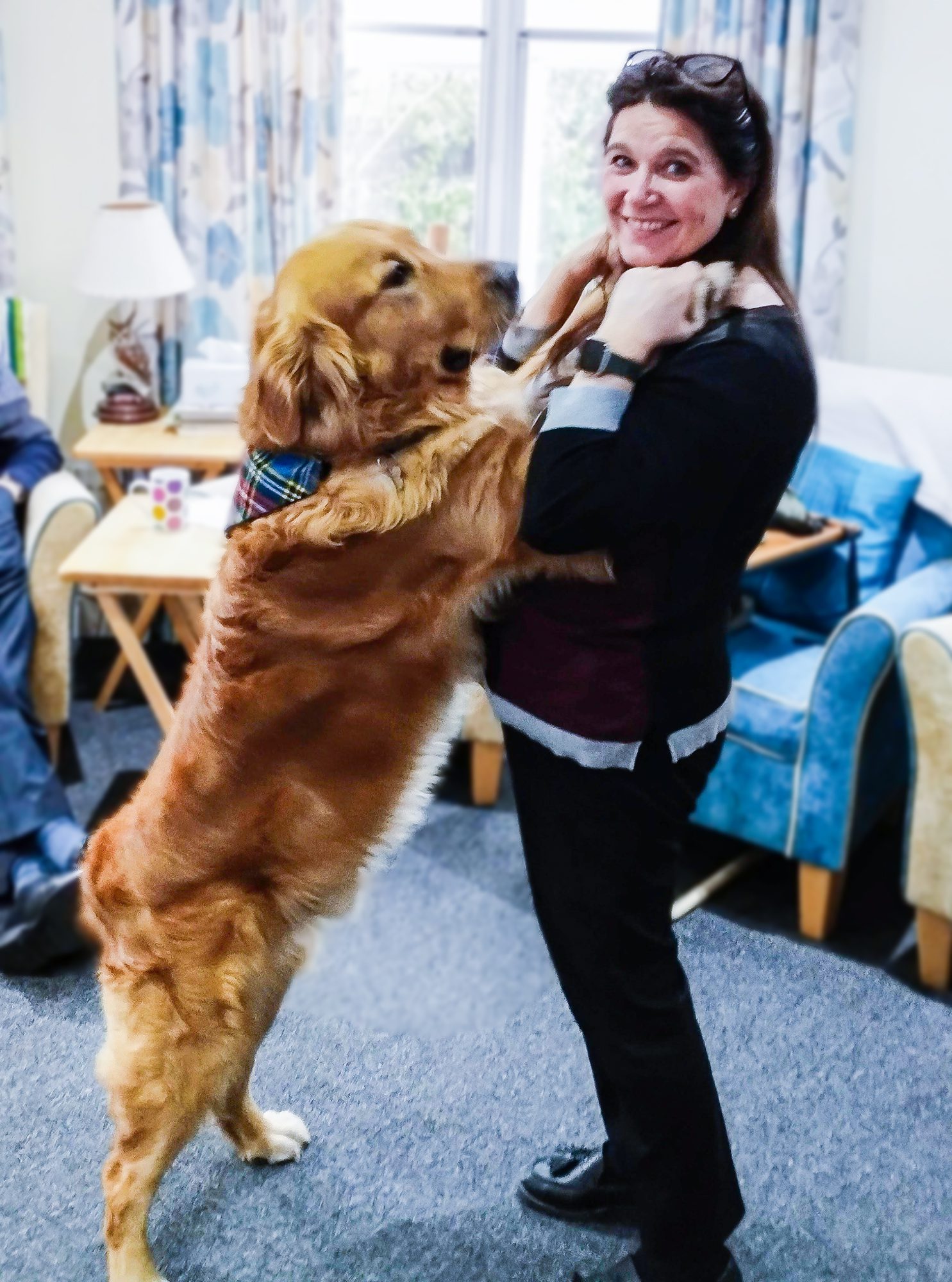 Malvern Day Care client, Pauline Gormley added: "It's nice to have a cuddle with Monty, it makes me happy. I love coming here, it's wonderful."
"Monty brings a lot of happiness and smiles to people every day and wherever he goes he brings joy. I benefit from seeing Monty bring joy to people too, it gives me a real lift," concluded Craig.
In closing, Shirley added: "We all enjoy Monty's visits as we get such pleasure out of seeing the clients' positive reactions to him, plus he smells nice too. Monty's visits remind many clients of dogs they used to own, and it's great to hear their stories about them. I heard a client saying once that dogs do speak, but only to those who know how to listen and I really think our clients know how to listen and understand Monty."
Find out more about our Malvern Day Care service by emailing enquiries@fote.org.uk or calling 01684 218 281.