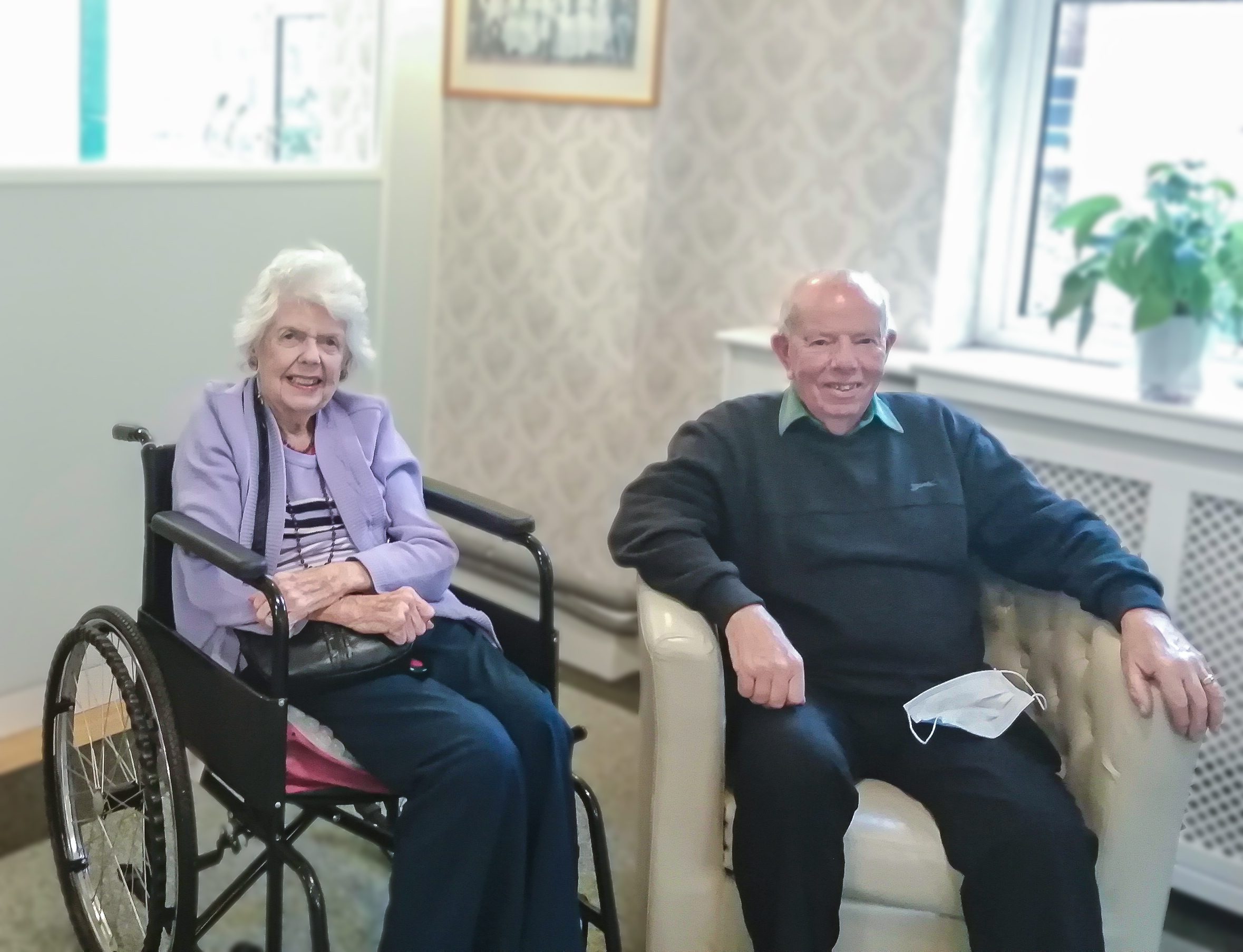 At RNNH care home, our residential and dementia home in Bournemouth, Dorset, the care team recently welcomed a very special visitor. George Smith, who was visiting his friend, Janine Price, who was at RNNH for a respite break, was the home's original Milk Boy.
George was born in 1939, and in 1948 when he was nine-years-old, started delivering the care home's weekly milk alongside milkman, Lionel. George said: "Lionel and I liked our delivery to RNNH as we got to see the lovely nurses. It was quite a large weekly delivery, about 10 to 12 half pint bottles which ensured all the residents had their daily milk allowance.
"I remember Lionel used to send me up to the care home with the milk and hand deliver it to the retired nurses' rooms. It was a lovely place and I got to have chats with all the residents. Every Friday, I'd be back to collect the milk money as they always settled their bills on time."
Originally built for the benefit of the retired nursing community, RNNH is now a residential and dementia care home for everyone which sits in its own grounds of over two acres. RNNH was the brainchild of Nurse Fanny Thompson who, in 1929, received a letter from a nurse who was in terrible financial difficulties and had little or no money to buy food once she'd paid her rent.
Fanny was so concerned about the lady's welfare that she spent the rest of her life working to provide care for elderly nurses. Fanny actually lived at RNNH for the last two years of her life, before passing away in 1967.
Talking about RNNH's interesting history. Rob Paton, the care home's Activities Coordinator said: "Thanks to Nurse Thompson's hard work and commitment, RNNH's Foundation Stone was laid in 1937, but due to World War II, the official opening didn't take place until 1946. Luckily, throughout the war, RNNH never suffered a direct bomb hit, even though many fell close by.
"Back then, RNNH only had one central building as the two front wings were completed by 1939 and further additional buildings and facilities were opened in 1952 and 1982. RNNH has always had a royal connection. It is one of nine care homes run by charity Friends of the Elderly whose Royal Patron the Late Queen Elizabeth II."
However, royal links go back to 1935 when Queen Mary donated two Minton plates to be sold in aid of the original building fund. Then in 1939, Queen Elizabeth (Mother of Queen Elizabeth II), sent a set of antique spoons to be sold to help raise extra funds for the care home.
"When I began my milk round to RNNH in 1948, there was lots happening throughout the country," George continued. "The year saw the end of post-war bread rationing, the Olympic Games were held in London and importantly, The British National Health Service Act created the NHS.
"I continued with my milk deliveries to RNNH for three years, but then for some reason, I opted for a paper round instead, which meant I didn't get to visit the lovely nurses each week. I did miss my weekly visits," George concluded.
"One of our current residents, Eileen Richardson, was a Volunteer and Project Coordinator for The Memories of Nursing Project, and wrote a piece on RNNH back in 2016. Eileen told me that Fanny would be very happy to know how successful her early endeavours have been," added Rob.
If you would like to find out more about RNNH care home, call 01202 396 418 or email enquiries@fote.org.uk.