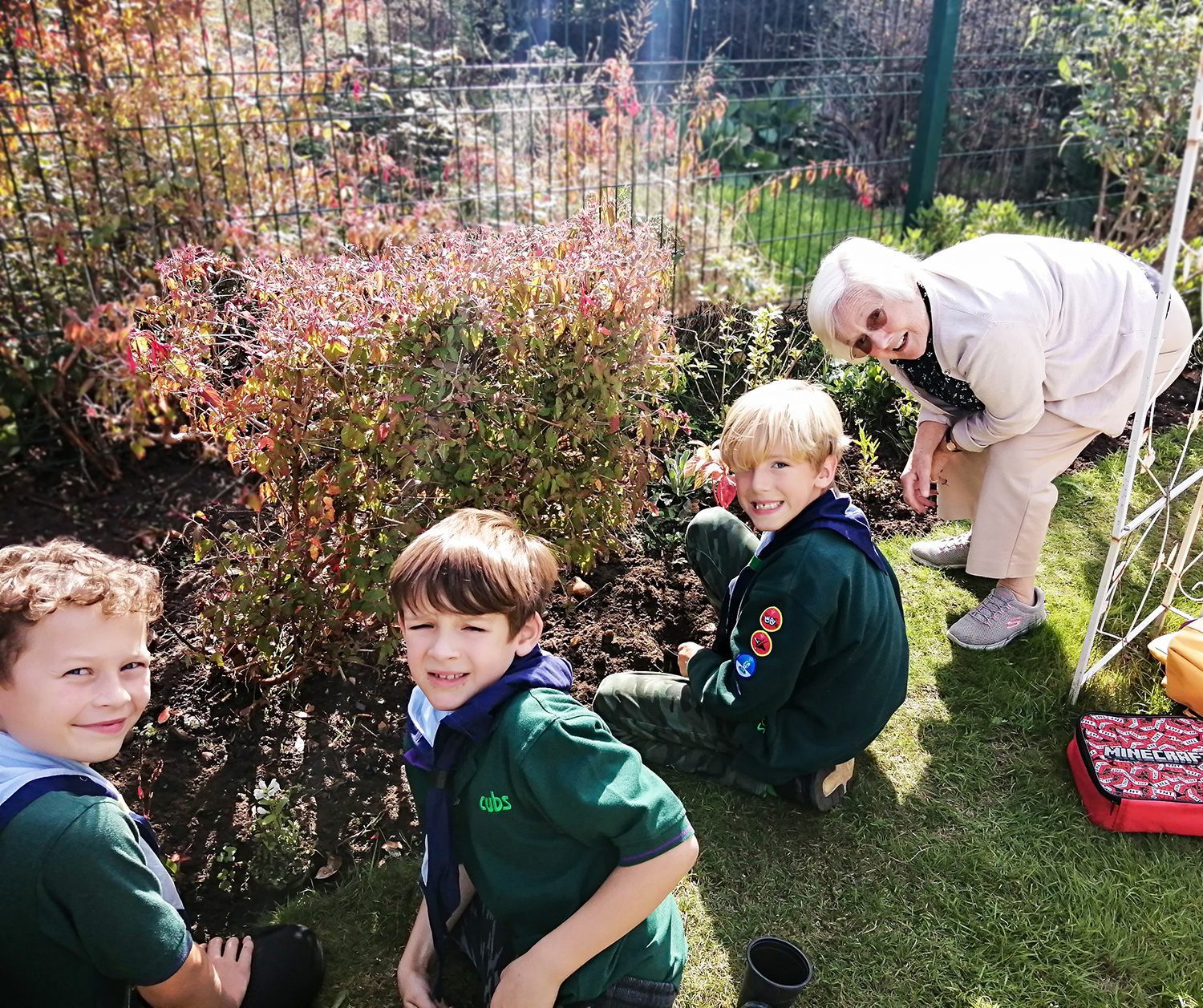 At RNNH care home in Bournemouth, Dorset, the residents spent a lovely day reminiscing about their days in the Scouts and Guides. Residents 'Did Their Gardening Best' with the 21st Bournemouth Cub Scouts when the Pack visited to work in the care home's beautiful gardens as part of their Cubs Gardener Activity Badge.
The 21st Bournemouth Cub Scouts have been visiting RNNH since 2018, when they initially visited at Christmas to take part in an arts and crafts session and sing Carols with the residents. The Team at RNNH works hard to ensure residents enjoy engaging and varied activities, so in 2019, the Pack began regularly visiting the care home and the residents.
Alan Johnston, the Registered Manager at RNNH said: "The Cub Scouts became regular visitors to us throughout 2019 and then again in the summer of 2022, as we felt it was safe, after the Covid pandemic and safety protocols, to invite them back to join us again. It was a delight to welcome them back, and they spent an evening in the garden with residents toasting marshmallows, playing games and singing campfire songs together.
"During this last visit their Akela, Dan, and I discussed the Pack returning and I mentioned they could always use the garden to do activities and possibly make bug hotels or something similar with the residents. We then decided that the RNNH garden would be the perfect place for the Cub Scouts to do their Gardener Activity Badge."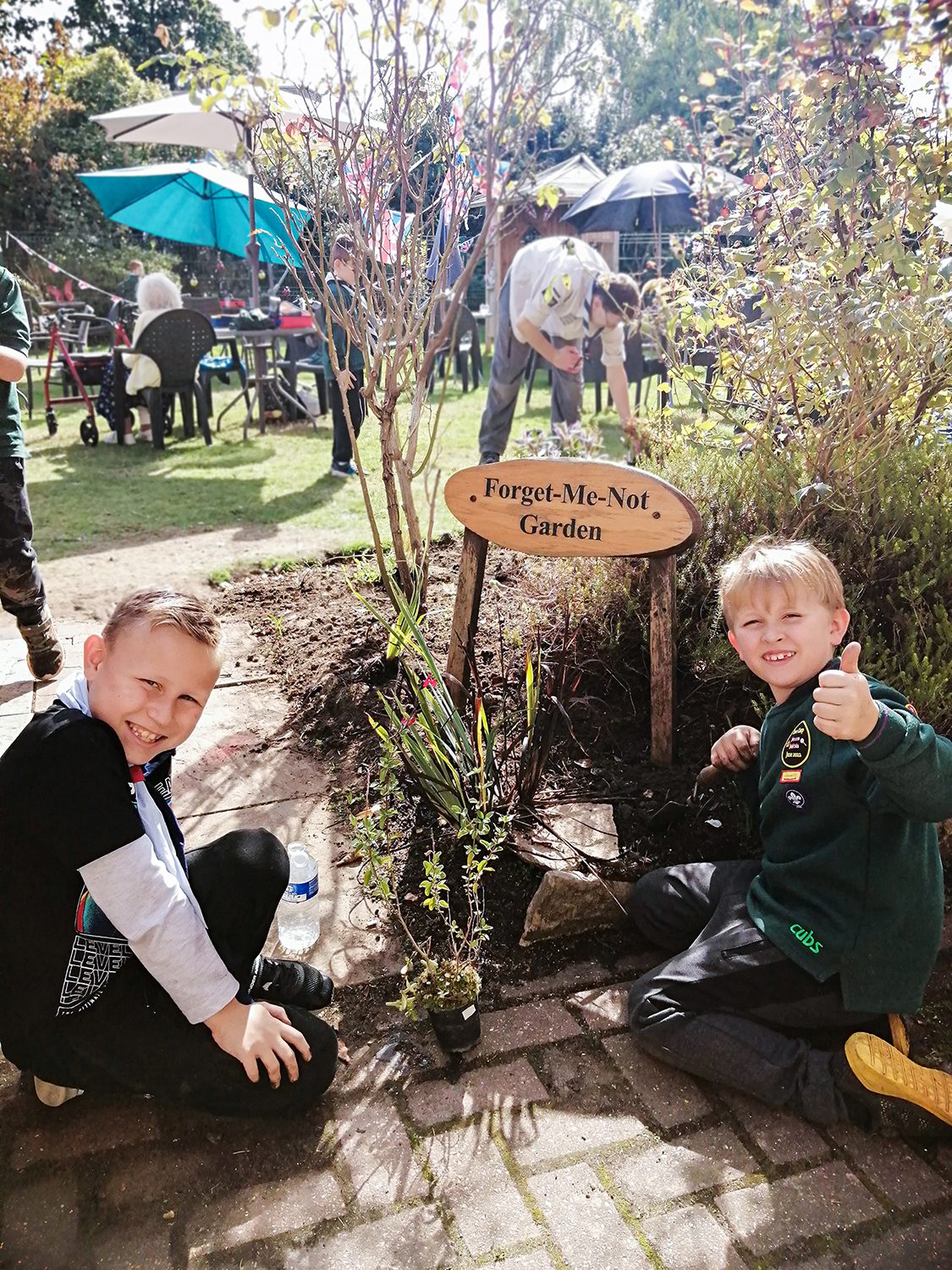 The Cubs Gardener Activity Badge is in place to let the Cub Scouts experience the joy of gardening, get to know all about vegetables, fruits and herbs; the best seasons for growing, the tools they need for the job, how to maintain a garden or allotment – and of course visiting and monitoring a bug hotel and its guests.
Once the date was set, Alan and his team wasted no time in preparing for the 'Den' of activity. Rob Paton, RNNH's Activities Coordinator continued: "I contacted some of our local garden centres and three of them got back to me. Stewarts Garden Centre gave us a donation so, to engage the residents, I took them to the Garden Centre where together we picked out a shrub and some Tulip and Daffodil bulbs from a display that had been set it up like a pick and mix counter. The residents really enjoyed picking out their favourites and are keen to see them in our garden in spring. I also visited Basket and Blooms Garden Centre and Cherry Tree Garden Centre to collect their kind donations as well."
The Cubs arrived at RNNH promptly at 10 a.m. on Saturday 24th September and quickly got work on the areas Alan had chosen for them – the care home's Forget-Me-Not Garden, the Rose Garden and raised flower bed area – which were all tended with the utmost care. Resident, Eileen Richardson, was especially happy planting the bulbs and reminiscing as she's not only a keen gardener but used to be a Cub Leader herself.
"The Cub Scouts motto is 'Do Your Best' and each Cub Scout certainly did theirs. Many of our residents were Scouts or Guides and two were Cub Scout Leaders. As we were chatting they told me something very interesting that I hadn't heard before. The Cub Scout 'Dib – or Dyb – and Dob' chant is actually an abbreviation of 'Do Your Best and Do Our Best.' I still learn something new from our residents every day," Rob added.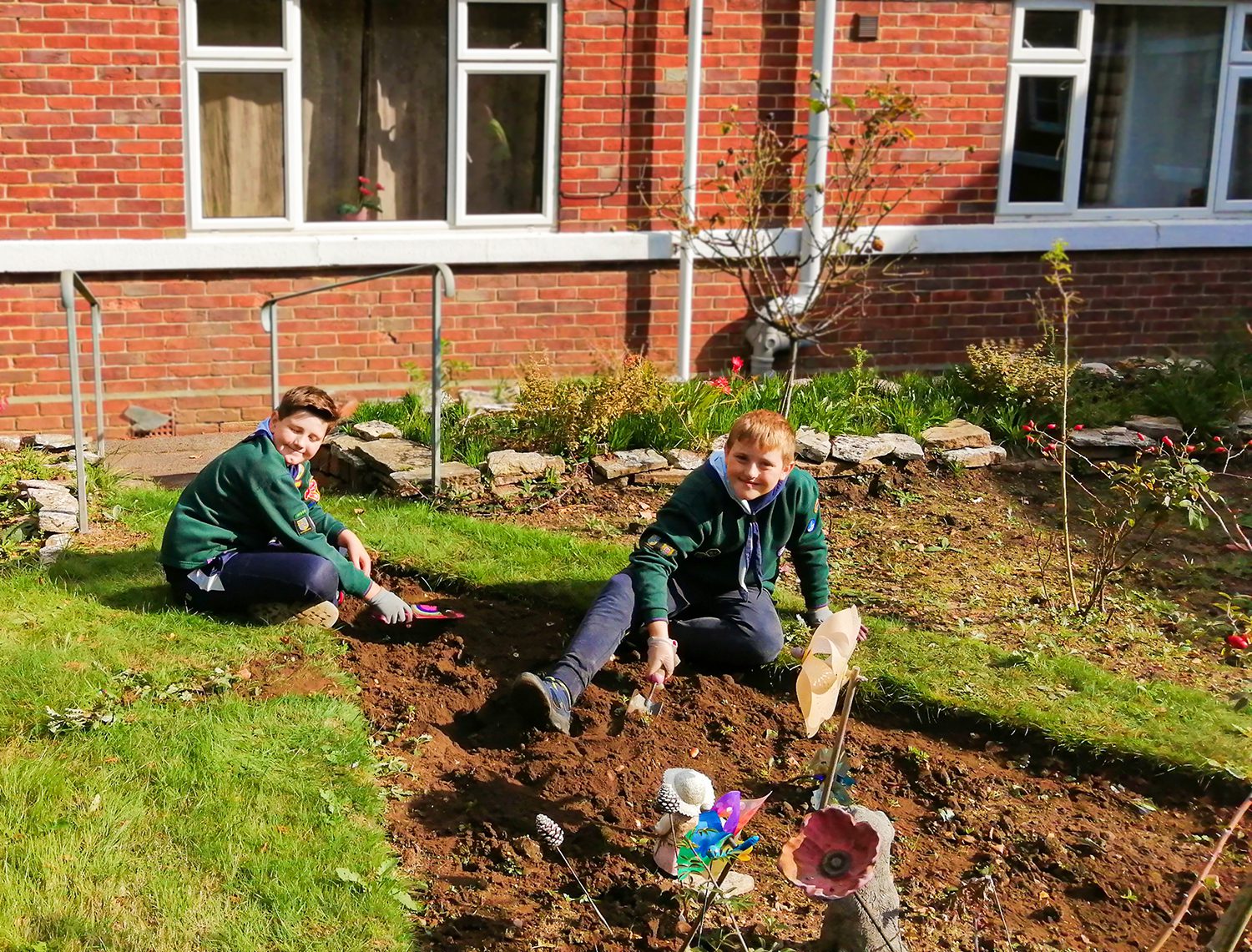 However, the day had an extra surprise attraction when The Caring Canines Group and their owners stopped by at 11:30 a.m. to share a well-earned refreshment break with the residents and Cub Scouts. The residents had a wonderful time, playing and interacting with the dogs, as did the Cub Scouts before returning to their gardening duties.
"It was a great day which everyone thoroughly enjoyed. Not only is the RNNH garden is looking wonderful, but all the residents are still talking about how much they enjoyed the day, especially chatting to the Cub Scouts and hearing all about their Pack adventures and working for their badges. We're all excited to see the new flowers in all their glory when they come into bloom," concluded Alan.
The Retired Nurses National Home (RNNH) has a rich heritage, originally built for the care of the nursing community but now open to all to receive high quality care and enjoy stimulating activities such as the scout visit. To find out more call or email enquiries@fote.org.uk.