Today, to celebrate the theme of this year's United Nations International Day of Older Persons – 'Digital Equity for All Ages', we are talking about how we engage our residents and service users with new technology to enjoy meaningful interactions in the digital world through, not only a varied range of activities, but also with our integrated electronic monitoring systems.
Friday 1st October 2021, is the day's 31st anniversary and is being commemorated with the theme of 'Digital Equity for All Ages'. Digital technologies refer to a varied range of new technologies including the internet, mobile phones, interactive tools and all the other systems which collect, alert and analyse information such as Artificial Intelligence (AI).
Mark Wilson, our Engagement Director said: "The United Nations International Day of Older Persons is a special day for older people, all over the world, to increase awareness of the impact of having an aging population and to demonstrate how people should be able to grow old with dignity. It is also celebrated to recognise the contributions of older people and to examine issues that affect their lives.
"At Friends of the Elderly, we always put the safety and individual, specific needs of our residents and service users first in everything we do. To support this and encourage additional interactions and participations, we have invested in a range of interactive electronic activity tables and screens within our care homes and day care centres to enable our residents and service users to enjoy, experience and benefit from new, interactive technology. In addition, to enhance our existing safety protocols, we have rolled out a new integrated acoustic monitoring and electronic care planning system in all our care homes."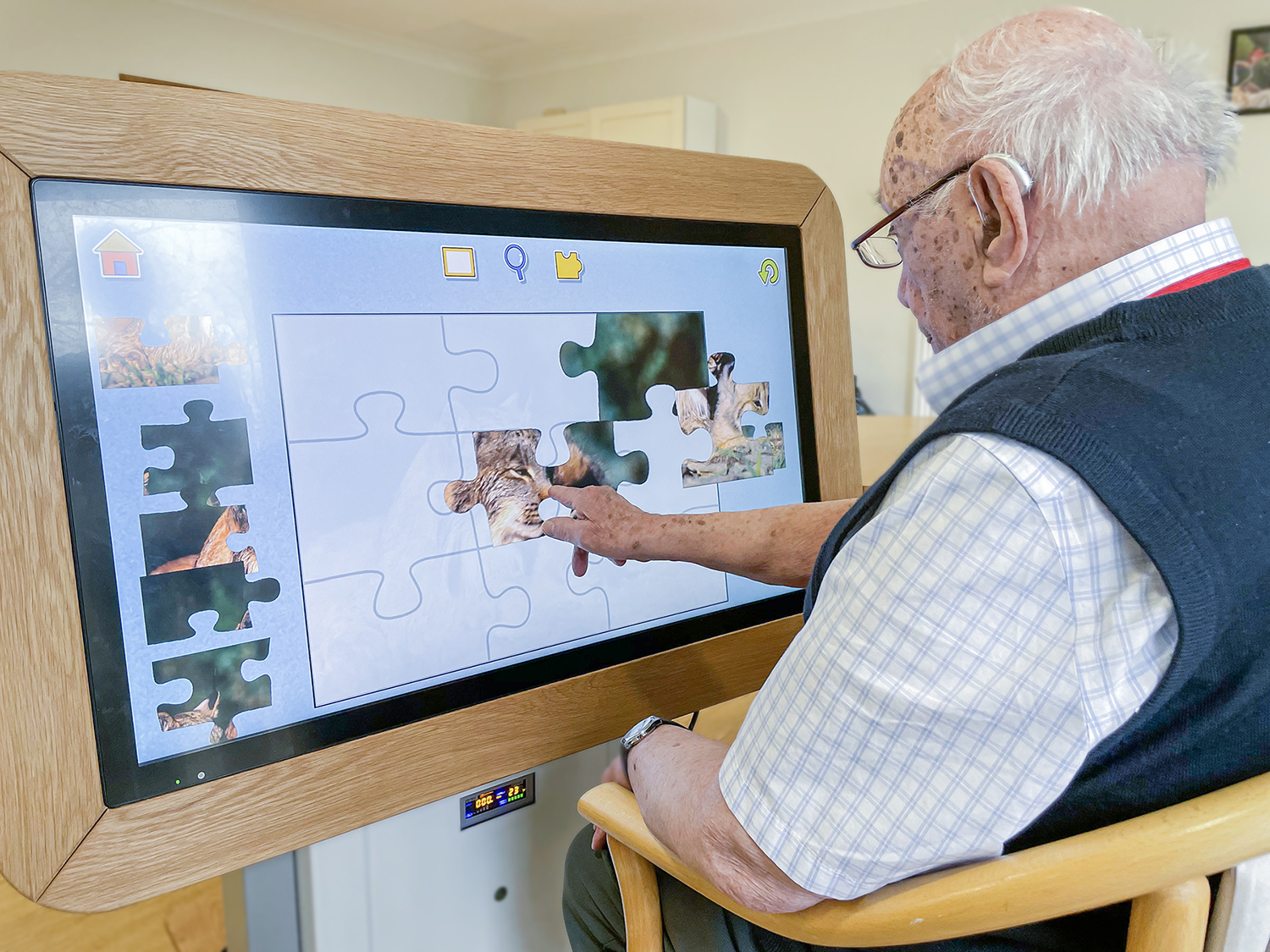 We have worked with Ally, the providers of an acoustic monitoring system and KareInn, a care home software provider to utilise integrated technology to develop a new way of working at night which allows care team members to safely respond to alerts rather than going into residents' rooms and disturbing their sleep.
With residents' consent, the charity installed Ally's wireless-enabled acoustic monitoring devices in their bedrooms. The Artificial Intelligence (AI) capability powering the device filters out background noise unrelated to the resident's activity, works out their activity profile based on sounds they make, then classifies and interprets sounds according to whether they are normal or abnormal for that person.
The device identifies night time events such as unusual movement or calling for help and raises an alert to the care home staff. The data from the monitoring device is then pushed to KareInn's Digital Care Planning system, where a resident's complete care history can be accessed.
Jessica Stone, our Head of Marketing and Communications said: "Through working with KareInn's digital care platform it has enabled us to integrate electronic care planning in a way which complements our home-from-home ethos of delivering high quality, bespoke care with real-time accurate recording of outcomes. In addition, the integration with Ally's resident acoustic monitoring system, has helped our care home teams to prevent falls, not to disturb sleep and free-up time to spend on residents' wellbeing and support activities."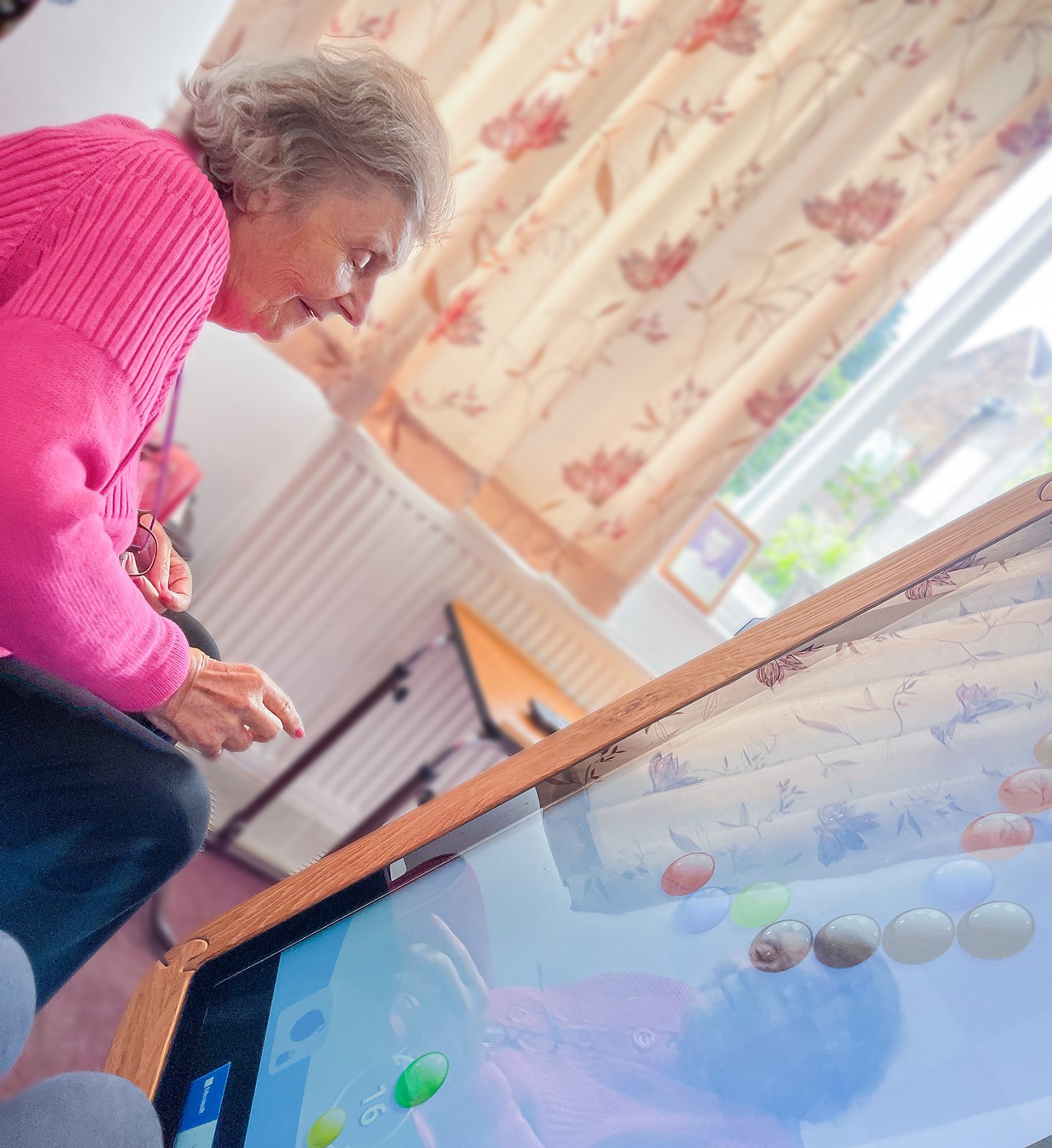 The system has already made a positive impact. One example was at Bradbury Court, our dementia care home in Malvern. During the night, the wireless acoustic monitor alerted the night care team to a resident who was in distress. They were immediately made aware of the resident's situation and were able to assist her straight away and call an ambulance. The resident had suffered a cardiac arrest but fully recovered and returned to the care home two days later.
The resident's daughter said: "Without the new system, Mum's cardiac arrest could have potentially not been detected until the next scheduled check. I am so grateful Friends of the Elderly has implemented this innovative system."
We have also installed a range of interactive tables and screens in our care homes and day care centres. The large, easy to use devices have touchscreens which are not too dissimilar to an iPad or smart phone, but on a much larger scale.
Andy Cumper, the Manager at Bernard Sunley care home in Woking said: It's been a huge success and it's great to see our residents happily getting to grips with the new technology and making the most of all the different applications it has to offer. It's easy to use as the large touchscreen makes it very straightforward for our residents – and staff – to navigate and get going with anything they fancy doing.           
"It's a great addition to Friends of the Elderly's commitment to provide exceptional standards of care through person-centred, bespoke care as all residents can join in and take part in the group activities or use it on their own. It's up to them – they can do what they want to do, when they want to do it."
For residents who are living with dementia, using and engaging with the interactive tables and screens can increase their mental stimulation through enjoying reminiscing pastimes, playing games, sensory, learning and relaxation activities. In addition, it is a great tool for our care teams as by browsing the web and familiarising residents with the many possibilities of the internet, they can engage and discover past and unknown interests.
Ruth Arnold, who is a Dementia Champion at The Retired Nurses National Home in Bournemouth added: "For residents living with dementia, an interactive table's sensory games, reminiscing and relaxation applications help to keep them mentally active and stimulated."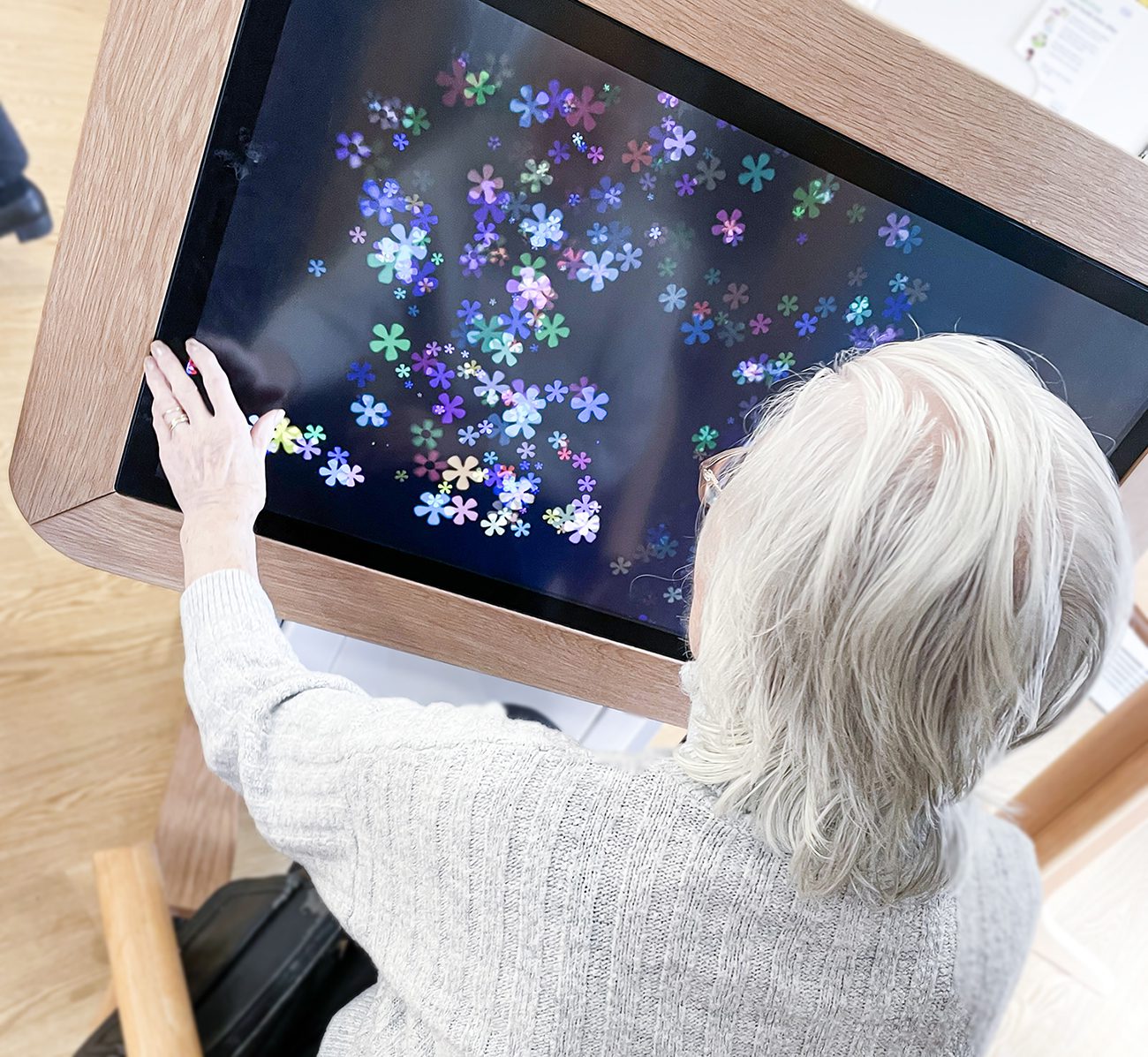 Sian Hennessy, the Activities Co-ordinator at Bradbury Court has seen the positive impact their interactive table has had on her residents. Sian said: "Our interactive table has a large 32" colour flat screen and can be easily positioned to suit the resident's needs. It's proved to be a big hit with everyone, whether for group or individual use.
"For example, a group of our residents like using it together and work as a team to play Word Search and others love watching Google Earth looking at different types of cars. It's also great for our residents whose eyesight isn't very good as they enjoy the Bubble Blasting and Colour Swirl games."
Mark concluded: "According to current predictions, by 2050 there will be two billion people over the age of 60, which equates to 22 percent of the population. At Friends of the Elderly, each person we support has experienced a varied and colourful life and these experiences, when shared with staff, build a bond, trust and help develop each persons' care and support plan. We are honoured and privileged to provide personalised care and support that is built around each resident and service user's individual care and support needs. That's why it is so important to recognise and celebrate the annual International Day of Older Persons."