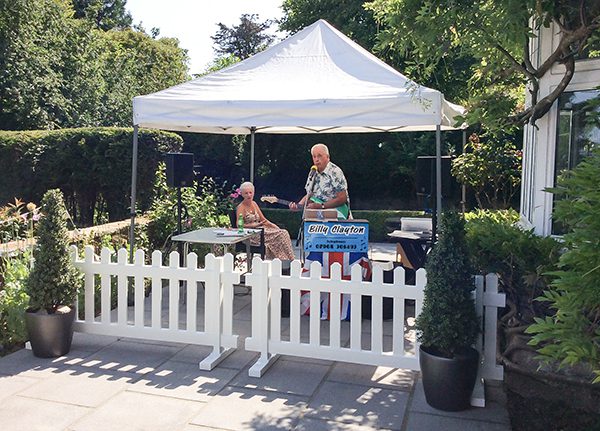 Redcot Care Home is our beautiful home in Haslemere, Surrey, which specialises in residential care. Staff have been going above and beyond to support the wellbeing, mental and physical health of residents, their families and staff during the unprecedented lockdown period.
Our new campaign, 'It's the little things…' works with our care homes to share the little things they have done – and are continuing to do – that have had a positive and meaningful impact on the daily lives of residents, their families and staff.
The Team at Redcot has ensured the residents have had enjoyable, fun-filled days with lots of safe activities and ongoing communications taking place. Highlights include the regular sing-along sessions, outside afternoons on the terrace with a socially distanced entertainer, Bill Clayton, and gardening time in the beautiful grounds which are surrounded by scenic countryside.
Residents have also been enjoying arts and craft sessions, quizzes and a wide range of other activities, plus the staff have been helping residents to make calls and FaceTime chats to their families and loved ones.
The hard work of the staff at Redcot care home to continue to provide engaging activities during the pandemic has been greatly appreciated by both residents and their families.
Commenting on the Care Team at Redcot, one family member said: "We wholeheartedly support and appreciate what you have all done to care for Mum." One resident added: "This is my home now and I feel as safe as I did at my family home, if not a bit safer. There's always enough staff, they never seem rush and always have time to talk to me."
One of the care home's most popular residents, Grace, has been at Redcot since 2017. Sadly the lockdown meant that she was unable to physically see and have visits with her daughter, Christine, which upset her. The mother and daughter kept in touch during the lockdown isolation period via regular FaceTime calls, but it's not been the same as seeing each other in person.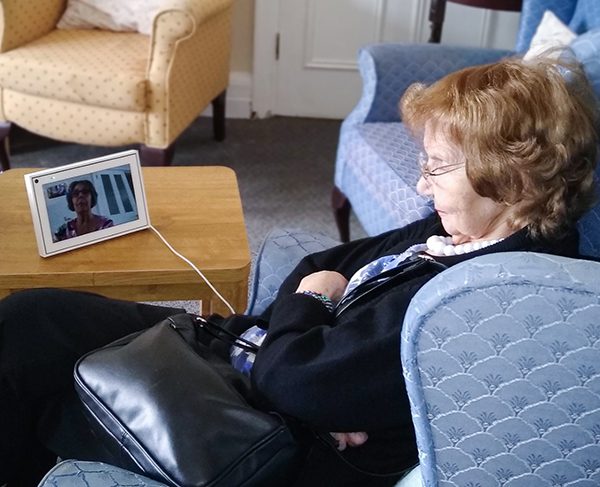 Christine, Grace's daughter said: "It has been a very difficult time for us all since lockdown and I wanted to say thank you to all the staff.
"The superb care my Mum has received at Redcot during this time as meant the world to me. Since my Mum came to Redcot over three years ago I have been aware how staff go the extra mile to ensure residents are happy. However, since lockdown even more attention has been paid to both residents and their families to maintain as "normal" a life as possible.
"When the restrictions on non-essential visits came in I was very concerned that I would not be with Mum. I was delighted when the team introduced Facebook Portal calls early in the lockdown period. I have been able to spend so much time with my Mum. She thinks I am in her room rather than just virtually on a screen. As there has been no limit to my sessions, other than bookings by other resident's families, it has meant our separation enforced by these unprecedented times has been eased.
"Being kept fully up to date with the precautions taken for the safety of residents and staff by Friends of the Elderly during this pandemic has been a great comfort to me. In fact, the team has been so proactive they have been ahead of the regulations and recommendations.
"I feel they have done so much to keep things the same for residents. Like the recent socially distanced garden party for residents. My Mum was helped by staff to put on her best summer dress. I was delighted to be sent a picture of her having a great time and thoroughly enjoying a Magnum!! Ice cream that is!!! 
"It is the little things that make all the difference. One day I was reminiscing on a portal call with Mum and staff about how much Mum enjoyed knickerbocker glory ice creams. Within a few minutes staff produced one.
"This has all made me realise that Mum and I made to right choice several years ago when looking for somewhere Mum could live and would be happy. From my point of view, I know that the staff care greatly do their very best for Mum and that she is safe and cared for 24 hours a day. She gets the excellent attention she needs and deserves.
"I really cannot thank the team enough. They will always be heroes to me. Especially with all the extra things they have done in the last three plus months."
But the Redcot Team hasn't stopped there…
The Team engaged with a local school, St Bartholomew's. Pupils have been writing to the Redcot residents throughout the lockdown. The letters have really cheered the residents and brought smiles to their faces; so much so, they have been replying to the children with letters of their own. In addition, local church members have also been writing to the residents and have even sent Chocolates to the staff.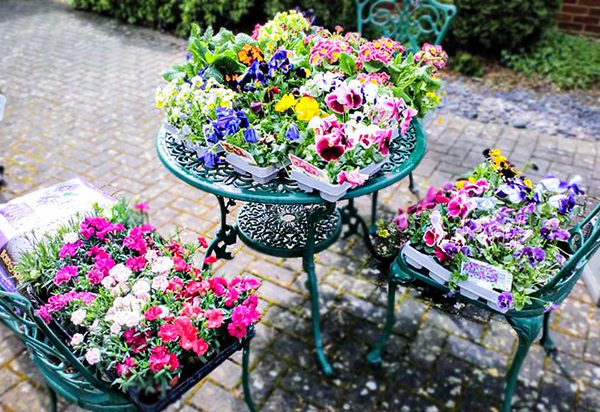 Redcot has a full supply of PPE equipment, but local residents from Haslemere have also been making masks for the staff and dropping them off in the care home's porch. Neighbours have donated flowers from their gardens for displays in the home. R Miles and Son, a local hardware store has kindly dropped off free hand sanitizer for the team – and Dominos delivered a free Pizza as a thank you.
Redcot and the team continue to receive glowing feedback from relatives. Moira, the daughter of a resident who has sadly passed away said: "It was one of the most difficult times for me, choosing a care home for my Mother but I take great comfort that my choice was simply excellent and my Mother was in the best place she could be.
"Redcot is in a beautiful old house set in tranquil and very lovely surroundings in Haslemere with great views over the South Downs. From the moment my Mother moved in, the staff were truly excellent, caring and sympathetic both to my Mother and me. The cleanliness is impeccable, my Mother was always clean, well dressed and her room and the common facilities were always spotless.
"During the COVID pandemic, Redcot has always been ahead of the regulations and recommendations and are clearly fully supported by their management at Friends of the Elderly. I have never had any fears for the safety of my mother. I highly recommend Redcot."
To find out more about Redcot care home, call 01428 644 637 or email enquiries@fote.org.uk.