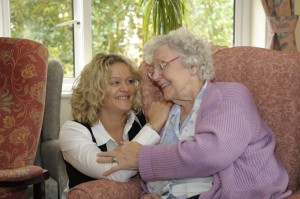 Admiral Nurse
We were the first independent organisation to employ our own dedicated Admiral Nurse, Cheryl Rothschild.  Cheryl provides advice and support to families and carers of those experiencing dementia.
How do I fund Residential/Nursing Care?
Care Homes Guide, Age UK, Independent Age
Choice of care home when you/your relative will be local authority funded
What should I be looking at in a care home?
Am I/is my relative entitled to attendance allowance?
How do I find out about an advocacy service?
What services are there to support me caring for my relative at home?
Paying for care and support at home
Financial help with repairs and adaptations
As a carer, where can I get support from?
What is a lasting Power of Attorney?
What are Personal Budgets?
Other related links
Age UK works to improve later life for everyone by providing life enhancing services and vital support.
Alzheimer's Society is a membership organisation, which works to improve the quality of life of people affected by dementia in England, Wales and Northern Ireland.
The British Heart Foundation's vision is a world where people don't die prematurely from heart disease.  They aim to achieve this through pioneering research, vital prevention activity and ensuring quality care and support for everyone living with heart disease.
Dementia UK is a national charity, committed to improving quality of life for all people affected by dementia.
Diabetes UK is the largest organisation in the UK working for people with diabetes, funding research, campaigning and helping people live with the condition.
Healthline provides a very comprehensive overview of Type 2 Diabetes as a ctritical starting point for individuals and/or their loved ones.
Independent Age is a national charity providing advice and support to older people and their families. They offer regular phone calls and visits to older people, as well as free, impartial information and advice on the issues that matter.
Macmillan Cancer Support improves the lives of people affected by cancer. They provide practical, medical and financial support and push for better cancer care.
myageingparent.com a website aimed at helping family and carers to help older people, whether it is their older parent, older friend or relative. Packed full of information, it is a proactive site, which helps people find the answers to all the questions they might have.
Parkinson's Society looks at why the disease occurs, the wide variety of symptoms the condition may cause and the range of treatments and support available.
The Stroke Association funds research into prevention, treatment and better methods of rehabilitation, and helps stroke
patients and their families directly through its Life after Stroke Services. These include Information, Advice and Support, Communication Support and Life after Stroke grants.