About New Copford Place, Colchester
Set in the picturesque Essex village of Copford, near Colchester.

Comfortable communal areas including three lounges and a spacious dining room.

Light, airy bedrooms – all with en-suite bathrooms and direct access to the stunning gardens - "The gardens are a delight, there are plenty of trees and wildlife to look at. The volunteers fill up my bird feeders, they know how much I enjoy watching the birds."

Beautiful gardens with a delightful courtyard and sheltered seating area, which provides a relaxing space to sit and read or talk to your friends and family - "This is truly a wonderful place. The food is good, it is clean and the gardens are well maintained."

Wide range of high quality, tasty seasonal menus - "The food is very good. Plenty of it and you can choose where you eat either in your room or in the dining room with others."

All meals freshly prepared by professional onsite cooks - "The cook asks your opinion. I was never one for breakfast before I came here but they make me a lovely scrambled egg in the morning which I look forward to."

A range of snacks and fruit are always available in between meal times – "The food is good and we have plenty of entertainment and things to do if you choose to get involved."

Extensive activity social calendar including movie nights, exercise groups, family days in the gardens and trips out to the cinema, pantomimes, a local farm, local ladies fellowship events, local churches and visiting gardens.

A horticultural specialist runs a gardening group and 'Knit and Natter' groups have been formed encouraging socialising and skill sharing - "I have always loved to knit and knitting for the raffles helps me to still feel useful."

Craft activities including making hats for the annual Ascot event.
Supporting independence and choice
They know I like to stay in my room and have my meals here. I've never really been one to socialise and they respect that. They come and chat which I like so I never feel alone.
Contact Us
If you would like to speak to us about any aspect of finding a care home or would like to book an appointment over the phone, please call us on:
 01206 210 397 (Care home)
  020 7730 8263 (Central office)
Kind, caring and sensitive team.
You would not find better than the staff who work here. People are genuinely caring and helpful - nothing is too much trouble.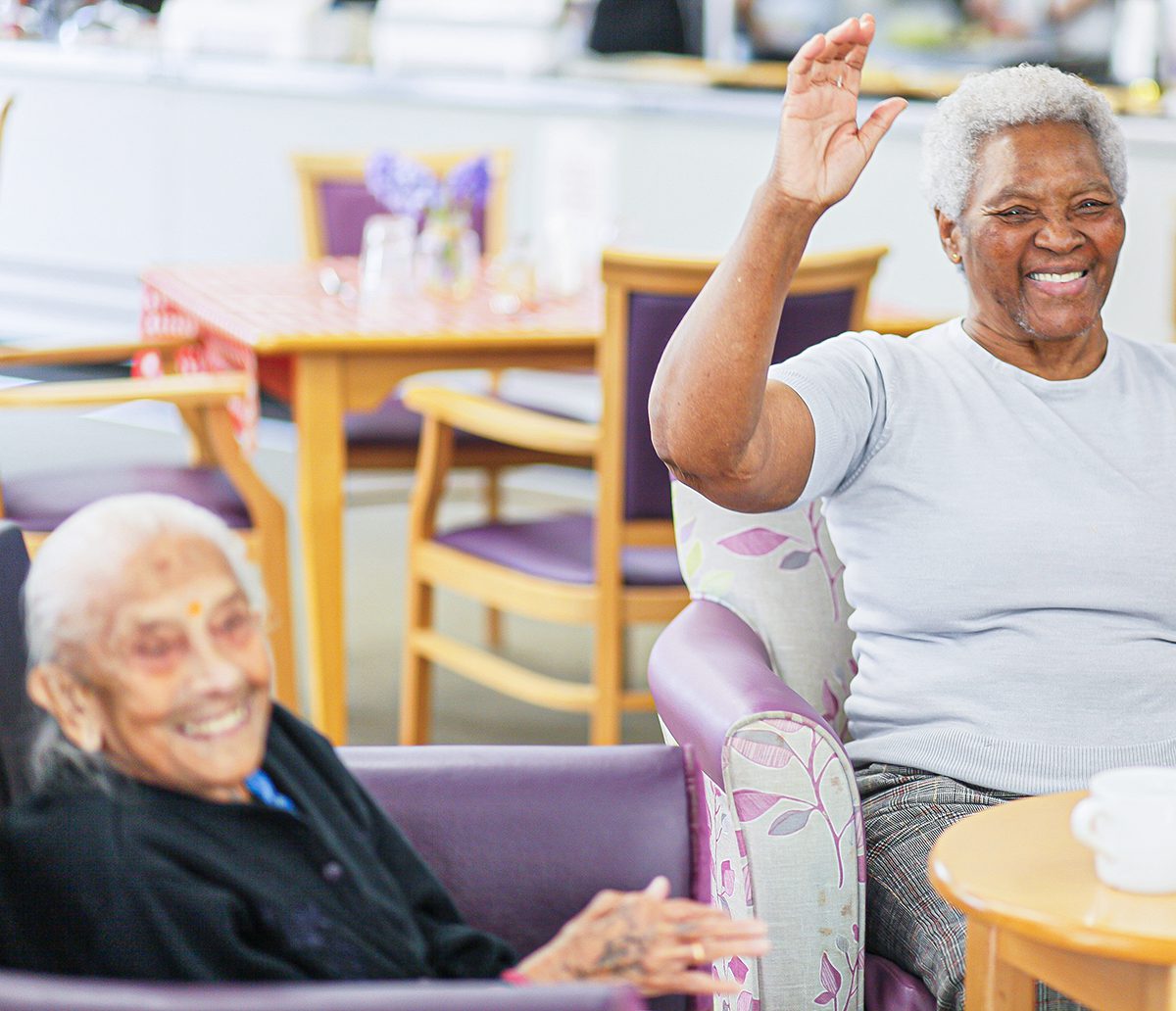 Why choose Friends of the Elderly?
We have been helping older people remain independent with dignity and respect for over 100 years
We put people at the heart of all we do
We are a charity- not for profit
We are a family and residents and staff are part of that family
We have organisation wide implemented Dementia Education Programme to enhance the quality of our residents' lives
All our care homes can accept people with dementia
We have staff who have worked with us for a long time – many over 20 years
We have been supported by the Royal Family for over 60 years. Her Majesty The Queen is one of our patrons and Her Royal Highness Princess Alexandra has been our President since 2005.