A huge thank you to everyone who kindly donated.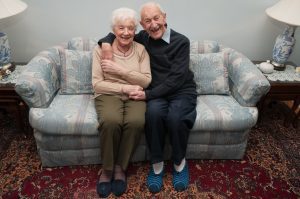 The money raised will offer vital support for some of the poorest older people in our communities who have nowhere else to turn. This winter, we have helped 11 older people afford their heating bills, replaced 19 broken refrigeration appliances, and helped to pay for 27 carpets to keep homes insulated, to name just a few costs.
Together with the Edward Gostling Foundation's match-fund partnership, these donations amount to £32,156. Your support has allowed us to help people like Vera and Henry* who are in their 60s and were struggling with a broken boiler through the tough winter months:
"We had exhausted all other avenues. You were our last hope. We both feel relieved to have a boiler that works. As you get older, you feel more aches and pains, especially when it's cold. You need to think about having money for other things, like water and food – but warmth is important too!"
All year round we help older people via our life-changing grants programme which helps older people living in poverty afford basic everyday essentials.
If you would like to support an older person in need, click here.
*names changed for confidentiality