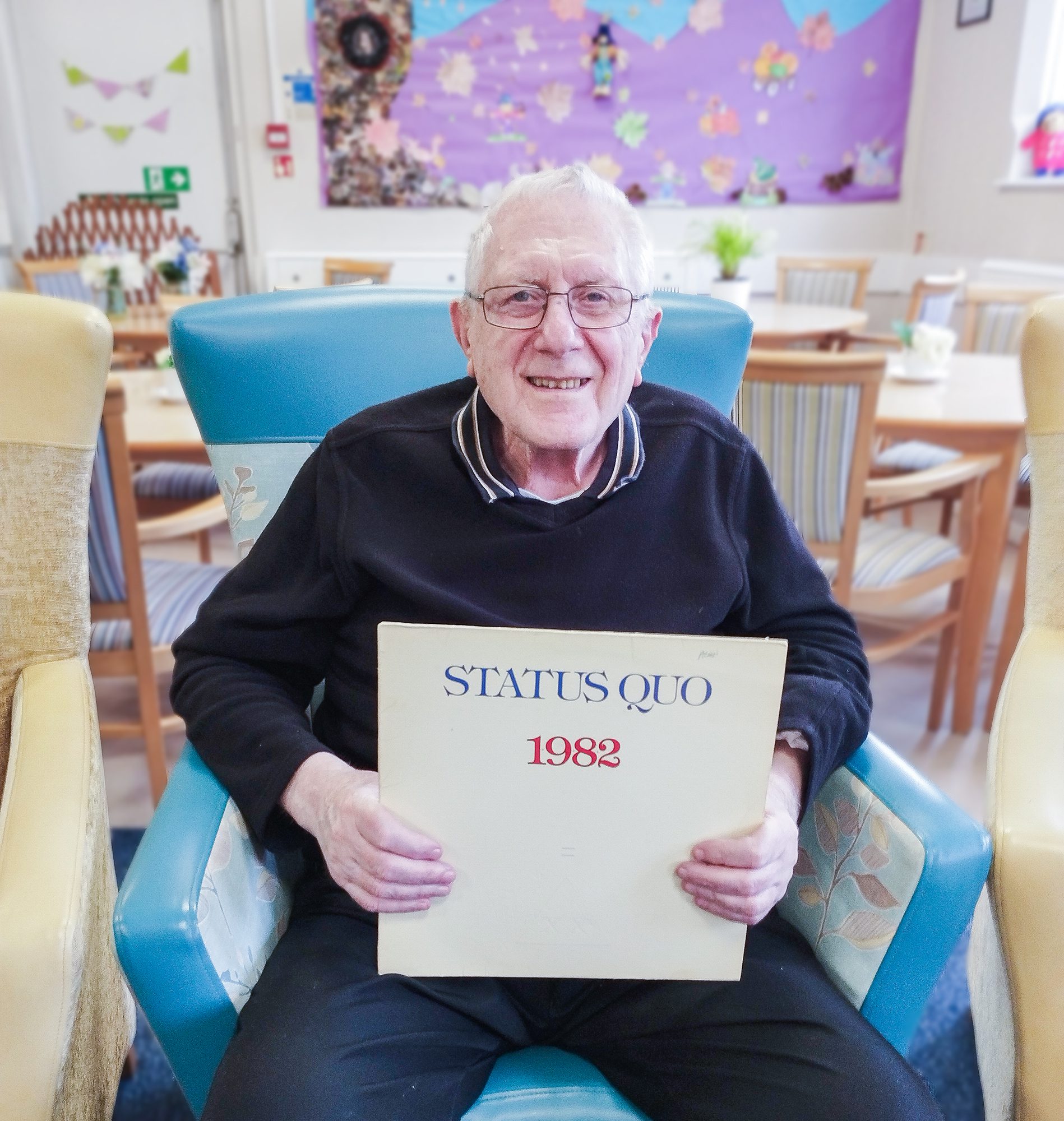 At Kidderminster Day Care, client Leonard and his daughter Wendy, have been reminiscing about his love of rock music, his National Service, working in the Kidderminster Carpet Industry and career as a Farmer.
88-year-old Leonard has been visiting our Kidderminster Day Care – which supports people living with dementia and a range of age related conditions – since November 2015. "I needed somewhere Dad could go, have interesting and engaging days, take part in stimulating activities and be well cared for," said Wendy. "It was extremely important that I found somewhere that was safe, had a 'home from home' feel and was a place where Dad was comfortable. Kidderminster Day Care ticked all the boxes."
Leonard visits the day care service three days a week and is a well-loved member of the day care family. Lovingly called 'Daddy Day Care' by Wendy, Leonard thoroughly enjoys each day he visits and is particularly fond of the visiting entertainers and singers. "Dad loves music," Wendy continued. "He's always liked Nat King Cole and The Carpenters, but his absolute favourite band is Status Quo. Once he'd retired, he went to see them in concert with some friends, his go-to track is Rocking All Over The World, he loves it.
Leonard grew up in the Georgian town of Bewdley on The River Severn in Worcestershire. The town's name is believed to stem from the word  'Beaulieu' in French, meaning 'beautiful place', it is also the birthplace of Stanley Baldwin, the First Earl Baldwin of Bewdley who served as Prime Minister on three occasions during his political career.
Leonard who attended Lax Lane School, says his favourite class was Physical Education (PE). "Dad's always been a bit of a sportsman," Wendy added. "When he was younger, he was on the school football team. He loved playing footie, but now enjoys watching games with his feet up as opposed to tearing round the pitch."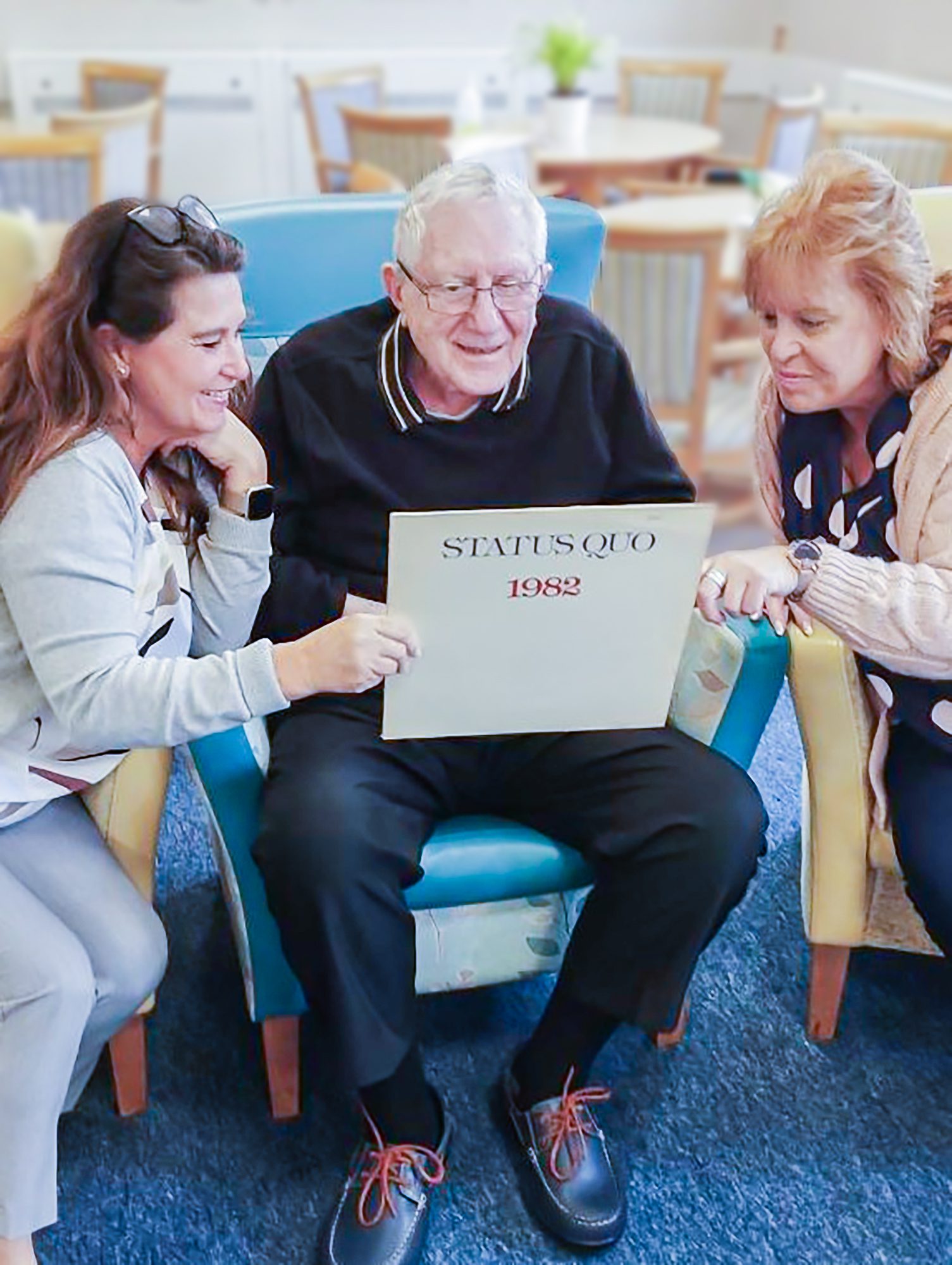 During his National Service, Leonard travelled far afield to countries including Egypt and Cyprus and says he wished he'd signed up for longer. "Dad doesn't talk about regrets, and when he returned home from his National Service he went to work on Whartons Farm. We were a family of Farmers by trade and Dad says he's a born and bred Farmer," continued Wendy. "Dad started off as a Herdsman looking after and tending lots of cattle, but as time went on, he took on more roles and responsibilities throughout the farm to support his parents."
Leonard married his Wife, Shirley, on 14th June 1958. Leonard was still working on the Farm at this time, but later changed his job to support his growing family, eventually working in the Kidderminster Carpet Industry. "The carpet industry was a bustling and busy industry that employed more than 12,000 people and boosted 25 factories during its heyday," added Wendy. "I think Dad enjoyed the work as he worked in numerous factories doing a wide range of various jobs."
The Farmer in Leonard never left as he was a keen gardener and Wendy recalls how he kept a huge vegetable garden at their home. "Dad would work seven days a week but still manage to grow fantastic vegetables, I've no idea how he managed it," said Wendy.
"Dad has always given me good advice, especially when I was younger. Two pieces of his wisdom still make me laugh. Firstly, Dad told me never to argue with, or answer back to a Policeman and, secondly, not to get married young. He said I should enjoy myself."
Shirley Bradley, Friends of the Elderly's Head of Day Care Services added: "Leonard is one of our longest standing clients and an absolute pleasure to be around. He sometimes sits with his eyes closed and then suddenly shouts out an answer to a question being asked in a quiz or something and that always makes us giggle. When he goes home at the end of the day, he usually does a little Jig when he walks across the room and it never fails to make us laugh."
Jeanette Samuels, the Deputy Manager at Kidderminster Day Care added: "One of my highlights with Len is when the entertainer Richard Ryan comes into sing, Len absolutely loves it when he sings Status Quo songs. He's fully engaged, feet tapping along and his face lights up, it's just lovely."  
"I do like to have a laugh and everyone here is so nice and friendly. I am so well looked after and feel so safe, I couldn't wish for a better place to be," said Leonard.
"All the day care team are absolutely marvellous. I feel 100% confident that Dad is well-cared for and supported. They are all great fun and with Dad's great sense of humour he is always smiling and laughing. The team really make it fun, easy and comfortable for Dad, which in turn, makes it easy for me too," concluded Wendy.
Find out more about our Kidderminster Day Care by calling 01562 825 490 or emailing enquiries@fote.org.uk.