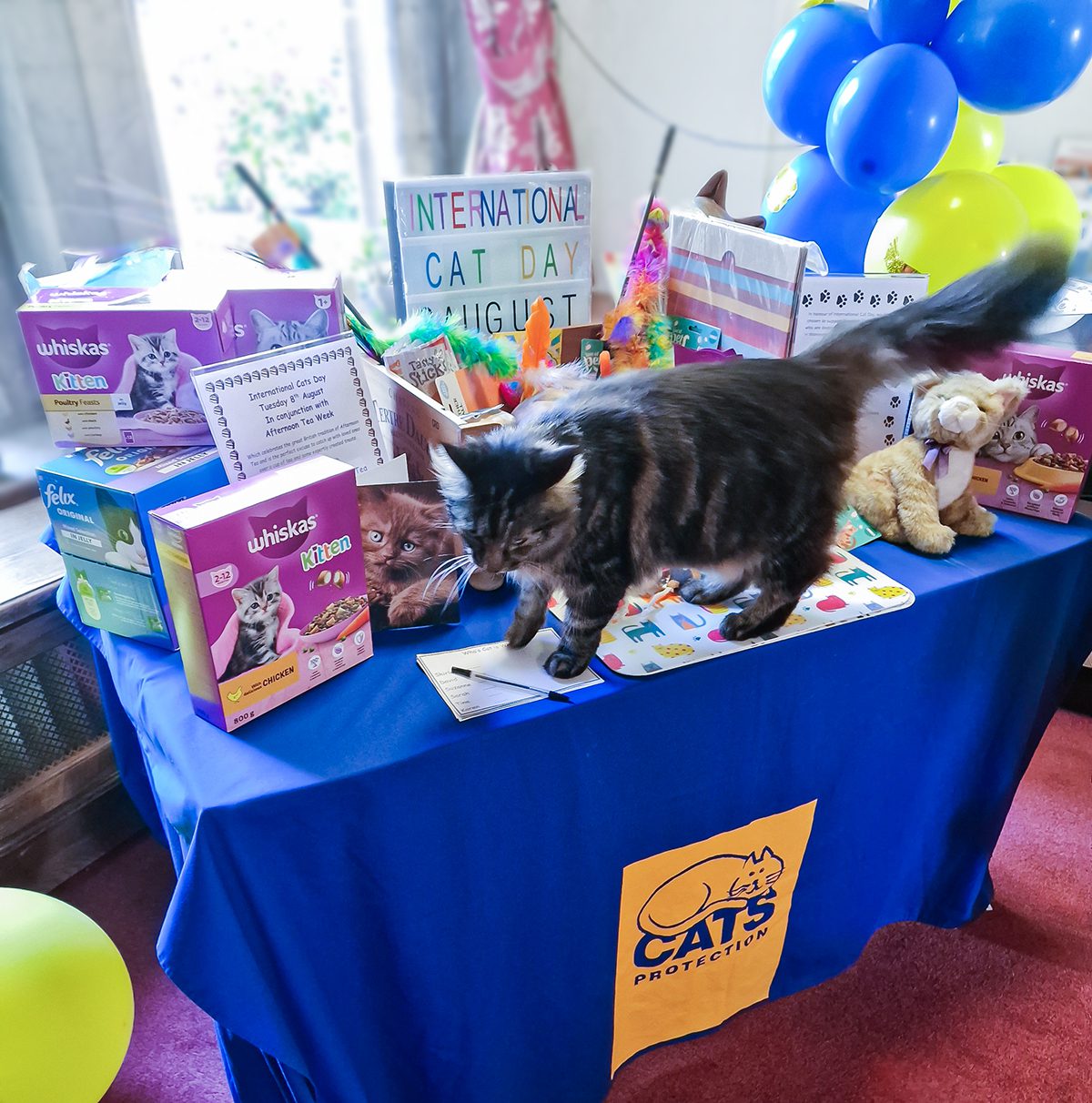 To celebrate and support this year's Afternoon Tea Week and International Cat Day, the care teams at our Malvern-based care homes, Davenham and Bradbury Court, hosted a special fundraising afternoon tea in aid of Cats Protection, the UK's largest feline welfare charity.
The link between Friends of the Elderly Malvern and Cats Protection stems from Karen Smith, Davenham's Housekeeper. Karen's son, Dan, works at the charity's Evesham Adoption Centre and Karen herself fosters kittens for the nationwide charity.
To mark both International Cat Day and Afternoon Tea Week, the Davenham and Bradbury Court care teams hosted a cat themed afternoon tea party in Davenham's Drawing Room, complete with cat shaped sandwiches, tasty cakes and, of course, traditional pots of tea.
"We have our own Malvern cat," said Suzanne Park, the Registered Manager at Davenham. "Her name is Twinkle. She's a long haired tabby and has been with us since 2019. Twinkle spends most of her time at Bradbury Court but, without fail, she does her daily rounds to all three care homes, it's almost like she's checking in with the residents.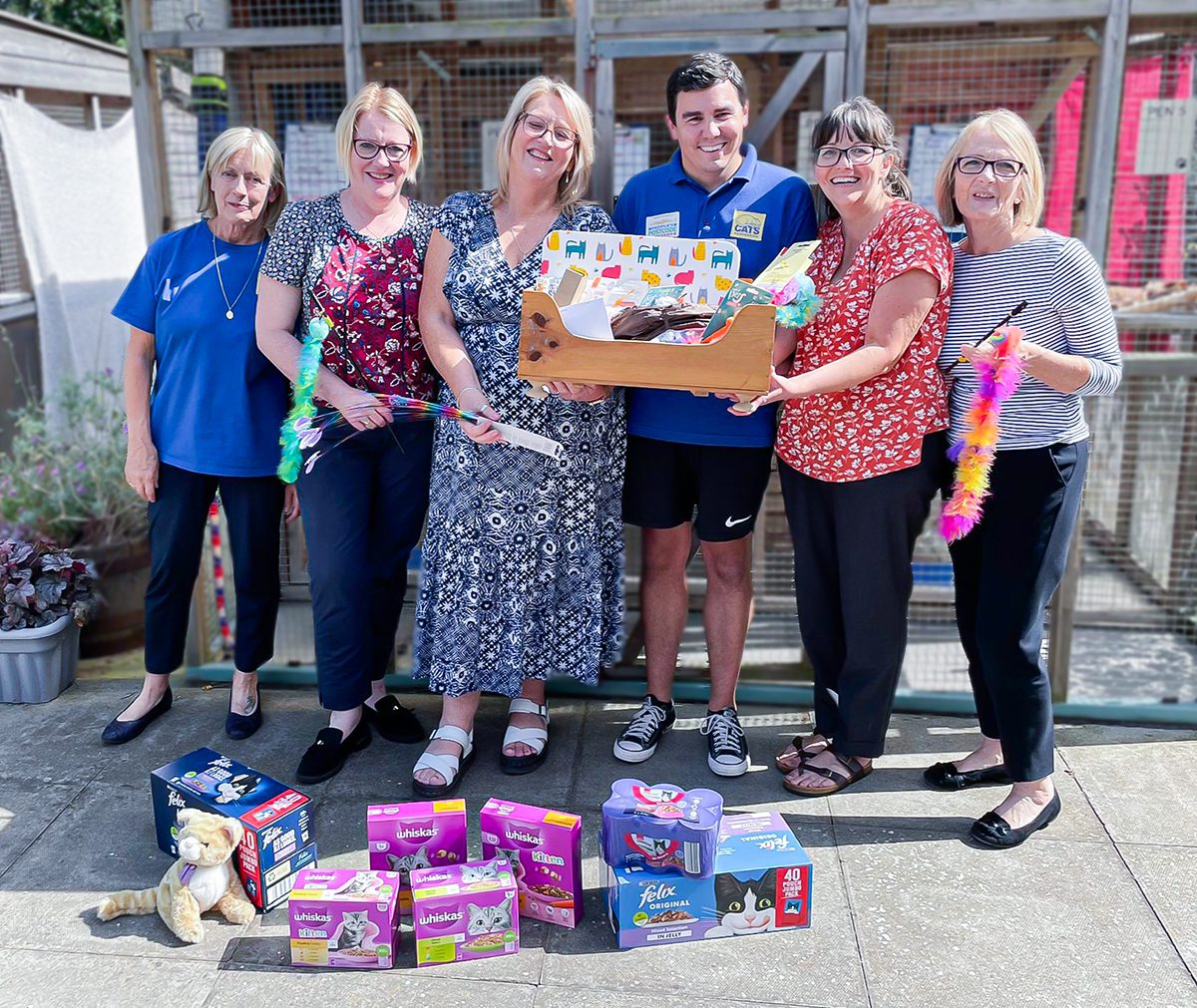 "The Cats Protection helps an average of 157,000 cats and kittens every year, and as Twinkle was originally adopted by a former manager, we thought the Cats Protection was the perfect – or should I say – purrfect choice to honour on International Cat Day."
The cat-orientated afternoon tea party was a huge success with many cat toys, beds and food being donated for Cats Protection. "All our residents and their family members thoroughly enjoyed the event," added Suzanne. "It was lovely to hear them reminiscing about pets they'd had in the past. Twinkle, of course, made an appearance, but wasn't too interested in the delicious cakes, she much prefers her kitty treats." 
Beth Roberts, the Deputy Manager at the Cats Protection Evesham Adoption Centre said: "Here at Evesham Cats Protection, we would like to say a massive thank you to everyone at Friends of the Elderly Malvern. They very kindly held an afternoon tea for us, complete with cat themed sandwiches and cakes. While raising awareness for our centre they also collected cat food, toys and beds for the cats in care so our feline friends continue to be well-fed, entertained and have comfy places to sleep.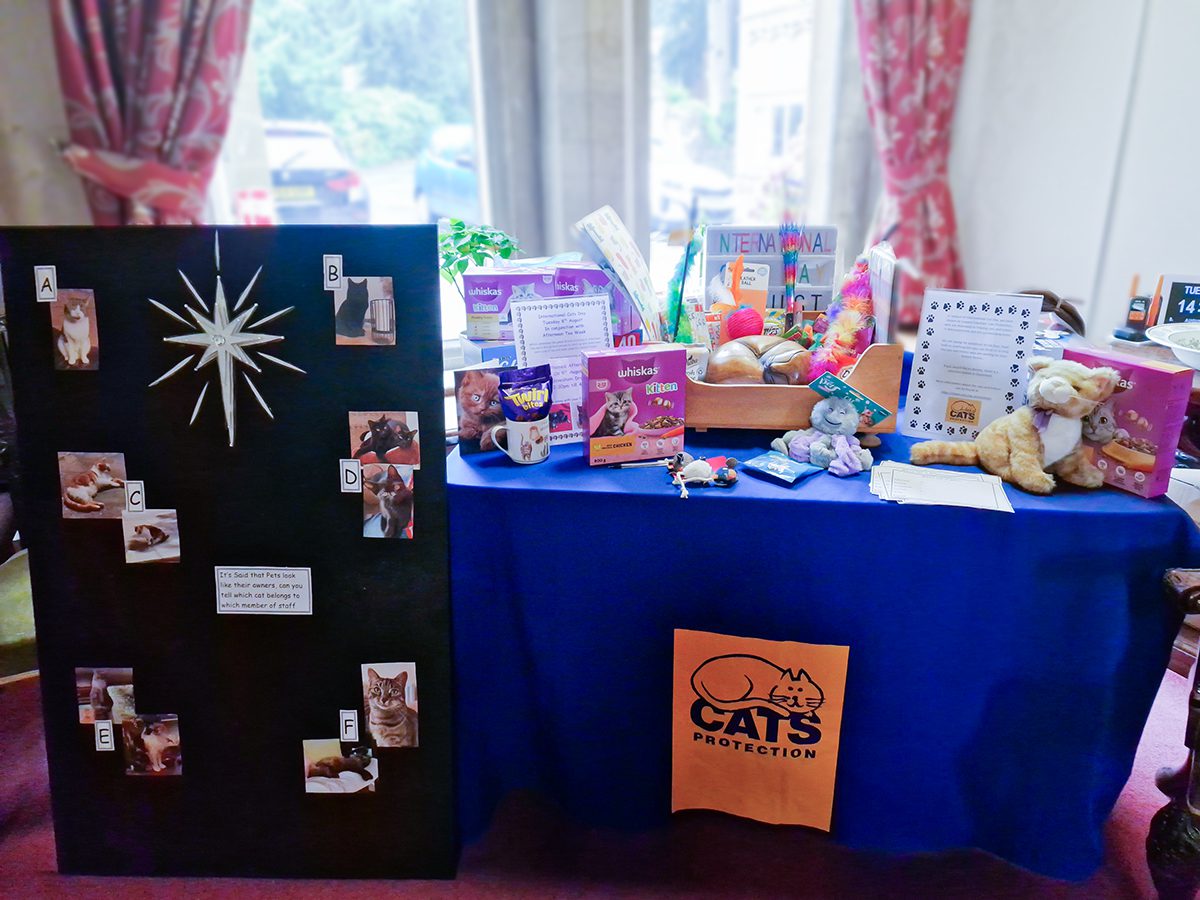 "We are so grateful for these donations which make a huge difference to the cats. Recently we have seen a high number of emergency cases coming through our doors such as cats from house fires, injured cats and even abandoned kittens found in hedgerows. If you would like to help out, just like Friends of the Elderly Malvern, our website has lots of details which you could also share with friends and family such as upcoming events, ideas for fundraising, opportunities for fostering, ways to donate food, legacies or time to the centre or simply ways to help us spread the word about everything we do!"
"The Cats Protection relies solely on the generosity and kindness of public donations to enable them to go on caring for cats and kittens, so it was great to be able to help in some small way," concluded Suzanne.
Find out more about Friends of the Elderly Malvern by calling 01905 388 720 or emailing enquiries@fote.org.uk.