Poverty in later life is a reality for more than two million people.  1
Vulnerable pensioners are struggling without the means to buy food, heat their homes, take a warm shower or wear clean clothing. The cost of living crisis has also deeply affected the one million pensioners who are financially insecure and living just above the poverty line.  2
Our grant giving service helps older people who cannot afford these basic essentials.
It helps to know we aren't on our own.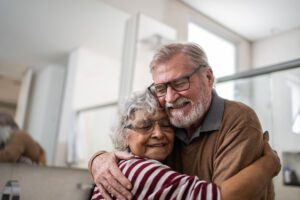 Anne*, 74, and Eric*, 69, have been married for 23 years and together for 45 years. Despite working all their lives, they were struggling to make ends meet and the cost of living crisis made everything worse. Anne told us how tough it has been for them: 
 "It's got so bad that I feel ashamed. I can't even afford to buy a bottle of milk. The cost of living has had a huge effect. We can't afford to make a Will or pay for the cat if it gets sick. We can't do everyday normal things. We are basically existing. It's a nightmare every day. It shouldn't have to be this way." 
 "Eric is registered disabled due to his work accident in the 90s when he nearly lost his right arm in a machine roller – but he has always worked, despite his disabilities. He has industrial deafness and is taking medication for anxiety because of the accident. I gave up my job as a receptionist at 60 to be the full-time carer for my mum – she lived until she was 103."
 With nowhere else to turn, Anne and Eric applied for a grant from Friends of the Elderly to help pay for fuel and food.  
 "I'm very, very, grateful. The grant saved our bacon. I'm hoping things will improve. The cost of living is affecting everyone. It helps to know we aren't on our own." 
 Thanks to generous donations we are able to help people like Anne and Eric through their hardest times.  
 Find out more about applying for a grant, or see how you can support more older people like Anne and Eric by donating or fundraising for Friends of the Elderly.
*names changed for confidentiality  
References
1 and 2 icon-Icons  Independent Age: The Hidden Two Million June 2023