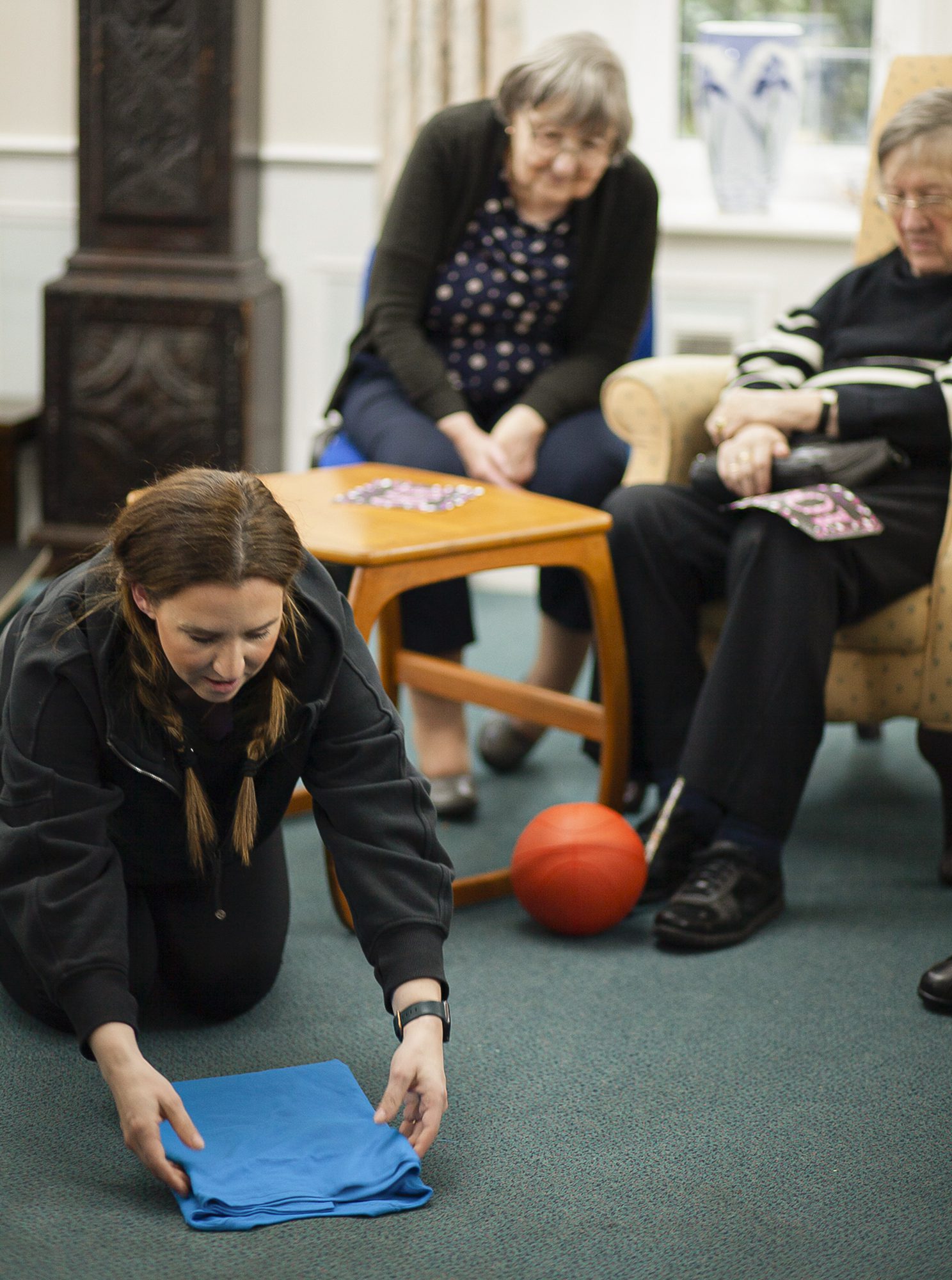 The clock is ticking until the start of this year's TCS London Marathon when international TikTok star, 'The Folding Lady' Sophie Liard, will be taking on the 26.2 memorable miles for our charity.
Friends of the Elderly has very strong family ties for Sophie. Her Mum, Gaynor, used to be one of our Regional Managers, her Aunt Cheryl Rothschild is the Director of Care Homes and, her Gran, Ann Essam is the Activity Coordinator at Redcot, one of our Surrey-based residential care homes.
The Folding Lady is well into her training schedule and on Saturday 11th March ran the Surrey Half Marathon, with a time of 2:52:20. Her trainer – Sophie Bankes from Stable Fit in Guildford – is carefully putting her through her paces and has been providing her with lots of tips of the trade. As she explains, "Every training session starts with mobilty work. Focusing on ankle and hip joints to increase their range of movement which will help to prevent injury while running. The main aim is getting to the start line injury free! We have also been doing a lot of dynamic stretching, such as calf raises to help lengthen and strengthen calves which are such an important muscle group for runners. During my strength sessions we have been using weights and focusing on a full body approach to make sure not just Sophie's legs are strong but also her core and upper body are strong enough to support her during longer runs."
The Folding Lady said, "My trainer Sophie is so knowledgeable about exercise, nutrition and Marathon running, I've learnt so much. For example, taking part in a marathon is not just running, which was a bit of a surprise to me."
Of course, every Marathon runner needs a good pair of running trainers and Sophie is no exception. "Sophie took me to buy my first ever pair of running trainers. When we arrived at the shop, I had to do a jogging test on a treadmill which showed the shop assistant how my feet, legs and ankles were placed when I ran. I tried on three pairs of trainers, but in the end went back to the first pair I tried on, they were just so comfy. Sophie said that it's just like picking a Harry Potter wand – the trainers pick you, you don't pick the trainers, it's so true," Sophie said.
During a break in her busy training plan, Sophie recently took time out to visit Redcot residential care home in Haslemere, Surrey. "I had a brilliant day," said Sophie. "My Gran, Ann is Redcot's Activities Coordinator and I had a great time joining in with the residents. We got totally engrossed in Parachute Ball. We all sat in a circle holding this big parachute which had a soft football popped in the middle. The aim of the game is to keep the ball in play on the parachute by lifting the chute for as long as possible without it flying off in all directions.
"The residents were so good – real experts and thoroughly enjoyed themselves. At the end of the game, we all enjoyed a lovely afternoon cup of tea and a tasty piece of cake. I was asked if I could fold the parachute up properly, so not wanting to let anyone down, I got to grips and folded it into a neat parcel. I was quiet chuffed as I got a lovely round of applause for my folding endeavours. It was a fantastic end to a fantastic day," Sophie added.
With The London Marathon only weeks away on Sunday 23rd April, Sophie is getting excited. "I'm absolutely buzzing to do this – scared to death – but buzzing. I'm so excited to be able to do this for a charity that does wonderful things for older people every day," she concluded.
If you'd like to donate to Sophie's Marathon effort and raise vital funds for Friends of the Elderly, you can do so at JustGiving.