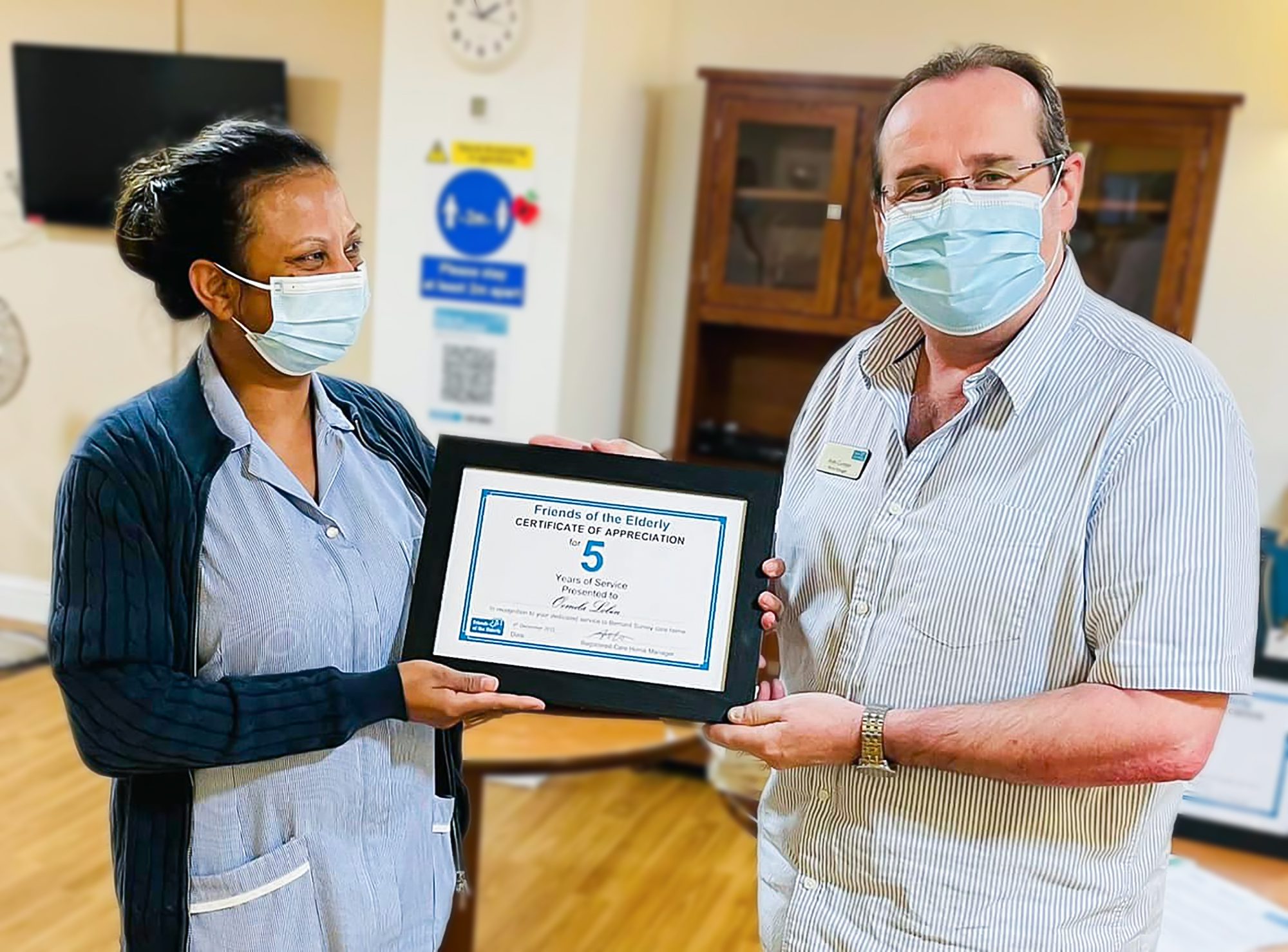 At Friends of the Elderly, we not only always have the wellbeing of our residents and clients at the heart of everything we does, but also the welfare, health and safety of our employees.
To honour long service staff members, awards were arranged with celebrations across our homes, services and central office. The awards recognised the commitment by colleagues who have given so much of their time, energy and loyalty to Friends of the Elderly and was a great opportunity to celebrate their long and dedicated service.
Commenting on the long serving members of the team, Friends of the Elderly's Head of Human Resources, Mathew Yates said: "We rely heavily on the experience, skills and talents of our employees and volunteers and need to ensure they have everything they need to continue to deliver an exceptional level of care to all our residents and clients. Some of our team have been with us for over 20 and 30 years, which is an extraordinary length of time. It was great to be able to thank them, not only on behalf of Friends of the Elderly, but also from all the older people they support and care for – and what they do, over and above every day."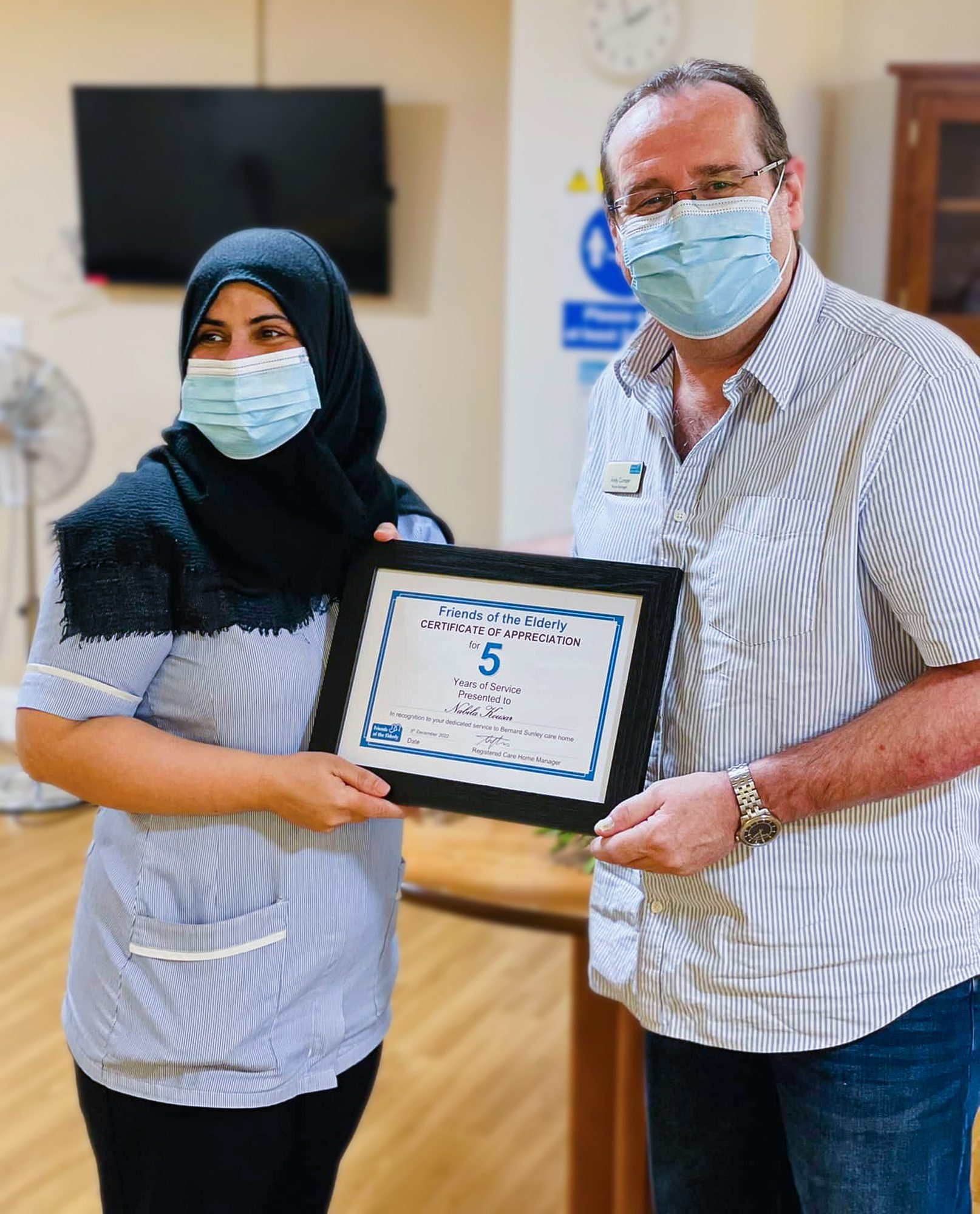 Echoing Mathew's comments, Mark Wilson, Chief Operating Officer added: "It's the commitment of our team that keeps the charity going. They give 110% every day to ensure our residents and clients are given the highest quality of care."
At Little Bramingham Farm, our residential care home in Luton, Jacqueline Taylor was presented with her 20 years award, Denise Turner with her 10 years award and Lisa Turnball with her five years award.
At the charity's day care services, awards were also presented. At Kidderminster Day Care, Jenny Morrey was received with her five year award, Nikita Smith at Woking Day Care was also presented with her five year service award and Mandie Halford at Malvern Day Care received her five year award.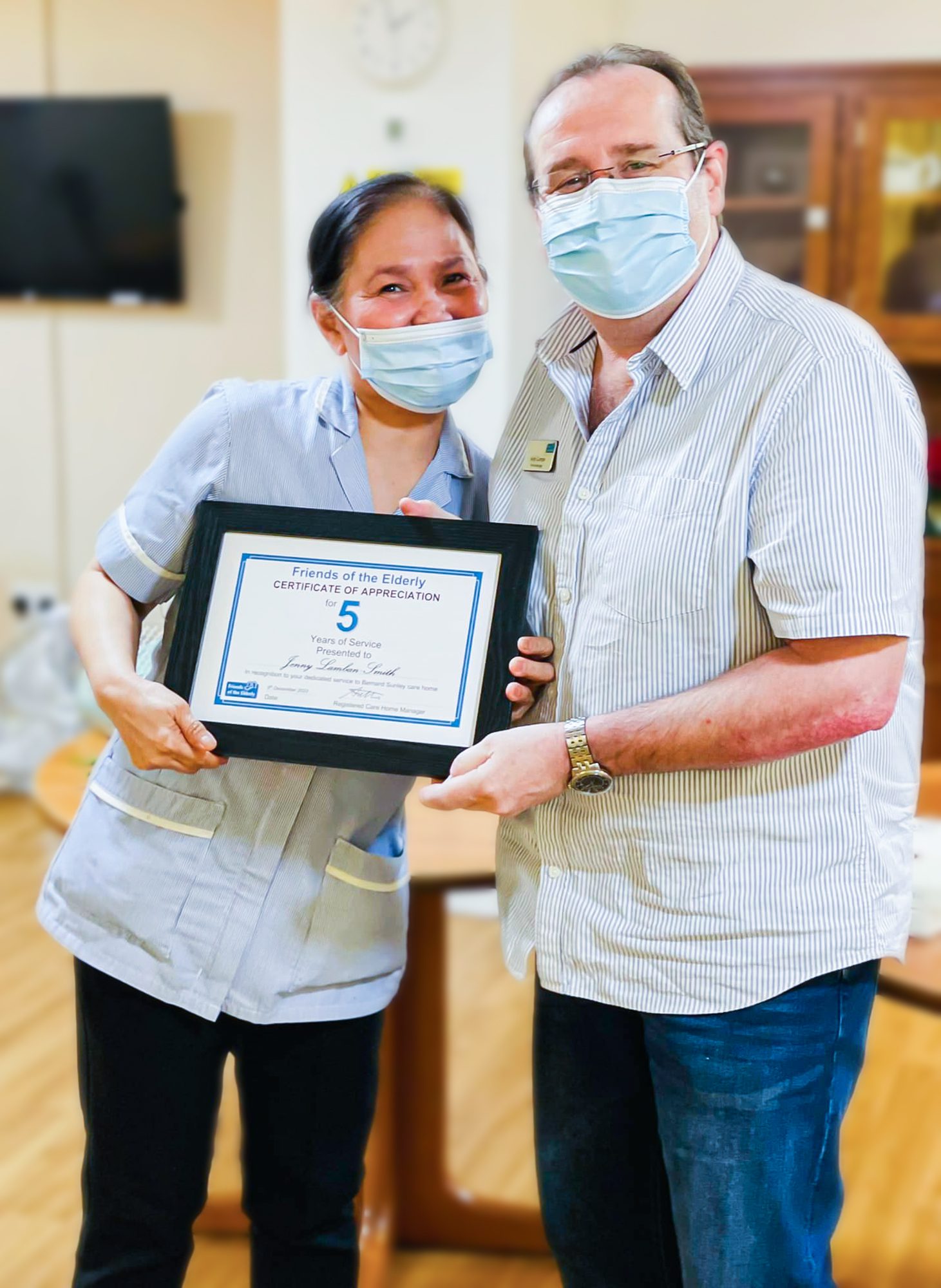 At Bernard Sunley, our residential and dementia care home in Woking, Surrey, Registered Manager Andy Cumper decided to add a bit of colour to his presentations by adding flowers to the proceedings. "I am so proud of my team and all they do, not only for Friends of the Elderly, but importantly for all our residents and their families. I wanted to make the awards as special as possible, so I popped all the certificates into frames and gave each award recipient a beautiful bunch of flowers too.
"I had nine team members receiving their Long Service Awards, covering five, 10, 15 and 20 years, it's an amazing achievement," said Andy.
Throughout our charity, many staff members received Long Service Awards, including seven for the 20 year award, four for their 15 years of service, 10 colleagues for the 10 year award, 38 for the five year award and three for 30 years and over.
"Our colleagues have devoted a big part of their lives to Friends of the Elderly and have helped make the charity what it is today. It is through the dedication, hard work and loyalty of our long serving team members that our achievements have been made possible," said Steve.
Kerryn Memmo, Friends of the Elderly's Marcomms Administrator has been with the charity for nearly six years; she said: "To receive an award from the charity for my years of service was great. I have stayed with the charity for so long as, quite simply, I love my job. I work with likeminded people and I get to make a difference. There are good benefits and flexibility, plus ongoing development opportunities as well."
"We value every single member of the Friends of the Elderly family and want to underpin our culture where everyone is valued, feels safe and supported. It demonstrates how Friends of the Elderly treats its teams and volunteers in the same way we treat all our residents and clients," continued Mathew.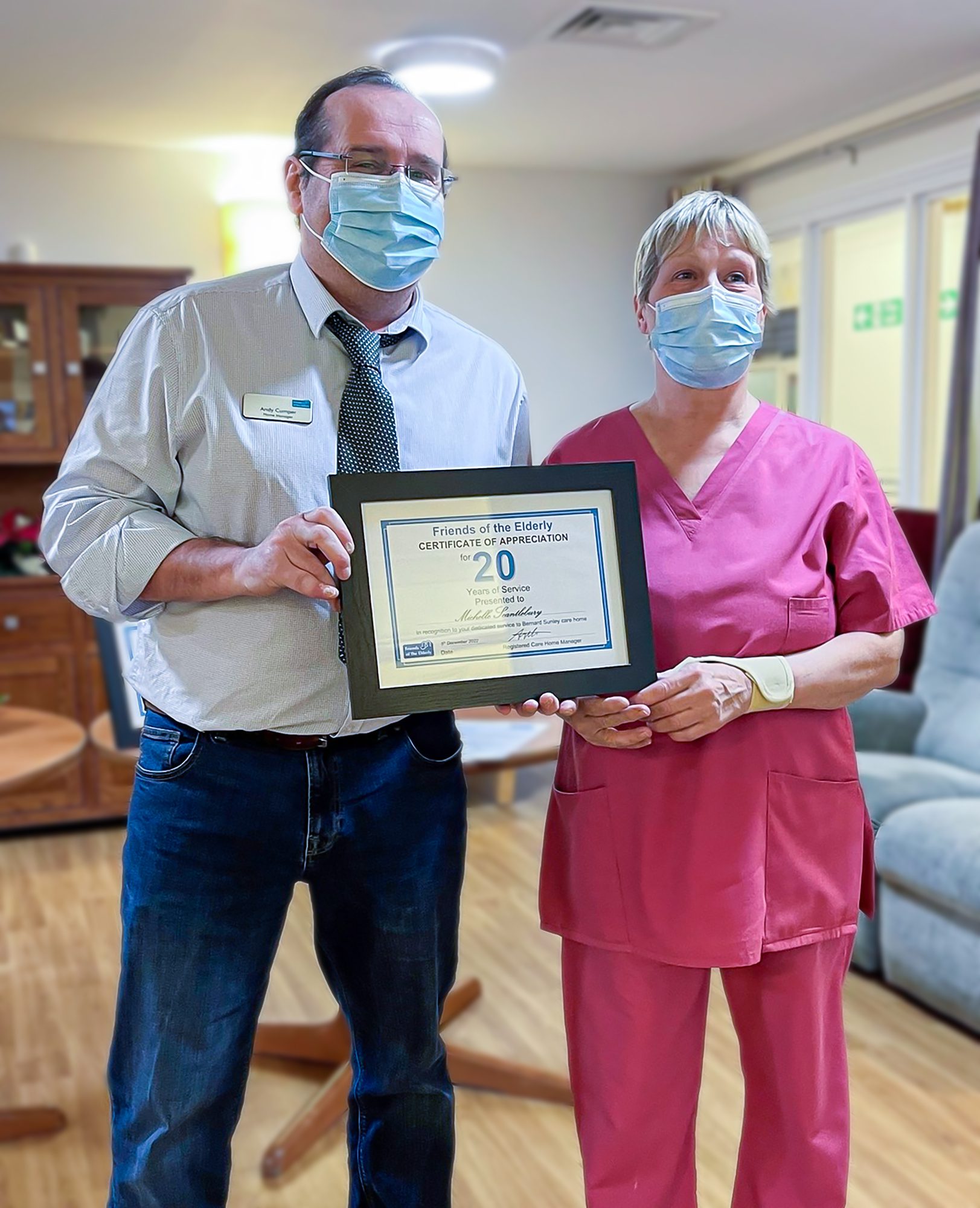 One of the longest serving members of our team at Friends of the Elderly is, in fact, Mark Wilson who has been with the charity for 30 years; he said: "During my many years – 30 in actual fact – with Friends of the Elderly, I've worked in a range of care, management and senior management roles. I am passionate about providing high quality, tailored care and support that meets each individuals' requirements.
"In November 2021, I became Chief Operating Officer and the role has given me the opportunity to review and develop new ways of working that will help maintain and improve Friends of the Elderly's care and support services. I value the dedication and commitment of all our staff throughout the organisation as they are the backbone of the charity."
"At Friends of the Elderly, we are proud and honoured to recognise good practice, acknowledge and thank all our colleagues and value their commitment to the charity and all our residents and clients," concluded Mathew.
To find out more about our care homes, day care services or grant giving programme for older people in need of financial support, call 020 7730 8263 or email enquiries@fote.org.uk.