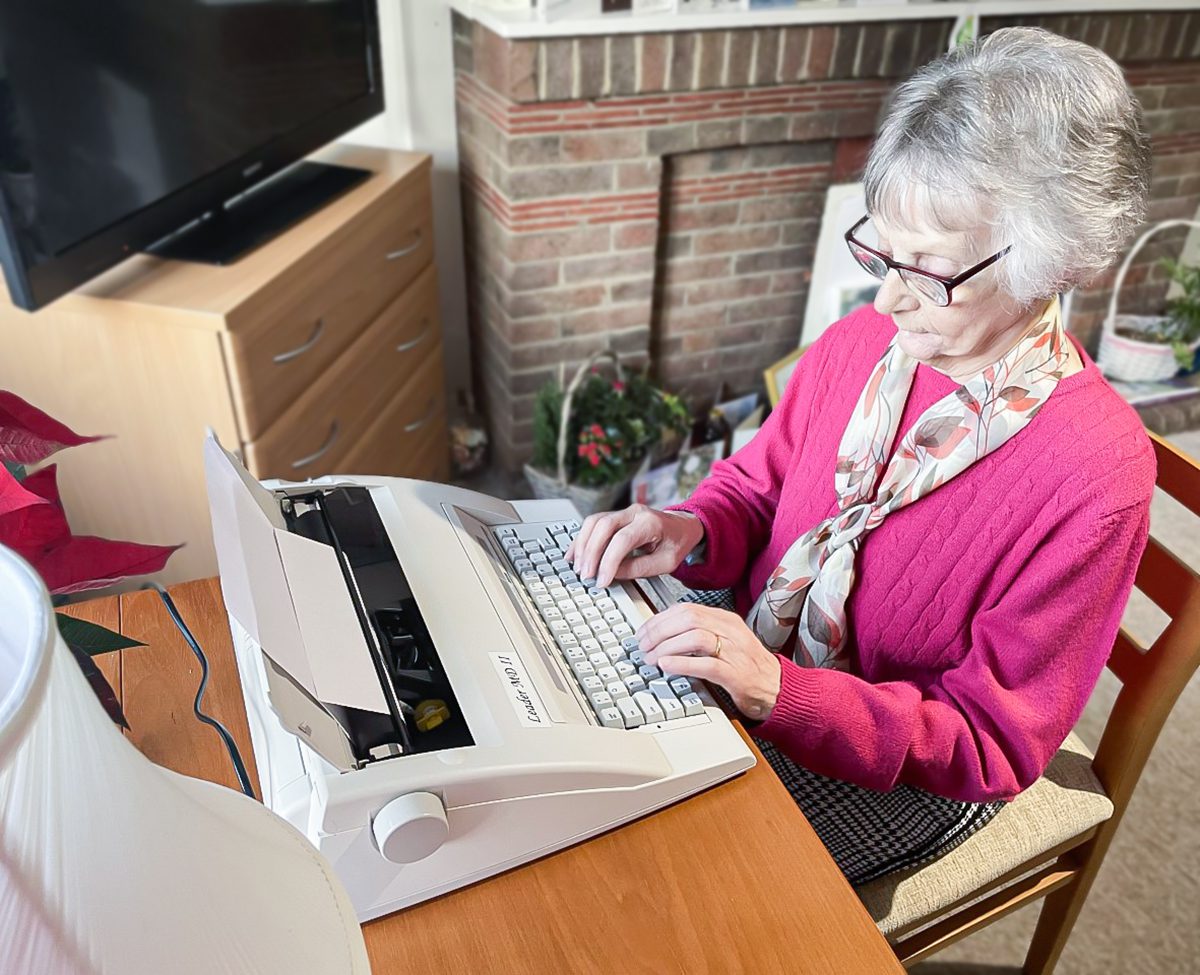 At Little Bramingham Farm care home in Luton, Bedfordshire, resident Pauline Dimery has written a special poem dedicated to the care home she loves so much. Pauline put pen to paper after sharing her love of writing with Karen Charity, Little Bramingham Farm's Activities Co-ordinator.
"I started writing poetry back in the 1980s," Pauline said. "My Mother was good at writing as well as playing the piano and singing, and I had an Uncle who was the Editor of a local newspaper, so perhaps writing is in my genes," Pauline added.
Pauline moved to Little Bramingham Farm in July 2021 and said she made the decision to live at the care home as it seemed so much brighter and much friendlier than other care homes she'd viewed.
Talking of her love of writing, Pauline continued: "I went to Harthill Infants School then to Hitchin Road Senior School, followed by attending commercial college for a year. I always enjoyed my English lessons especially writing essays. On a few occasions, my Teacher enjoyed my essays so much, she asked me to read them out to the whole class.
"When I was 39, I went back into education and attended Barnfield College as I wanted to gain some O'Levels. These were not the recognised educational qualification when I was originally at school, but I thought I should try as I wanted to go into Teacher Training.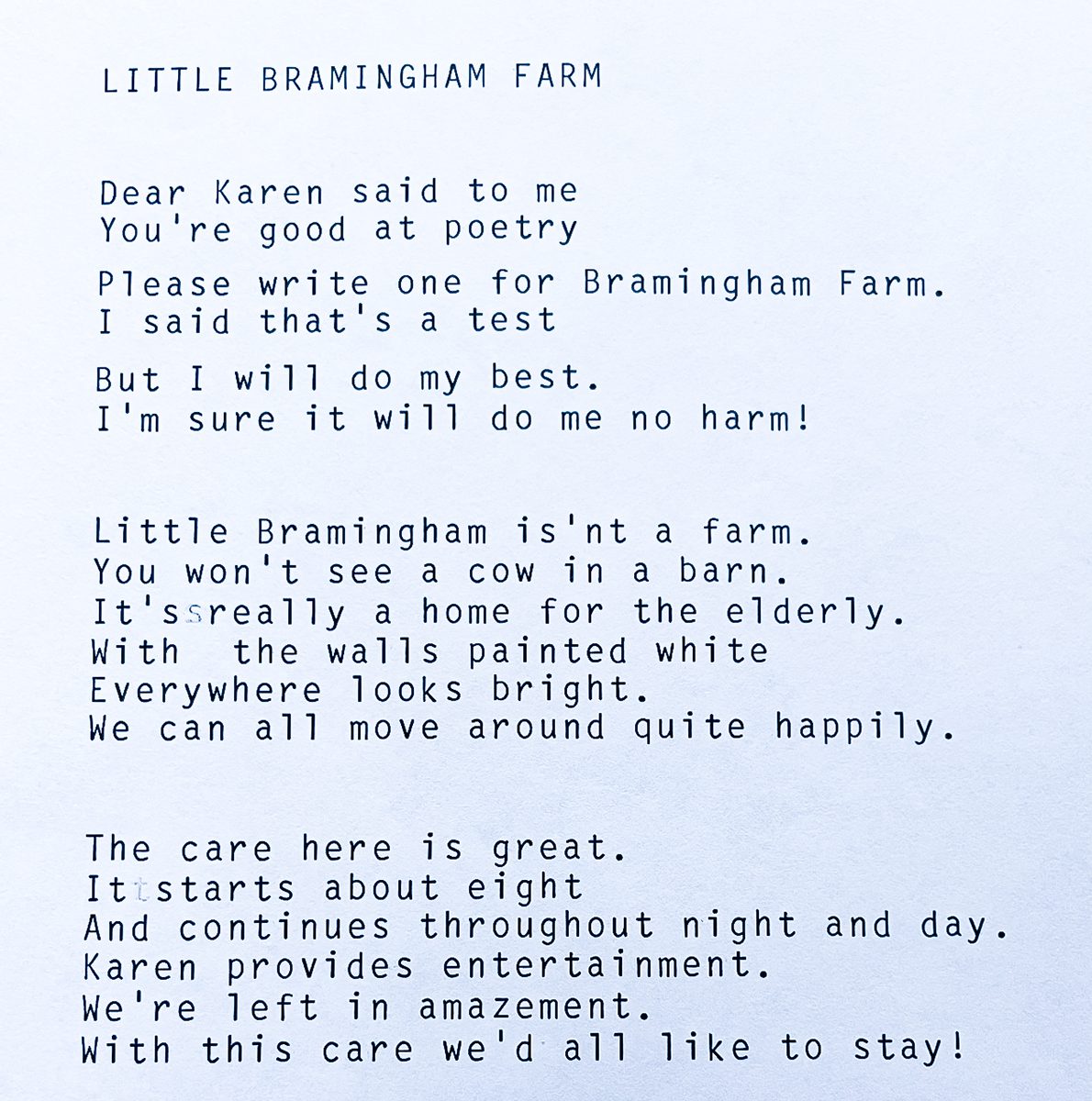 "I studied English Literature and thoroughly enjoyed reading about the life of Thomas Hardy, especially his 'Far from the Madding Crowd.' The story of Gabriel Oak, a young farmer and his love for, and pursuit of, the elusive Bathsheba Everdene, captivated me. On the other end of my literary menu is poet, Pam Ayres, I do so love reading her poems," Pauline added.
Karen Charity, Little Bramingham Farm's Activities Co-ordinator continued: "Pauline has written quite a few poems, all of which are based on her life experiences or something that is special to her. I asked Pauline if she had a favourite, but she said there are so many to choose from, it would be too difficult.
"Pauline has a selection of her work in a special notebook, which she regularly adds to, so I asked if she'd like to write a poem about our care home and luckily for us, she agreed."
Little Bramingham Farm, by Pauline Dimery
Dear Karen said to me
'Your good at poetry,'
'Please write one for Bramingham Farm.'
I said, 'That's a test,'
'But I will do my best,'
'I'm sure it will do me no harm.'
Little Bramingham isn't a farm,
You won't see a cow in a barn.
It's really a home for the elderly,
With the walls painted white,
Everywhere looks bright,
We can all move around quite happily.
The care here is great,
It starts about eight,
And continues throughout the night and day.
Karen provides entertainment,
We're left in amazement,
With this care we'd all like to stay!
Pauline added: "I have a sudden urge to write and it's usually about something in life that I feel strongly about, even something on the news or general day-to-day experiences. When Karen asked me to write a poem about Little Bramingham Farm, as I love living here, the words and poem just flowed."
However, Pauline has another claim to poetry fame. "I entered a competition on The Pete Murray Show on Radio 2. It was to write a limerick about a town – but it wasn't just that simple and straight forward. The town limerick's had to be alphabetical, so I entered on the letters J and P. I was blown away when my letter J poem was read out on air.
Pauline's Letter J Poem
There was a young Mother from Jarrow,
Who pushed baby out in a barrow,
She was very upset,
When baby got wet,
And won first price as a marrow!
"My letter P limerick was quite funny too, but it didn't make the cut."
Pauline's Letter P Poem
A Pottery Teacher from Poole,
One day fell off of his stool.
He fell into his clay,
And the very next day,
Donated his bust to the School!
Pauline still loves to read and always has a book on the go. "I like to read when I go to bed, it really helps to relax me," she said. "I like some autobiographies, my favourite was the life of Edith Cavell, the brave British nurse from World War I.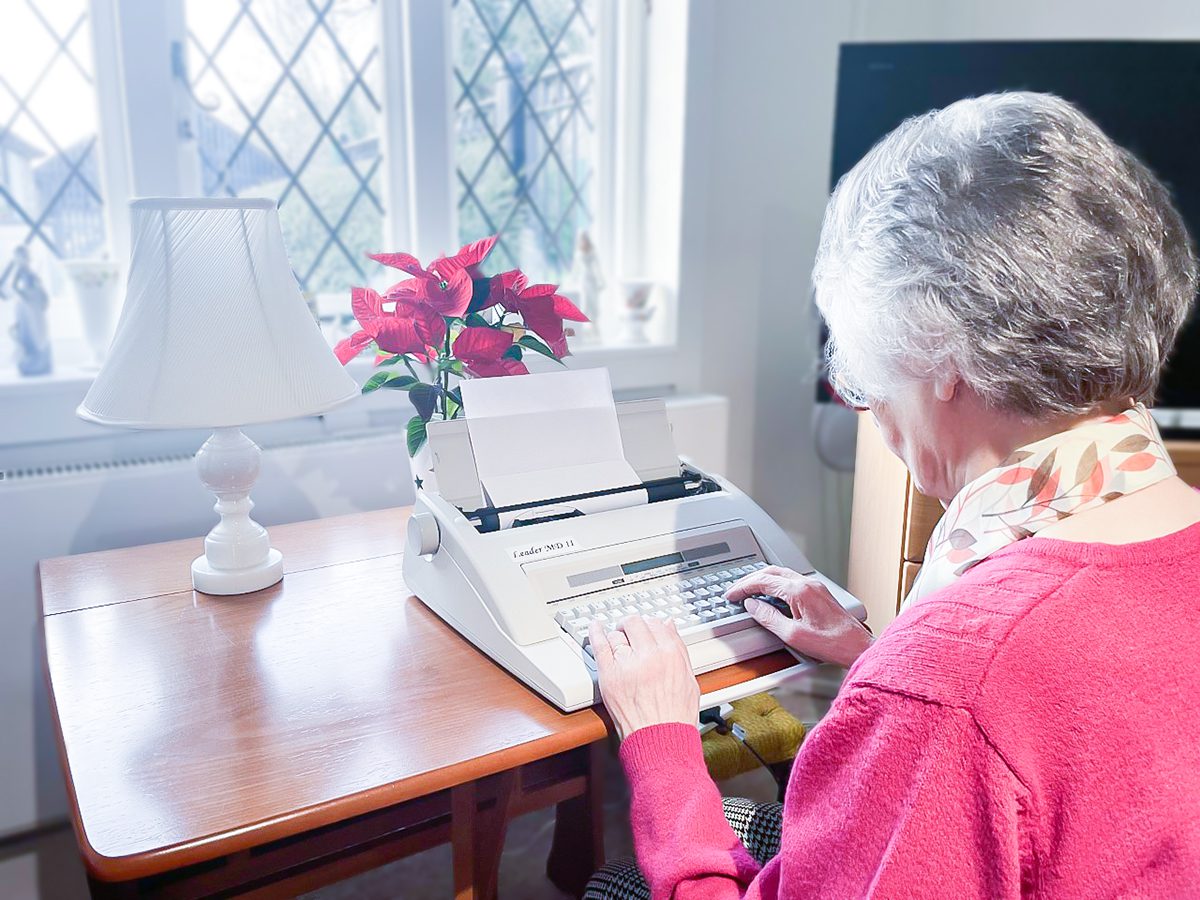 "She saved the lives of many soldiers from both sides of the war without any discrimination and she helped around 200 Allied Soldiers escape from German-occupied Belgium. It's a brave and sad story as Edith was arrested and tried for treason for helping the soldiers. She was found guilty and sentenced to death by firing squad and, despite a lot of international pressure for mercy, she was executed at dawn on 12th October 1915.
"I now tend to read light novels, but I did read that there is a mountain named after Edith in The Jasper National Park in Canada. Edith's mountain – Mount Edith Cavell – is actually the most prominent peak entirely within Alberta, which seems fitting for such a courageous, brave and caring lady," Pauline concluded.
Find out more about Little Bramingham Farm care home by calling 01582 582 433 or emailing enquiries@fote.org.uk.