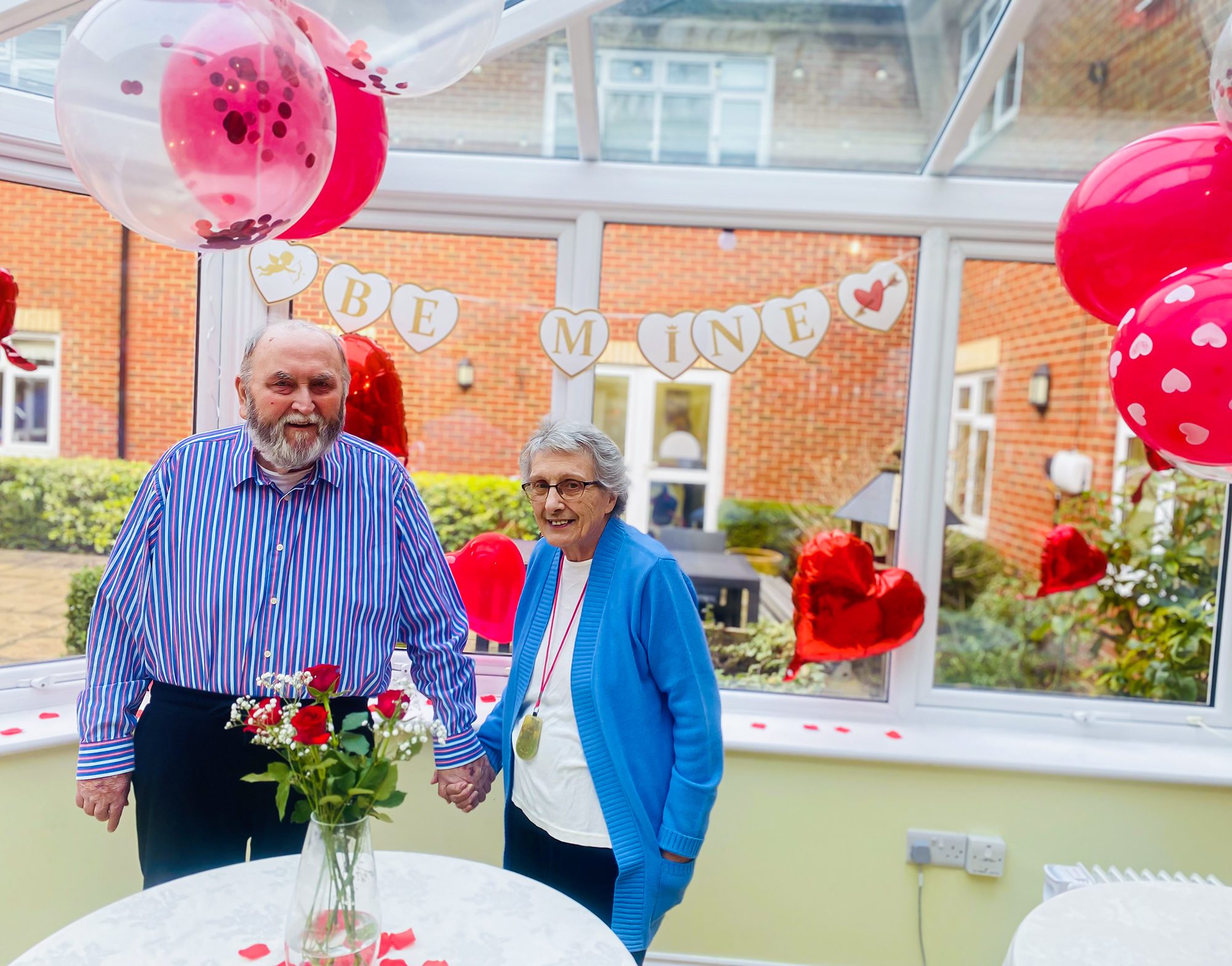 At Bernard Sunley, our Woking-based nursing and dementia care home, residents Helen and Geoff Harrold have been celebrating not only Valentine's Day but also their Blue Sapphire 51st Wedding Anniversary. The happy couple enjoyed a romantic lunch in the care home's specially decorated Conservatory, which was decked out with balloons and flowers to create a relaxing and romantic atmosphere.
Geoff has been a resident at the care home since 2022 with Helen joining him very recently. "I suffered a stroke, so once I was back up and running, I decided to move into Bernard Sunley, not only to be with Geoff 24/7, but to be looked after by the wonderful care team," Helen said.
For their first date, Helen and Geoff went to a new Chinese restaurant on Broad Street in Birmingham. "I was so nervous," Geoff said, "I was scared to death." However, Helen wasn't scared at all. "I wasn't nervous, I was excited. Not only to be seeing Geoff, but to be trying out the new restaurant as well," a laughing Helen added.
The happy couple tied the knot in back in February 1972, amidst the nationwide blackouts, which were a result of the Miners' strikes. "We got married at the Methodist Church in Ruislip, which wasn't too far from my parents' home in Pinner. It was a wonderful day but we did have some hilarious moments," Helen recalls.
"We got married at a time when the country was experiencing a lot of electricity blackouts. I was getting ready at my parents' home and my Dad said I'd better have a bath before first just in case the heating went off. That was good advice – as soon as I'd had my lovely hot bath, the electricity went off and everyone else had to wash in cold water.
"Dad and I went to the church in the last car, we made sure we were on time as I didn't want to be late. As we got out of the car, the organ was playing beautifully and literally, as we stepped over the threshold into the church, it went silent.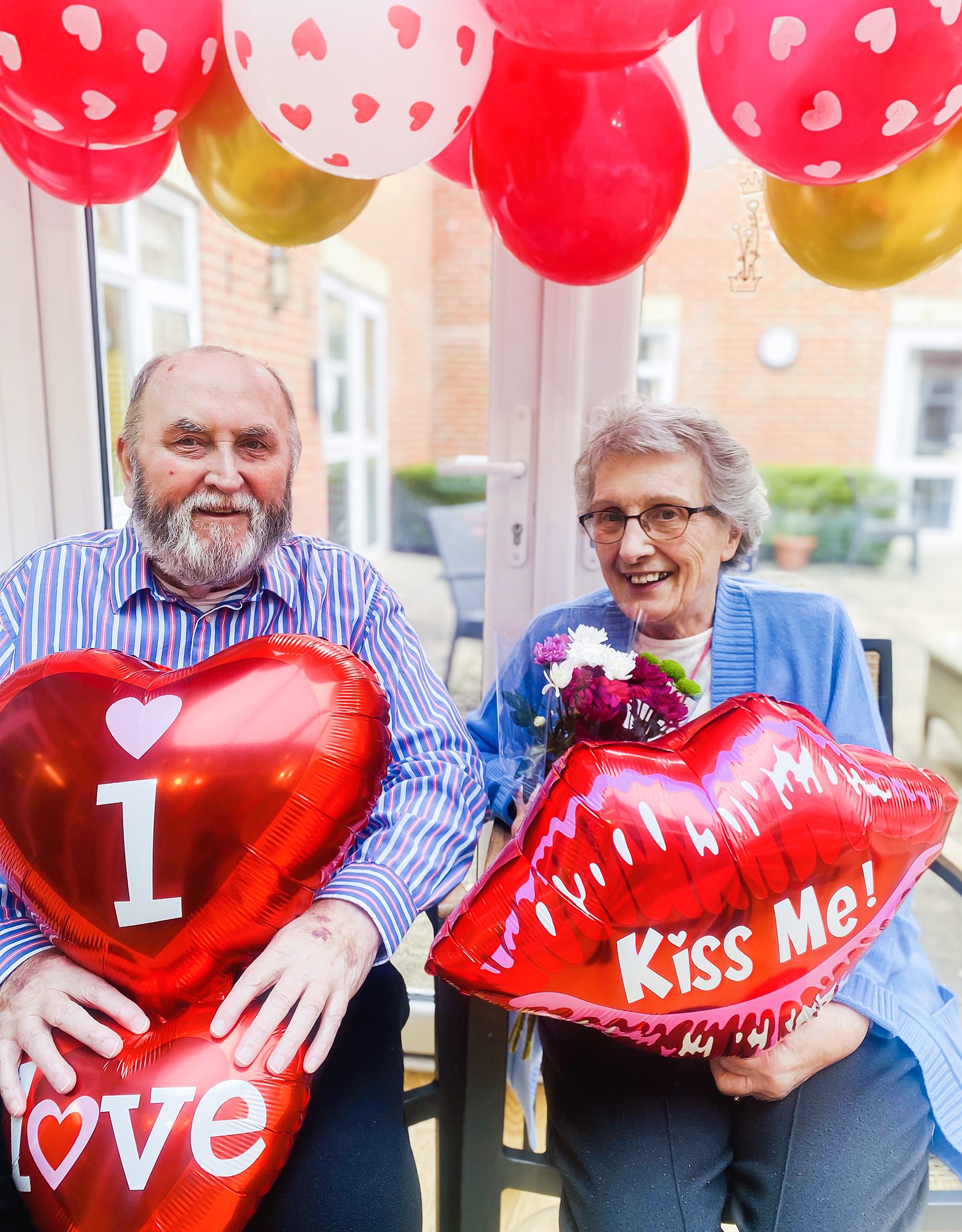 "We were a bit miffed as all of a sudden a piano struck up and carried on playing. It was due to another power cut, which meant the organ wouldn't work anymore," Helen said.
After the Marriage Ceremony, the Wedding Party went to Watford for the reception but, again, the power cuts decided to get involved. "Another blackout caught us, so the whole reception took place by candlelight," Helen continued, "To be honest, it was rather romantic," added Geoff.
Geoff has always had a passion for sports cars, but not just any old sports cars, they had to be red convertible MR2 sports cars. "Geoff was and still is mad on cars – sports cars. He always had a red convertible MR2, they are quite iconic with their soft tops. We had great times zooming around," said Helen.
"I enjoyed drama and belonged to the local amateur dramatics drama group The Trinity Players. We mainly did performances for the church parishioners but also did quite a few pantos. To celebrate the Millennium as a couple in 2000, we did a big thing about Missionaries through the ages," Helen continued. "You really enjoyed that didn't you," added Geoff. "I came along to see Helen's performances; she was rather good."
Alongside her acting and before becoming a full time home maker and Mother to their two sons, Nicholas and Andrew, Helen worked for Barclays Bank at the front of house as a Bank Teller. "I enjoyed my job, as it was nice to chat to the customers every day," Helen said. Geoff and Helen are now proud grandparents to Andrew's two sons Jonah who is eight-years-old and George who is five-years-old. "They are great chaps, always full of energy and mischief. You can get tired just watching them run about," Geoff added.
Talking about their long and happy marriage, the happy couple believe their secret is a lot of give and take, being kind, tolerant, having an acceptance of what goes wrong, enjoying what goes right and doing things together. "Helen absolutely smashes it being my wife. I love being married to her and still do, every single day," said Geoff. "We have always done most things together, that word really sums up our life – together," Helen continued. "It's important to have someone who understands you whether you are right or wrong – and puts you right if you are wrong. Geoff's my soulmate and I'm his. We're always there for each other, no matter what."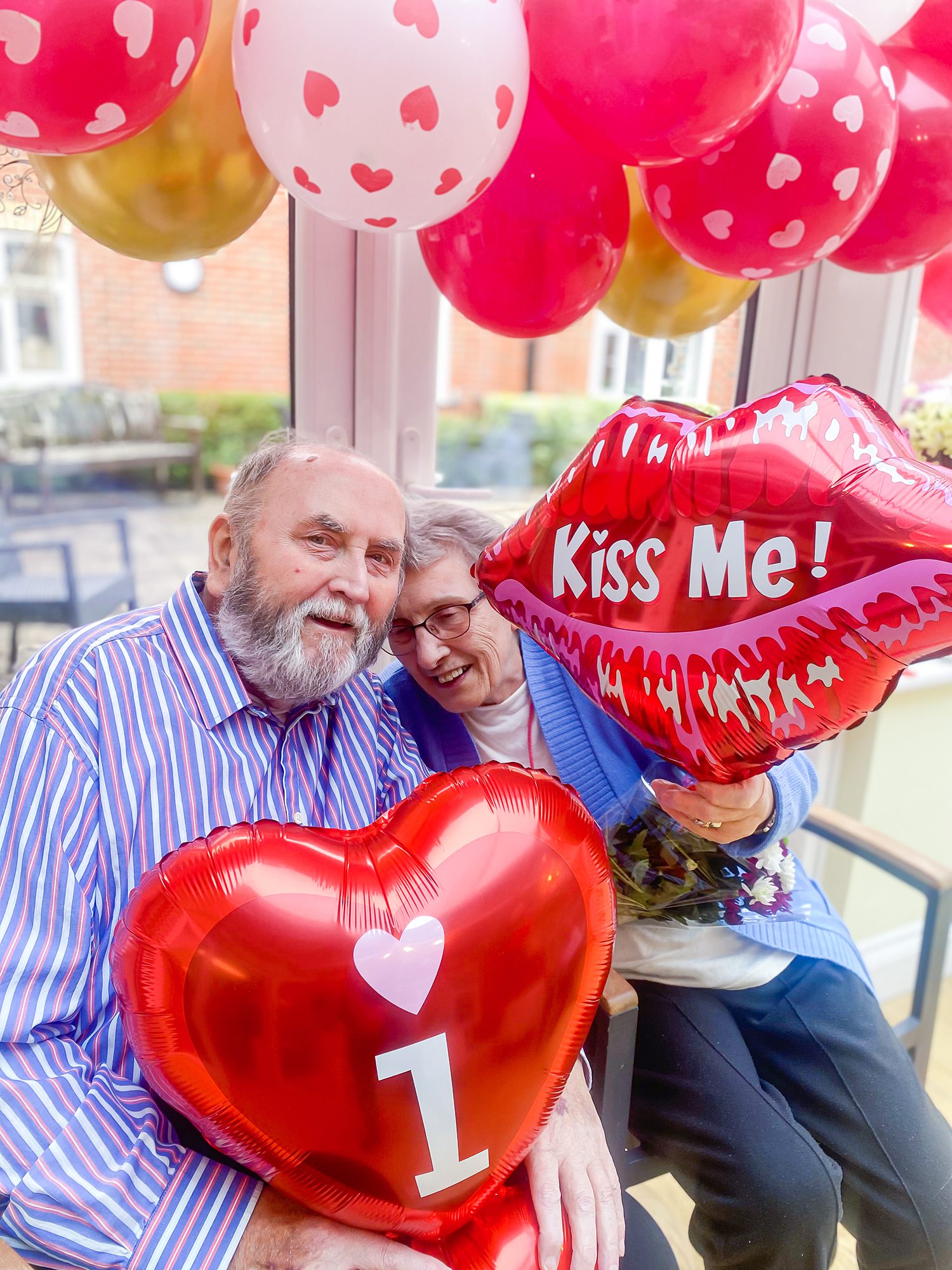 Geoff added: "We laugh a lot, always have done and always will. Anything can set us off with the giggles. We were asked if there was a film that is like our marriage. We both agreed it had to be a Carry On… as they are full of laughter, a bit like us."
Andy Cumper, the Registered Manager at Bernard Sunley said: "Geoff and Helen are a wonderful couple, they are so much fun to be around. They are always laughing and joking together – and with the care team. To celebrate Valentine's Day and their landmark, 51st Wedding Anniversary, we wanted them to have a special day together and show them just how special they are to all of us."
"We both had a lovely time. Our lunch was delicious, the Conservatory was beautiful and everyone made such a fuss of us. When we got married back in 1972, the number one song in the Hit Parade – as it was known then – was 'Let's Stay Together' by Al Green and we certainly have," concluded Helen.
Find out more about Bernard Sunley care home by calling 01483 764 300 or emailing enquiries@fote.org.uk.