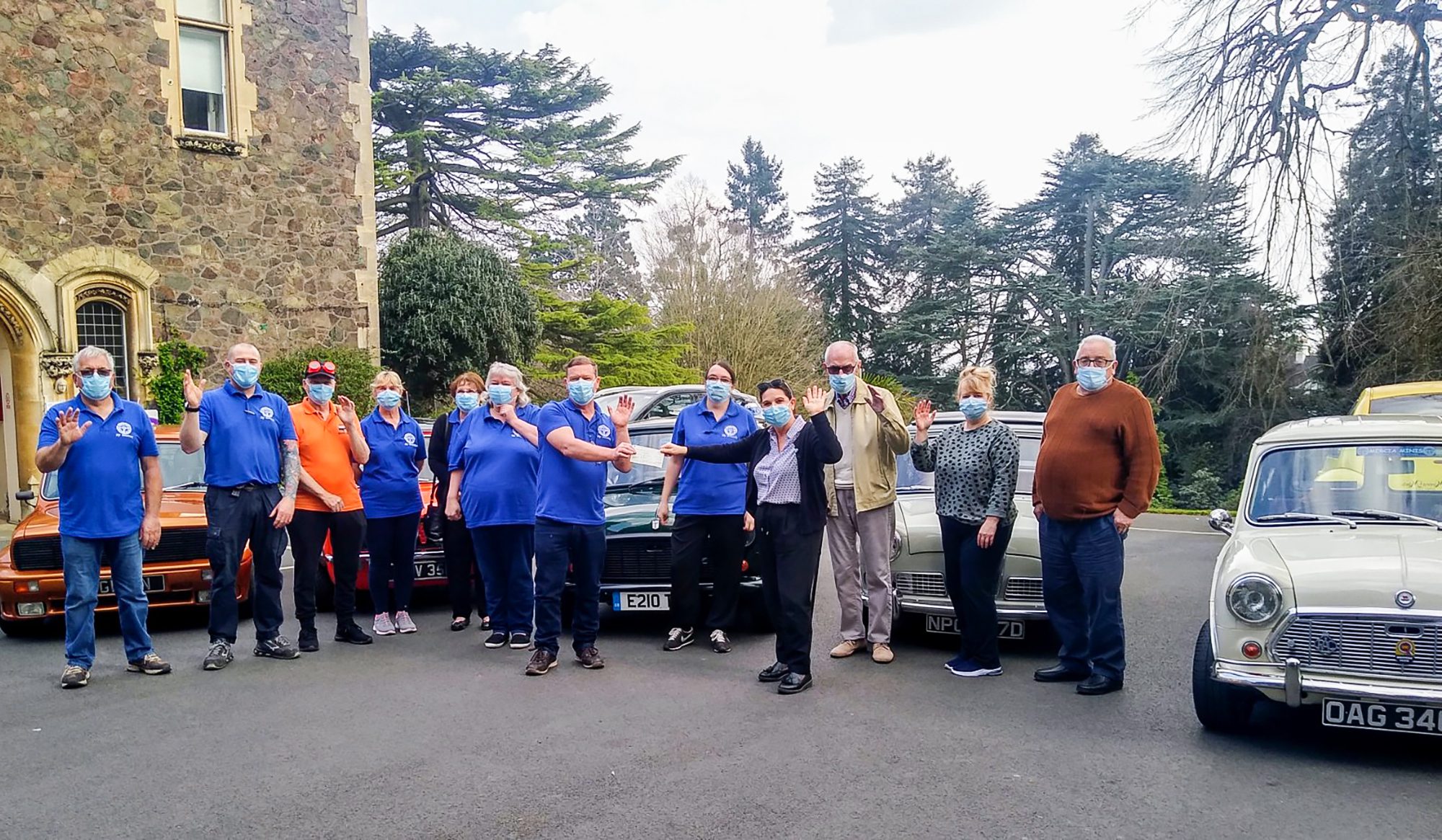 Back in March 2019, the Mercia Minis Car Club first visited our Malvern Day Care centre. They arrived to celebrate and announce that our day care centre was the Malvern car club's chosen charity for the year, a support that would run until March 2020. However, before they could return, the COVID pandemic struck.
Fast forward to April 2022 when a group of classic, pristine Minis arrived at the Centre with their owners to present Shirley Bradley, Malvern Day Care's Manager, with a cheque for £515.06.
The arrival of Club Chairman, Viv Box – together with seven Club Members – was the cause of great excitement amongst the day care centre clients. The Centre, which supports people living with dementia, ensured the immaculate vehicles took pride of place outside the building. Of course, the classic cars were the day's hot topic of conversation. Viv said: "Everyone at Friends of the Elderly's Malvern Day Care Centre was really interested in the Minis. The classic cars are so iconic. They brought back many memories, even comments about the film, The Italian Job. Luckily, nobody asked for the doors to be blown off."
Shirley said: "It was a real treat to welcome Viv and the Mercia Mini Club members back again after such a long time. Throughout the unprecedented times caused by the pandemic, we had to close the Centre in order to protect our clients, their families and the day care centre team. Together, our team worked hard to ensure the Centre was COVID-WISE for its reopening. It's so wonderful to see our all clients back and enjoying themselves again. Meeting Vivian and the other members of The Mercia Minis Club really sparked interest amongst of our clients, with many sharing their own motoring stories and memories."
Linda Gilks, one of the Club Members who also works as a Day Care Assistant at the Malvern Centre, added: "The Malvern Day Care Centre is not only a great place to work, but it's a club with a family feel. The team are all well trained to support older people living with dementia. We love to get everyone engaged and involved with the wide range of diverse and stimulating activities we have every day. We ensure all of our activities are varied and tailored to our client's needs, abilities and interests. No two days are the same, which keeps things interesting for everyone."
Viv continued: "For us, as a local club ourselves, it's really important to each and every one of our members to support and contribute to local charities, especially those like Friends of the Elderly's Malvern Day Care Centre, which does so much and gives so much to the older members of our community."
"It was wonderful to see everyone again after so long and being presented with a cheque was absolutely amazing. We are going to use the money to purchase a large smart TV that we can use for a wide range of interactive and inclusive activities that all our clients can participate in and enjoy," Shirley concluded.
To find out more about our Malvern Day Care centre, call 01684 218 281 or email enquiries@fote.org.uk.