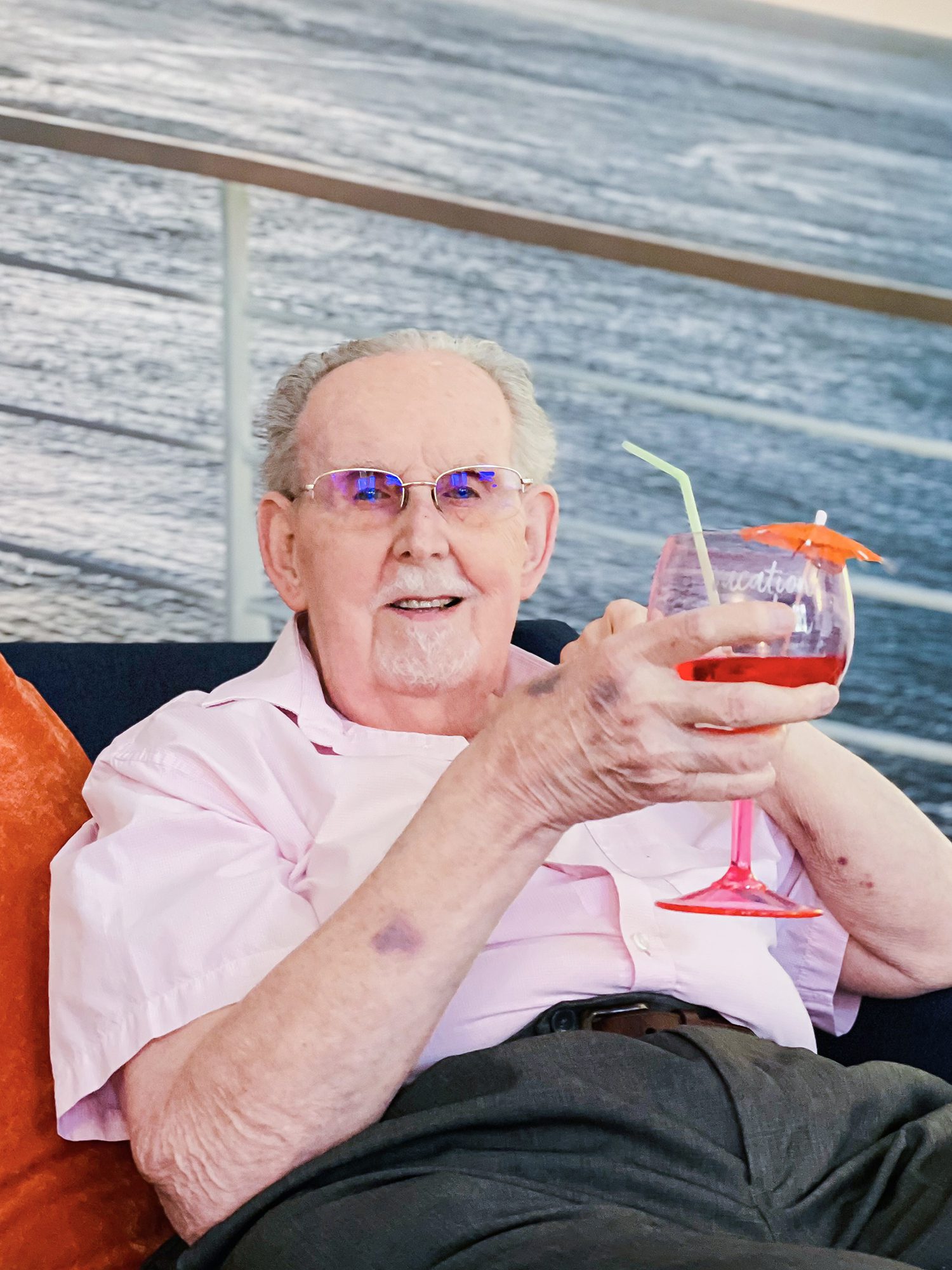 Residents at Bernard Sunley care home have taken to the high seas, sailing around the Mediterranean before heading off to the Caribbean, via Japan. Throughout the cruise, residents have virtually visited different countries all whilst staying safely inside their specially decorated 'Cruise Lounge'. They have been on excursions, tried new culinary delights, made and received country-specific souvenirs and enjoyed delicious cruise-like cocktails and tipples.
Following the success of their popular '2020 Around the World Culinary Experience' activity, which saw residents enjoying new culinary dishes from around the world each month, Bernard Sunley's Manager, Andy Cumper, decided to utilise one of the lounges at the care home. They used decorations to create an authentic travelling and cruising environment for residents. The Cruise Lounge has a holiday atmosphere and through clever imagery, gives the residents – or Cruise Passengers – a realistic cruise experience.
During lockdown last year, the idea of bringing global experiences to our residents was a runaway success. "It provides another focus to the day for residents, their relatives and the staff here," said Andy. "We're always looking for ways to engage and delight our care home community and knowing how well this was received last year meant we couldn't wait to cast off and start travelling again."
The international voyage began back in January and has continued each month, giving passengers the opportunity to experience different cultures, sights, traditions and customs. To make the virtual trip even more realistic, each trip begins with a video of a cruise boat sailing and then docking into port. Residents then go on excursions, taste the local delicacies and choose their own keepsake souvenirs.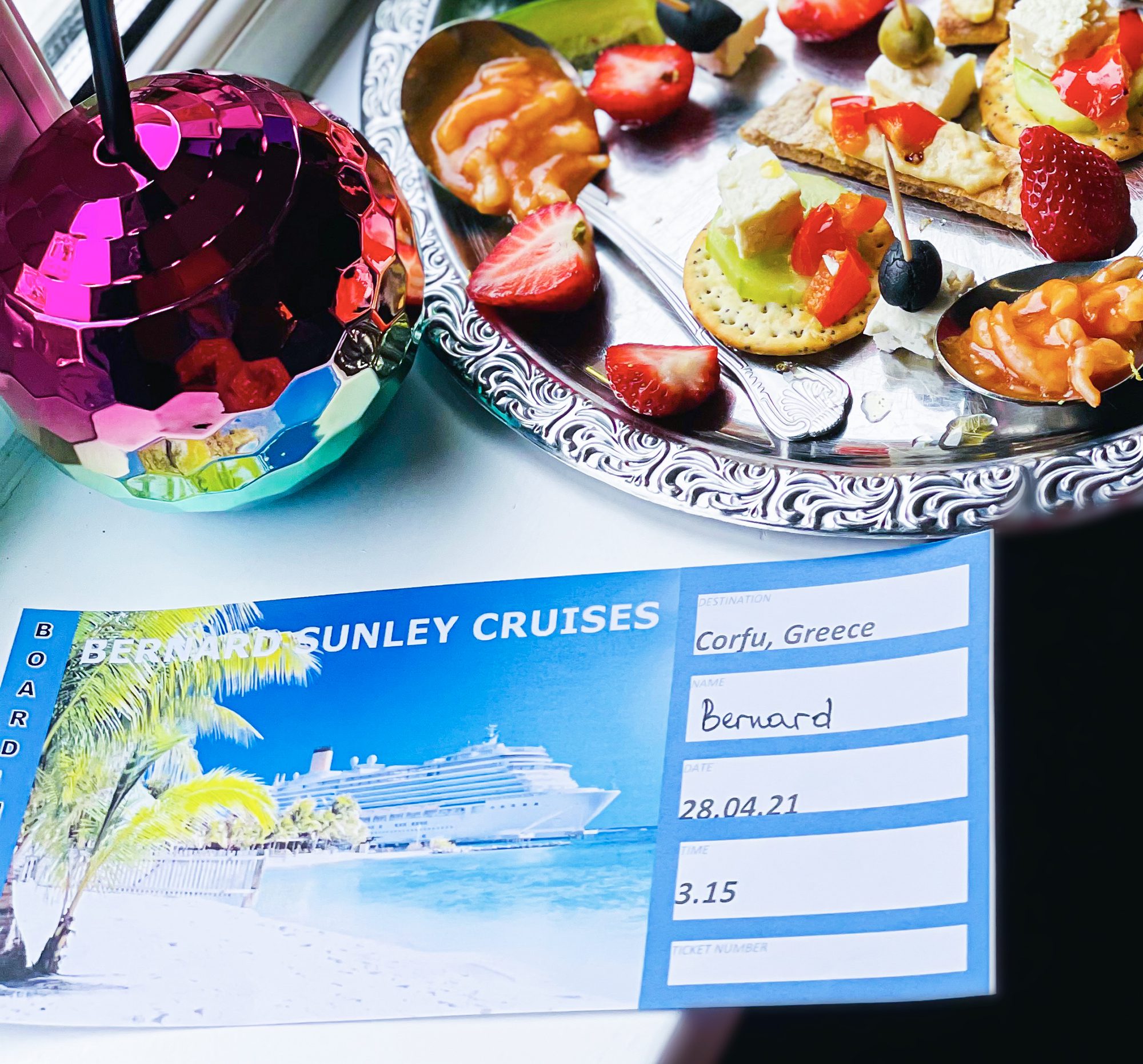 So far, passengers have sailed throughout the Mediterranean, docking in Portugal, Spain, Gibraltar, France, Monaco, Morocco, Turkey, Egypt, Croatia, Greece, Cyprus and Tunisia.
Cruise Passengers were also treated to an excursion to landlocked Jordan and visited the ancient city of Petra, which has been inhabited from as early as 7000 BC.
When HMS Bernard Sunley made port in Italy, passengers found themselves moored in the Port of Civitavecchia. They were taken on a virtual coach trip and visited beautiful Rome which was first known as The Eternal City.
Using imagery and videos, residents took in all the historical sites and admired the stunning architecture. Tour stops included The Colosseum, Pantheon, Trevi Fountain, The Vatican City and Spanish Steps, plus a look at the 2,200-year-old Bocca delia Verita, also known as the 'Mouth of Truth', which was featured in the 1953 film Roman Holiday starring Audrey Hepburn and Gregory Peck.
One Cruise Passenger said: "We all enjoyed our tour of Rome, it's such a romantic place. We were surprised to learn that if you reverse Roma, the Italian for Rome, you get Amor – so maybe it really is the City of Love."
When the cruise anchored along the stunning French Riviera, everyone had fun relaxing with a glass of French wine, enjoying atmospheric street café music. But their travels didn't end there. Next on the French itinerary was a virtual day trip to the famous Shell Museum in the Musée des Coquillages in St-Jean-Cap-Ferrat, which has an abundance of shells on display. One resident called them 'amazing' and each passenger was given a gift of real shells to keep as a memento, along with a selection of postcards.
Andy Cumper, said: "Our Cruise Passengers have had a lovely year visiting a vast array of international countries and learning about different cultures and civilisations. Taking part in the cruise and visiting all the different destinations has been very stimulating and everyone has enjoyed the escapism – visiting sunnier climbs when it's been raining outside. The virtual trips were great for reminiscing and sparked a lot of conversations about past holidays and brought back lovely memories."
To celebrate the Tokyo Olympics, the cruise took a rather large detour to Japan where the care home team arranged the Bernard Sunley '2021 Onboard Games'. The passengers got into the Olympic spirit and took part in a variety of sporting events, which mirrored the actual Games. Nerf Gun Target Shooting, Discus Throwing, Bean Bag Tossing, Basketball and even a unique Paper Plane game. The Cruise Passengers were brilliant at all the activities and had an amazing time competing with their friends.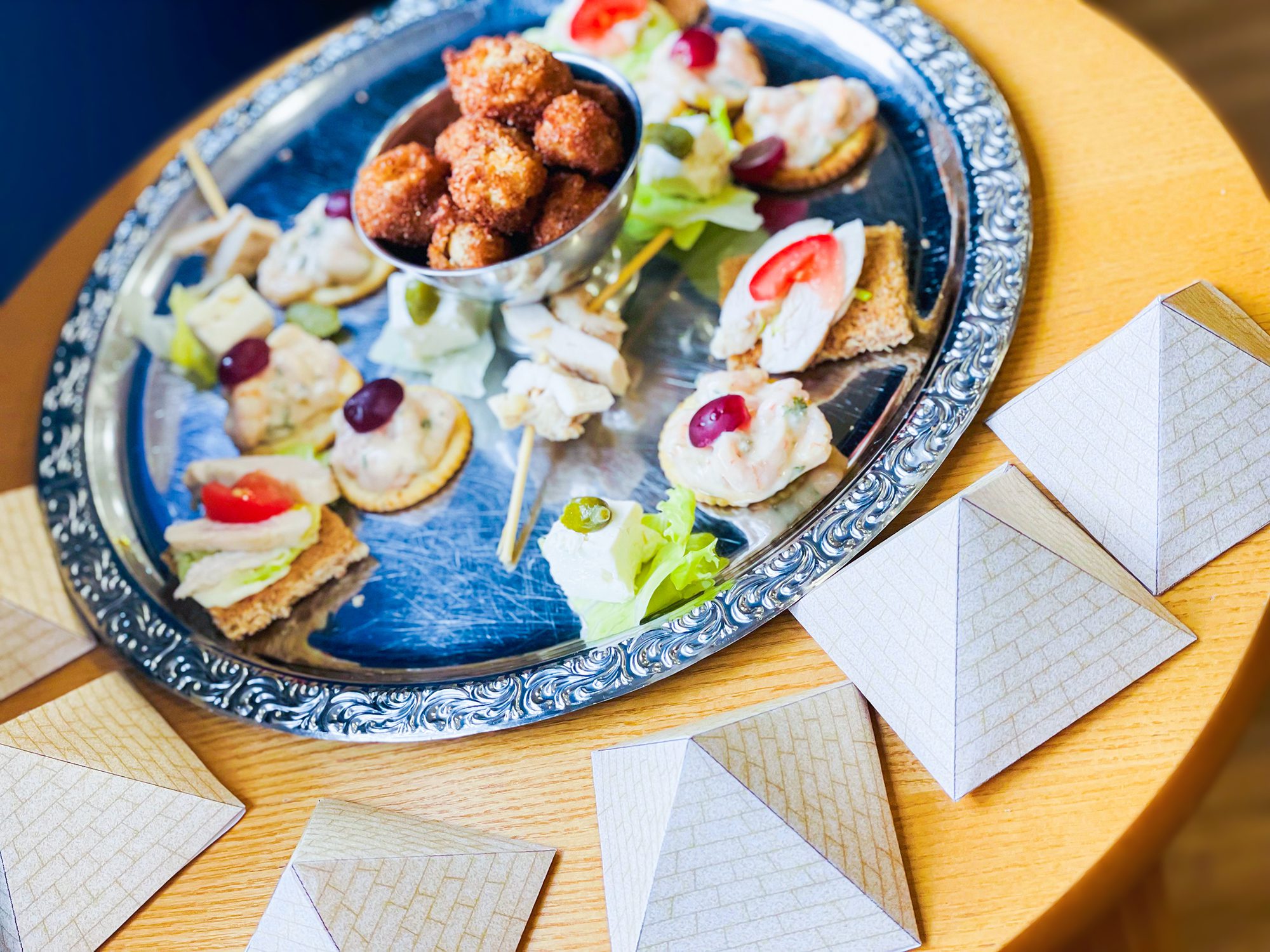 When HMS Bernard Sunley arrived in Portugal, the passengers made their way to Lisbon, the capital of Portugal, one of Europe's most beautiful and cosmopolitan cities and then on to the coastal city of Porto, famous for its stately bridges and port wine production.
Andy concluded: "We've not stopped yet. Our next destination is the Caribbean. We've already visited the shores of Jamaica, where we tasted delicious Jamaican food and learnt about the island's natural beauty and history. Our passengers heard all about how the Spanish colonised the country after Christopher Columbus arrived there in 1494. In addition, how in 1655, the British conquered Jamaica and established many coffee, sugar and cocoa plantations.
"All the passengers are looking forward to visiting our next destination, Barbados. Whilst enjoying themselves in the Cruise Lounge, one passenger asked, "How do we know that the ocean is friendly?" Nobody knew, until he said, "It's easy, it waves." That had everyone laughing, which has been a common theme throughout the international journey. It's great to see and hear everyone having a fun time."
To find out more about Bernard Sunley care home in Woking, call 01483 764 300 or email enquiries@fote.org.uk.