Funding from a charity founded by an Elizabethan benefactor over 400 years ago is being used to help modern day older Londoners impacted by the pandemic.
The Emanuel Hospital charity was founded in 1600 after a bequest by Lady Anne Dacre to set up an almshouse to provide homes for 20 older people and education for 20 children.
The charity, administered by the City of London Corporation, is still going strong today, and has now awarded grants of almost £450,000 to Age UK and Friends of the Elderly to support older people across the capital.
Services to be funded include friendship services, local information, advice and practical support and one-off grants to older people for essential items such as household appliances and heating.
Research by Age UK found almost a fifth of older people feel less confident leaving the house by themselves, over a quarter are less fit, and over a third feel more anxious than they did before the pandemic.
City of London Corporation Emanuel Hospital Management Sub Committee Chairman Alderman Professor Michael Mainelli said:
"The issues that older people face, such as loneliness and frailty, have only been exacerbated by extended periods of lockdown during the pandemic, and the feelings of isolation that brings.
"This funding will help two charities that have been strongly affected by the pandemic and face huge demands for their services. I'm sure Lady Anne Dacre would be proud to see her legacy continue to help older people across London."
Age UK will receive more than £325,000, which will go towards its Telephone Friendship Service and to 22 local Age UKs' frontline services, to help older people across London.
Age UK Fundraising Director Laurie Boult said:
"We are hugely grateful for the Emanuel Hospital grant which comes at a time when older people truly need our help, with the effects of the pandemic leaving many older people still feeling anxious, alone and needing somewhere to turn.
"The money will help local Age UKs across London to provide vital frontline services to older people, such as advice and practical support on issues ranging from benefits and housing to health issues, as well as helping to fund our national Telephone Friendship Services, which are a lifeline for so many lonely older people wherever they live."
A grant of over £117,000 has been awarded to Friends of the Elderly, to be used for one-off grants of between £400 and £1,000 for individuals, and grants of £5,000 to other organisations helping older people.
The individual grants can be used for household essentials such as cookers, washing machines or boilers, mobility aids or home adaptations or helping older people get online.
Friends of the Elderly Chief Executive Steve Allen said:
"Some of the people we help have to choose every day whether to heat their home or have a hot meal, they're trapped in their home because of mobility problems or they're embarrassed to invite people round because of the lack of heating or a cooker.
"Isolation and loneliness is a huge issue and something as simple as having handrails in the shower so they can wash, or an oven so they can cook for their grandchildren, can play a really important role in boosting older people's confidence and helping them feel less isolated."
Case study: 'Everything was ruined – I could have cried'
David, 79, lives alone in South London and experienced a flood at his bungalow which resulted in many of his belongings being damaged and meant he had to leave his home for five months.
Friends of the Elderly was able to arrange for a new sofa bed for him on his return, which meant he could also have family to stay when Covid restrictions lifted.
He said: "Everything was ruined. I could have cried. The council put me in a one-bedroom flat in Peckham. It was a terrible place and I couldn't see anyone because of Covid. The five months felt like five years.
"The new sofa is beautiful. I don't know what I would have done without it. I've been back in around nine months and I'm quite happy and quite content. I'm happy with my life now."
Anna, 81 and from West London, uses Age UK Ealing's befriending service.
She said: "Before coronavirus I was very independent and used to go out and about all the time on the bus. I've had a few falls in recent years which have taken away a lot of my independence and made me feel depressed.
"Since last year I've had a befriender who calls me every week. She's always interested in me, makes me feel good about myself, and has been there for me when I've needed help."
About the Emanuel Hospital charity
The Emanuel Hospital charity was founded in 1600 from a bequest by Lady Anne Dacre (nee Sackville), daughter of Sir Richard Sackville, treasurer of the exchequer to Elizabeth I.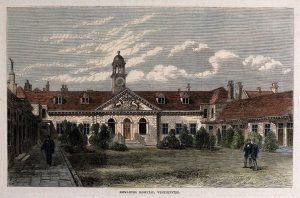 Her will made provision for the building of an almshouse – Emanuel Hospital – at Tothill Fields, Westminster, 'for the relief of 20 aged people and for the bringing up of 20 children in virtue and good and laudable arts', to be supported by revenue from Brandesburton Manor, in the East Riding of Yorkshire.
The almshouse, which first came under the control and management of the Lord Mayor and Aldermen of the City of London in 1623, was later rebuilt and extended, and the number of children catered for increased.
The educational branch was separated from the hospital branch in 1873 and the almshouse site was sold in 1892 and replaced by a system of pensions paid to older people in need, known as Lady Dacre Pensioners.
Today, the charity still supports 20 pensioners while, following a recent review, more funding is now also available to be distributed to organisations which help older people in need across the capital.
Notes:
The City of London Corporation is the governing body of the Square Mile dedicated to a vibrant and thriving City, supporting a diverse and sustainable London within a globally-successful UK – www.cityoflondon.gov.uk
Age UK is a national charity that works with a network of partners, including Age Scotland, Age Cymru, Age NI and local Age UKs across England, to help everyone make the most of later life, whatever their circumstances. Find out more about Age UK on their website.
Find out more about the grants giving service from Friends of the Elderly.