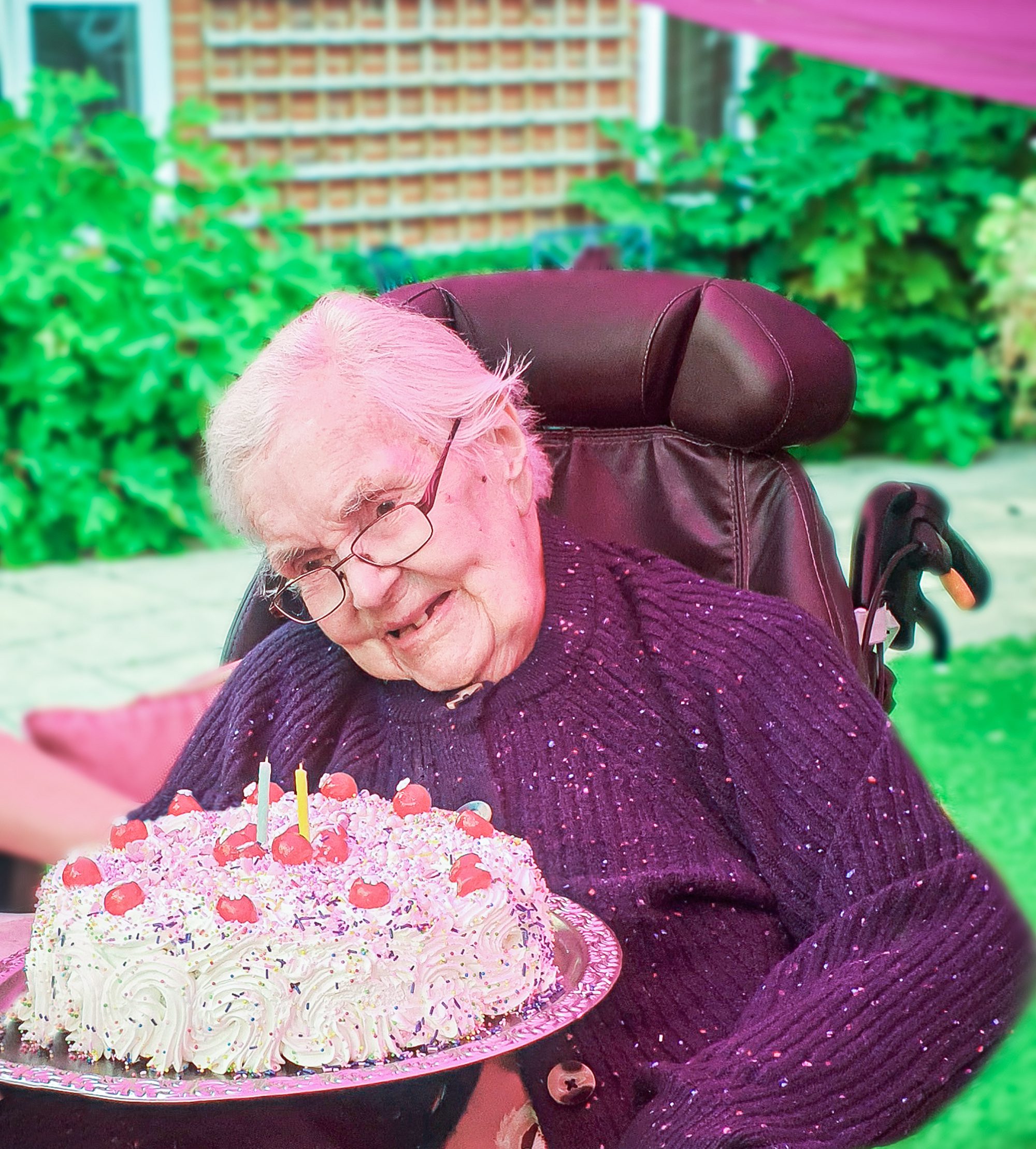 At Bernard Sunley care home in Woking, Surrey, the care team has been celebrating Moyra Webber's milestone 101st Birthday. She enjoyed cake, gifts, cards and a birthday treat performance from one of her favourite entertainers, Daniel Brewerton. However, Moyra's special day was made even more perfect with a magical surprise visit. Alongside her family visiting, Moyra's daughter Sue flew in from Australia for her Mum's momentous day.
Moyra, who has been a resident at Bernard Sunley for five years, grew up in Barry, South Wales. Moyra loves Barry and has many happy memories of attending Barry Girls Grammar School. It also holds a special place in Moyra's heart as that's where she met her husband John. Although they first knew of one another during their school days, they later met on a dance floor and the rest is history.
Moyra and John married at St Mary's Church in Barry in February 1945 and honeymooned in Tenby. Before this Moyra had an interesting career during World War Two as an Officer in the ATS (Women's British Army).
Moyra said: "Working for the SIS during World War II was an intense job. I had to be totally focused and concentrate on the messages I was listening to. Knowing I was doing my part for the war effort was very important to me. I was, and still am, honoured that I helped with such important work for my country."
Moyra and John continued to live in Barry, raising their two children, Sue and Brian. The family then moved to Hayes in Middlesex and later to Woking. Moyra's family grew and she's now a proud Grandmother and Great Grandmother to five grandchildren and seven great grandchildren.
A passionate golfer, Moyra played regularly until she was in her late 80s and really enjoyed her frequent 18 hole rounds. Also a keen Bridge player, Moyra was always busy. As well as raising her family, she worked for the Health Authority and volunteered for the Citizen's Advice Bureau.
Moyra first visited our Woking care home for a respite stay on a recommendation from a friend. Moyra enjoyed her break at the care home and made friends with the care team and other residents. When Moyra suffered a stroke, she and her family decided that it would be the best for her to move to Bernard Sunley on a permanent basis. The high quality bespoke care and the attentive, compassionate care team was just what Moyra needed.
Andy Cumper, the Manager at Bernard Sunley said: "Moyra is a lovely lady who always has a smile for me when we talk. When she turned 100-years-old last year, it was lovely to be able to share in her landmark day with her family. This year it has been extremely special and heart-warming for her to have her daughter fly over from Australia to join us in celebrating her 101st birthday."
Moyra continued: "I have had a really wonderful 101st birthday, it's been a lovely day. I didn't think anything could top my 100th birthday, but seeing my family, having Sue here from Australia, watching Daniel Brewerton's performance and being spoilt by all the Bernard Sunley carers, it's been a day to remember.
"The other day I was asked what was my secret to a long and happy life? I really don't have one, it just happened, but I'm so grateful for everyone that has come into my life, I'm very blessed."
To find out more about Bernard Sunley care home in Woking, Surrey, call 01483 764 300 or email enquiries@fote.org.uk.