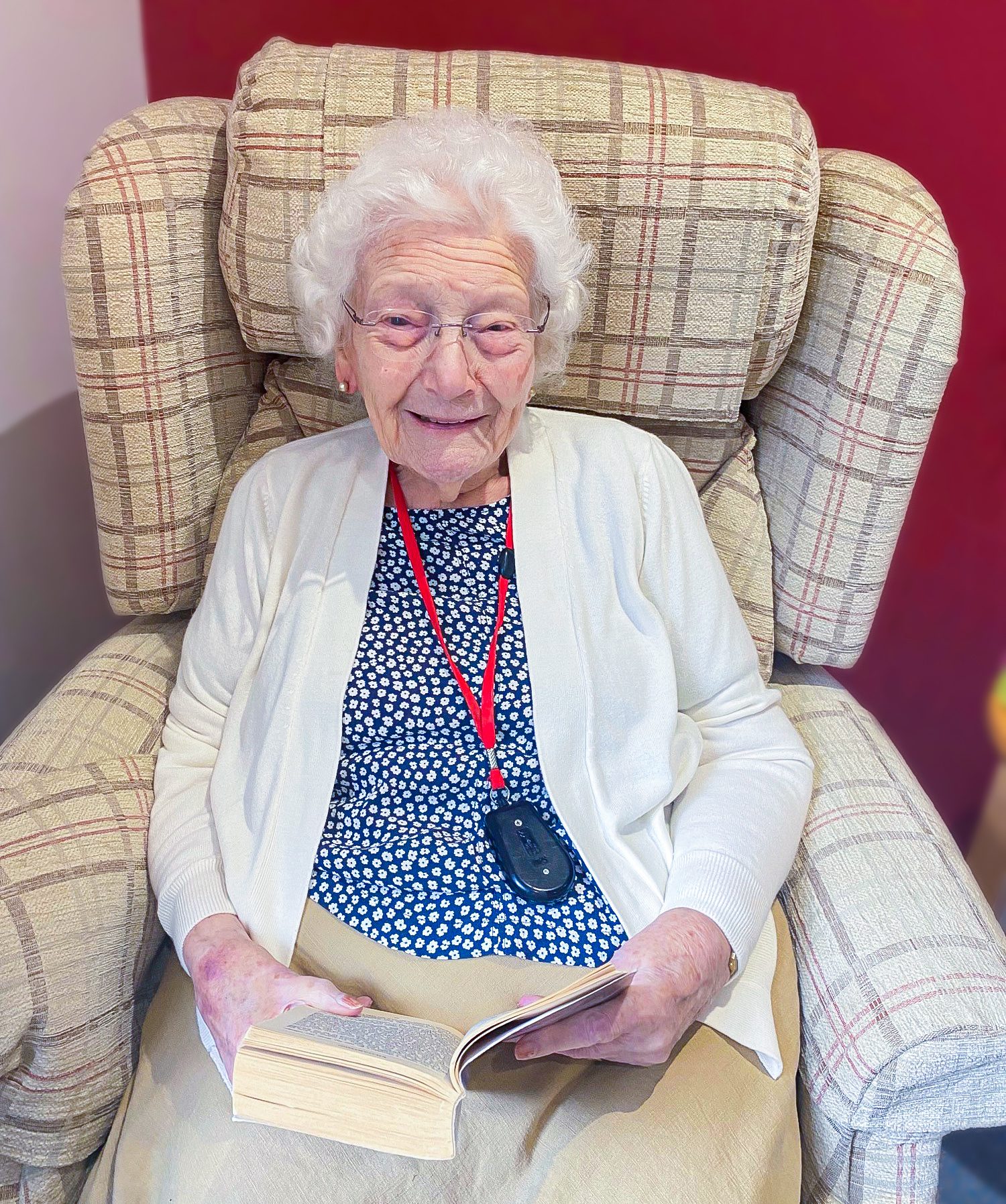 In honour of National Read a Book Day, Bernard Sunley care home resident and passionate reader Sheila Rickard has been reminiscing about her favourite books, authors and characters and sharing her memories, thoughts and insights with the home's care team.
National Read a Book Day highlights and promotes the joy of immersing yourself in a book. Sheila, who has been a resident at our Woking care home for five months, sat down with Monika Ahmed, Bernard Sunley's Activities Coordinator, to chat about her love of books, reading, and her favourite stories.
Sheila said: "The first book somebody read to me as a child was The Tale of Peter Rabbit. It was a great story, but never quite topped my childhood favourite, Winne the Pooh. At school and growing up, I loved The Children Who Lived in a Barn, Ballet Shoes, and Now We Are Six, as well as many more.
"From a young age, I had a passion for reading and would spend hours with my nose in a book. As I grew, my reading tastes grew too. But whilst a book never changed my life, some definitely influenced my views and opinions and some left a lasting impact.
Revealing her all-time favourite book, Sheila said: "I would have to say Rebecca, the 1938 Gothic novel written by the English author, Daphne du Maurier. I found this psychological thriller about a young woman who becomes obsessed with her Husband's first wife interesting and intriguing, right up to the very last page."
The Bernard Sunley care home team work hard to ensure that residents are able to indulge in their individual hobbies and passions. For Sheila, that passion is losing herself in a book in her relaxing room.
Sheila continued: "I love to read in my room as it's lovely and quiet. Sitting down in my comfy armchair and reading is a true pleasure. My favourite author is Agatha Christie. The way she keeps you hooked with a whodunit is great. Sometimes I'm able to guess the twists, turns and plots before they are revealed.
"I do enjoy mysteries and also a good romance. I'm not a fan of science fiction, horror, or fantasy tales; I much prefer the classics. Little Women is wonderful. I can quite imagine myself as one of the characters. However, if I could have a chat with one author it would have to be Charles Dickens. I loved all his books, especially A Tale of Two Cities."
Monika added: "At Friends of the Elderly we encourage our residents to do what they enjoy doing, when they want to do it. Above all we always support everyone in continuing to participate in their hobbies and pastimes. As hobbies go, reading is very beneficial to our residents' wellbeing as it helps to increase memory, focuses concentration, reduces stress, aids relaxation and helps sleep."
Sheila concluded: "I like to read different books all the time. I also enjoy watching the film adaptations of ones I have read. To be honest, they are never as good as the actual book. The last book I read was The Great Alone by Kristin Hannah. It was given to me by one of the care team here at Bernard Sunley.
"I really enjoyed the novel, it was all about family dynamics, heartbreak, and hope. I'm not sure what I'll read next, but an interesting love story would be nice."
To find out more about Bernard Sunley care home, call 01483 764 300 or email enquiries@fote.org.uk.