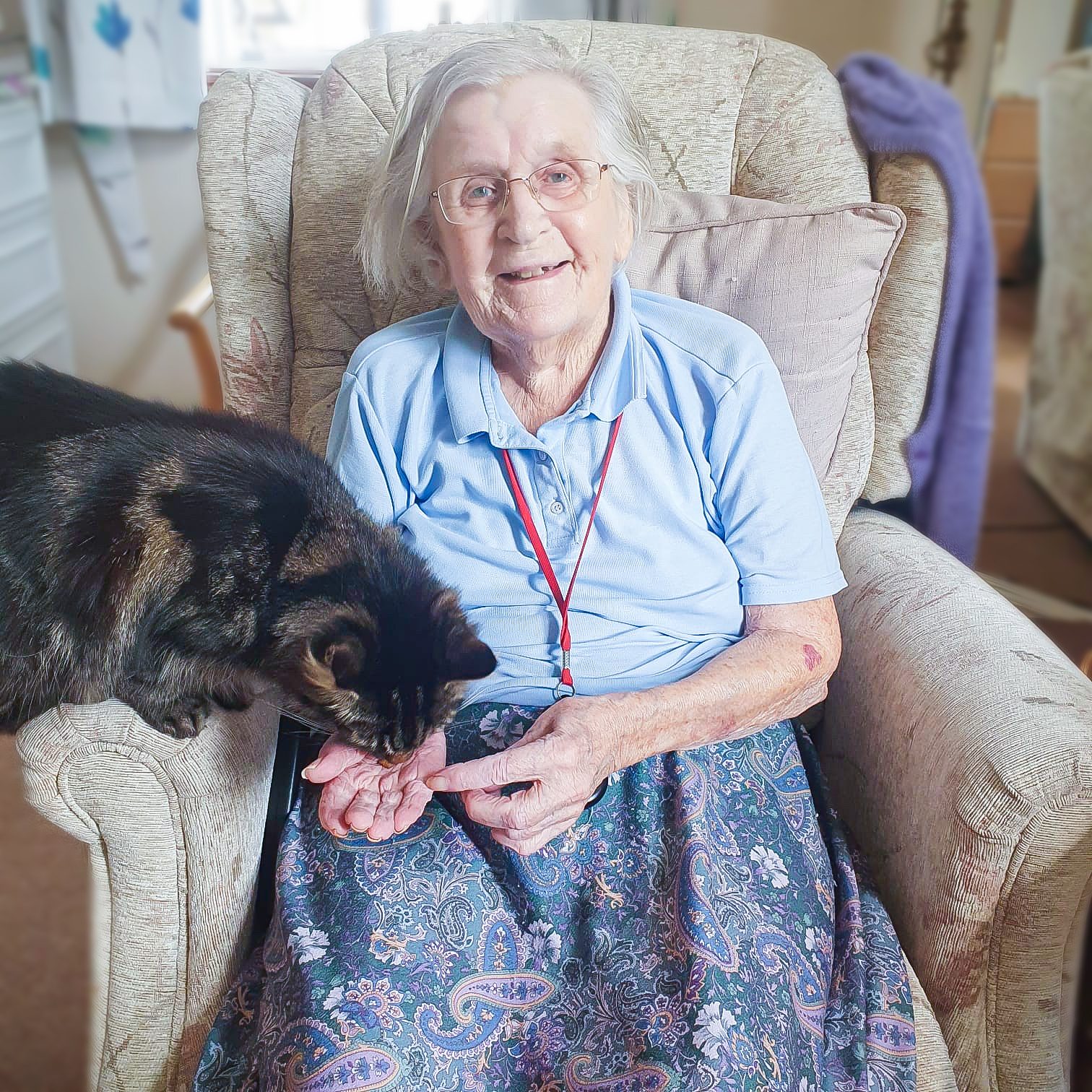 At Davenham care home in Malvern, resident Muriel Castledine has had a wonderful day celebrating her milestone 95th birthday. Muriel's special day started with a lovely one-to-one visit from her niece and nephew, with gifts and cards from family, friends and the care home team, and rounded off with Muriel's favourite birthday tradition of a delicious summer treat of strawberries and cream.
Muriel, who has been a resident at Davenham since December 2016, was born in Derbyshire but moved to Herefordshire at a young age. Herefordshire is where Muriel still thinks of home and she has many happy memories of growing up there even though she has lived in the Malvern area for many years.
Muriel always wanted to be a teacher and after studying hard, realised her dream by becoming a Maths Teacher, teaching at the Royal Navy School for two years, Headington School in Oxford for 17 years and The Abbey School in Malvern for 12 years. Muriel loved her career as a Maths Teacher and often tells passionate stories to her friends and the team at the care home of educational years.
Muriel's other love is cats, a passion she has had for as long as she can remember. "I think my affection for cats stems from my Father, who also loved our furry friends. I have had many cats for pets over the years, but one in particular springs to mind – my great friend Ginger.
"A friend of mine told me of a friendly ginger and white stray cat – hence his name – who was roaming around where she lived. She could see that he needed some tender loving care and thought that I was just the lady for the job as she knew I'd take good care of him and give him the home and all the love he deserved. After she phoned me, it wasn't long before Ginger was living with me. He was such a loving and loyal friend and companion to me."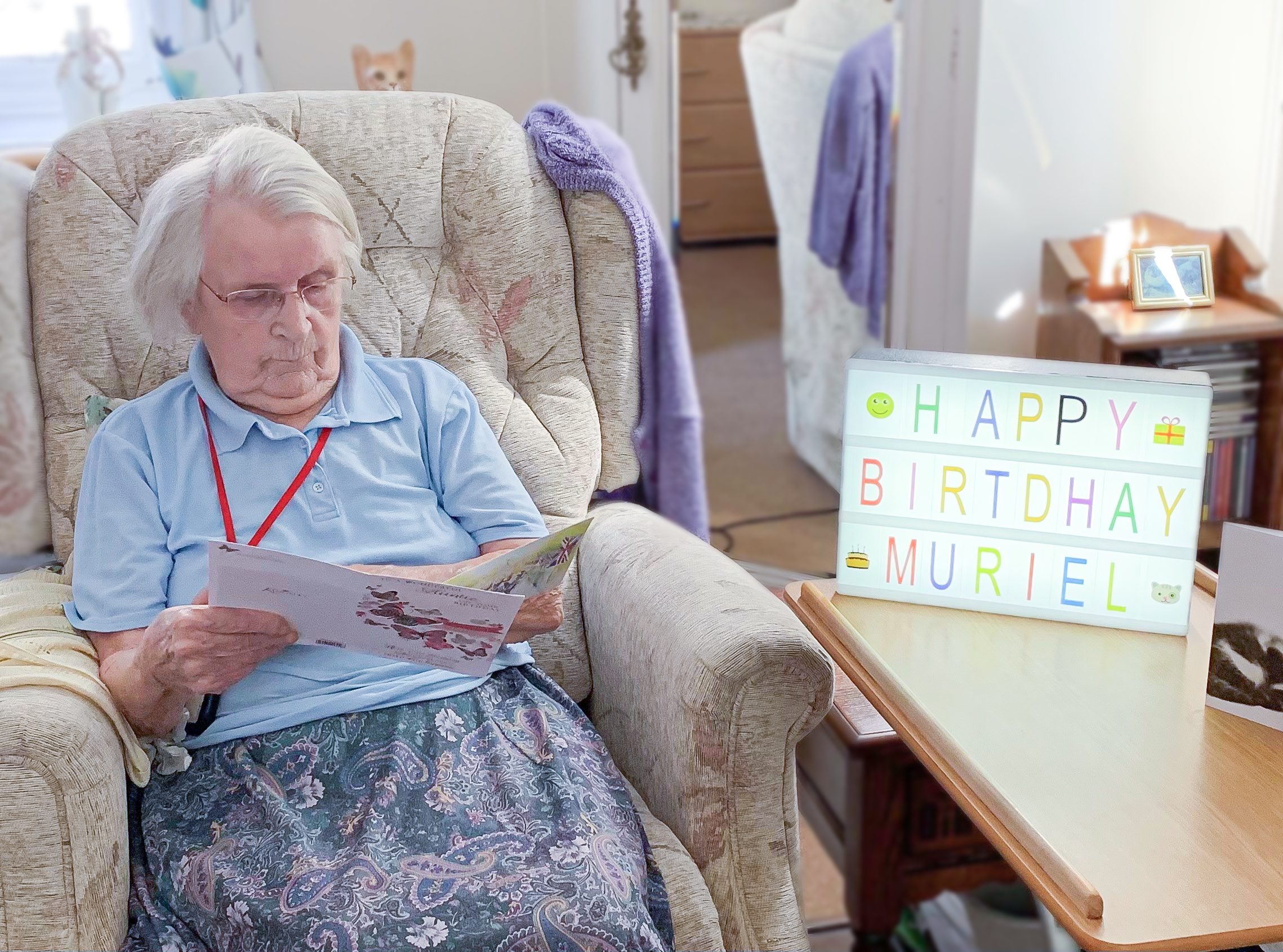 Now living at Davenham residential home, one of our Malvern's three care homes, Muriel has a new feline friend, Twinkle. Originally adopted by the Bradbury Court dementia home's manager, which is located on the same campus, Twinkle, a long-haired tabby cat, enjoys spending her time visiting the care home residents, especially Muriel.
Davenham's care team know of Muriel's love of cats and make sure that Twinkle visits as much as possible, which both Muriel and Twinkle enjoy. Staff made sure Twinkle visited Muriel on her birthday to help her celebrate.
Karen Smith, the care home's Activities Co-ordinator said: "I've known Muriel for quite a time – before she was a resident at Davenham. I used to work in a boarding cattery where Muriel would bring her own cats when she was away on holiday. When Muriel moved into Davenham, she recognised me straight away and of course we reminisced.
"The team here know how much cats mean to Muriel and we always make sure Twinkle visits Muriel as the visits always put the biggest smile on her face and you can tell Twinkle loves them too. I can't fully put into words the joy a visit from Twinkle brings to Muriel and they both really enjoyed seeing each other on Muriel's special birthday celebration."
Talking about her 95th Birthday celebration Muriel added: "At Davenham, whilst I may be here on my own, I'm never lonely. On reaching my landmark 95th birthday I thought about what is the secret to a long and happy life? I think it's living a simple life and making sure you enjoy what you do – and having cats of course."
Find out more about our Malvern care homes, Davenham, Perrins House and Bradbury Court, by calling 01905 388 720 or emailing enquiries@fote.org.uk.