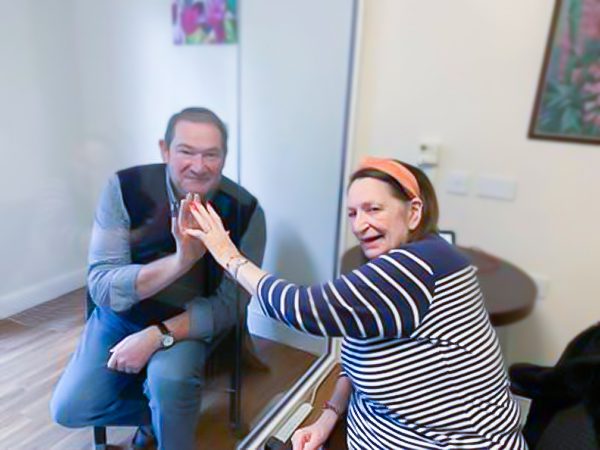 Last year and prior to the third Covid-19 lockdown, we built a range of Covid-Wise visiting areas at our care homes. Residents and their loved ones were able to enjoy face-to-face, protected 'in person' 30-minute visits. In November 2020, at Bradbury Court care home in Malvern, Margaret McDonald was the first resident able to enjoy a very special visit from her son after months of FaceTime calls.
Both Margaret and Patrick were excited about the prospect of being able to physically see each other again and catch-up face to face, instead of chatting over FaceTime. Margaret, who has been a resident at Bradbury Court for over a year said: "Speaking over FaceTime or on the phone is fine, but I do miss seeing Patrick in person. I couldn't wait to have a good natter."
At their first visit, Patrick had a very special surprise treat for his Mum. Commenting on his surprise, Patrick said: "Hugo, my Grandson – Margaret's Great Grandson – is now nearly two and a half years old and I was lucky enough to be there when he took his first steps. I filmed him making his way around the room on his feet for the first time and showed this to Mum. She was astonished.
"Of course, time is a strange perception for Mum now, however, I think that seeing Hugo walk brought a sense of reality to her life.
"Hugo has grown so much since I last saw Mum, she was thrilled to see more photos and hear about what he and his cousins have been up to."
Bradbury Court's Care Home Manager, Elaine Banks added: "Being able to have regular visits is an important part of our resident's daily routine and vital for their health, wellbeing and quality of life, so having the restrictions eased meant a lot to all our residents. Being able to visit, speak and laugh with a relative or loved one is as important for family and friends."
Patrick added: "I always feel totally safe and secure both before, during and after my visits. The team at Bradbury Court manage the strict, but fair, protocols extremely professionally. When I last visited Mum in November, from the minute I pre-booked the visit, I didn't have anything to worry about and it has been the same this time for my latest visit, it was completely safe and hassle-free.
"Mum was a registered carer herself back home in Northumberland for over 16 years and is always telling me how well the staff care for her, how they are always laughing and, of course, how she helps them as she knows best! The lovely thing is, Mum says that the staff love her, which means she feels loved. I can't ask for more."
If you would like to find out more about our Malvern care homes, Bradbury Court, Davenham and Perrins House, call 01905 388 720 or email enquiries@fote.org.uk.