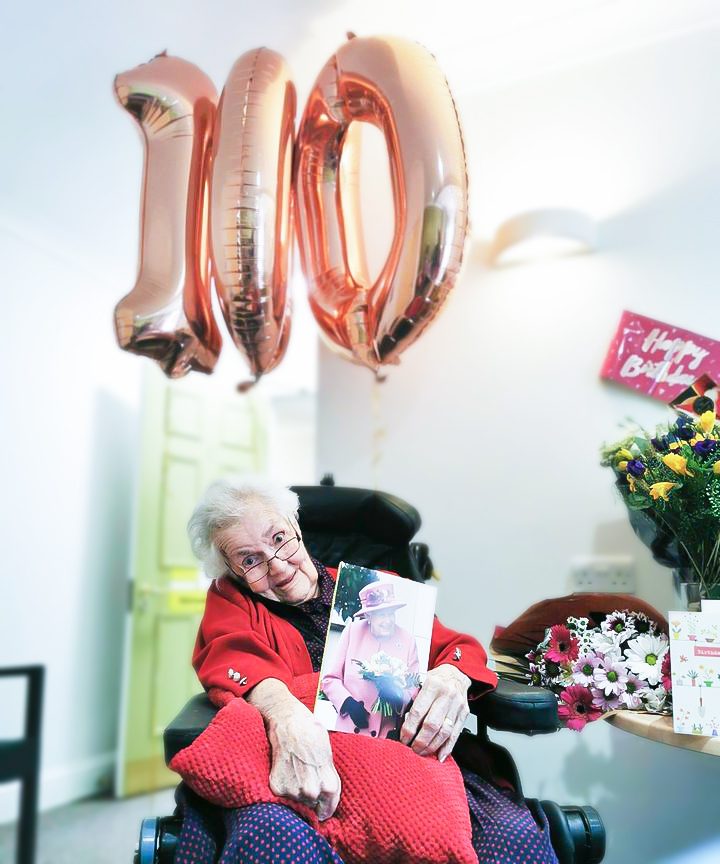 A resident who lives at Bernard Sunley care home in Woking recently celebrated a very special birthday.
Moyra Webber recently marked her 100th birthday. The team in Woking came together to ensure she enjoyed her special day, organising a safe family visit and other treats.
A member of staff gave her a manicure and Moyra was overwhelmed with all of the gifts and flowers she received. The icing on the cake was the much-anticipated birthday card from The Queen.
When asked what her secret to long life is, Moyra replied: "Having good people around you.". We couldn't agree more!
Andy Cumper, manager at Bernard Sunley, said: "The team here always make a fuss for someone's birthday, but it is especially special when we celebrate a centenarian.
"Moyra is a much-loved member of the Bernard Sunley family and we are delighted she had such a wonderful day.
"In these difficult times, her family visiting on her birthday – thanks to our COVID-WISE measures put in place to keep residents and family safe – made for an emotional and memorable celebration for Moyra."
Set in Woking, Surrey, Bernard Sunley care home provides residential, nursing and dementia care in modern, purpose-built facilities.
Find out more by calling 01483 764 300 or emailing enquiries@fote.org.uk.