At all our care homes and day care centres, our dedicated care teams ensure that the Christmas period is full of joy, happiness and creative, festive activities for all our residents and clients to enjoy.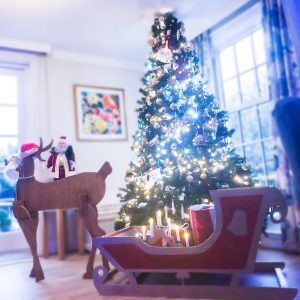 Jan Daly, the Care Home Manager at our Redcot Care Home in Haslemere, Surrey tells us about the Christmas festivities her and her compassionate team have put in place this year to ensure all their residents have a magical Christmas time.
"Christmas is a very special time for us here at Redcot and the team plan well in advance to have the Christmas spirit ready to sprinkle from 1st December.
"We appreciate the Christmas period is a nostalgic one and the team know what Christmas was like for each of our residents prior to them becoming part of the Redcot family and ensure their Christmas traditions are upheld. It's the little things and small touches that can make all the difference.
"Of course, all the team are extremely aware that at Christmas, some of our residents may experience sadness, recall a loss that occurred over the Christmas period, may still be grieving for a loved one, or miss their families who may live long distances away or even overseas. The friendship, compassion and closeness our team develop with each resident, helps to soften any pain of loneliness they may be feeling at this sometimes, sensitive time of year.
"On the 1st of December, we like our residents to wake up to a Christmas wonderland so, the night before, the 'Redcot Elves' are busy decorating the care home, giving it a warm and joyous ambiance.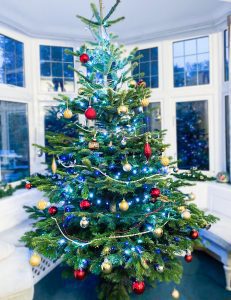 "We have good relationships with our local community and have had two beautiful Christmas trees donated for the second year by R Miles Hardware in Haslemere and Haslemere Garden Centre, plus our own pre-lit, imitation trees. All our residents love to get involved with decorating the trees, dressing them with baubles, tinsel, lights and the special decorations they have made in our festive craft sessions.
"Each week before Christmas Day, the care team dresses up in fun, different Yuletide outfits – it's no surprise to see a range of bright (sometimes twinkling) Christmas jumpers, Christmas hats, fairies, elves or even Santa himself walking around the care home.
"In the run up to the big day, throughout the whole of December, we have a great and inclusive variety of COVID safe activities in place. A visiting Flautist, carol singers, a Pianist, an online Christmas carol church service followed by mince pies, a Christmas shopping trip (weather and COVID restrictions permitting) to a country market, Christmas films, festive craft sessions, the highly anticipated Christmas Jumper Day and, of course, the care home's very own Christmas Party. At the party, our residents receive their Christmas gifts from the care team and have an exciting time opening them. This year we've also got a special treat in store. Our residents will be watching a pantomime – Dick Whittington – which is going to be viewed via Zoom. They are really looking forward to that.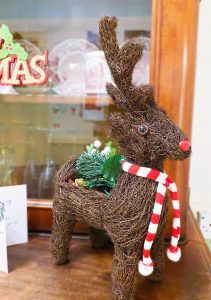 "At 11 a.m. on Christmas morning, after breakfast and when everyone is ready, we all meet in the Drawing Room for a glass of sherry. The Christmas songs are playing, residents and staff are sing along, some are up dancing and laughter is everywhere – it's a fantastic way to start the day.
"For lunch, our residents and care team all tuck into a traditional Christmas feast together with all the trimmings. Every year, the tastes and smells of the delicious meal bring back happy memories of past Christmases, it's a lovely way for the residents to reminisce.
"Once lunch has finished, the crackers have been pulled and the time-honoured Christmas pudding has been lit and eaten, lots of visitors arrive – our residents' families, loved ones and friends. Some go to their rooms and spend time with their families, others take a stroll around the grounds and some like to relax, go into the Drawing Room and watch to The Queen's Speech.
"In the evening, we have a tasty Christmas Tea and the fun, singing and games continue. If someone were to look through the window at Redcot on Christmas Day, they'd see a wonderful, warm, fun family Christmas in full swing, with everyone enjoying themselves and celebrating together as one big happy family."
Donate to our Winter Warmth Appeal and help older people through the cold, winter months.