What they say about Friends of the Elderly in Woking...
"To all the staff at Woking, many, many thanks for all the good times my Mum had in your care. We cannot thank you enough."

"To all of the ladies at the day centre, we cannot thank you enough for the love and care you gave our nan."

"Can't thank you enough for the care, patience and respect you showed to Dad and the support you gave us."

"To all the team at Woking, many thanks for all your have done for Mum. Thank you."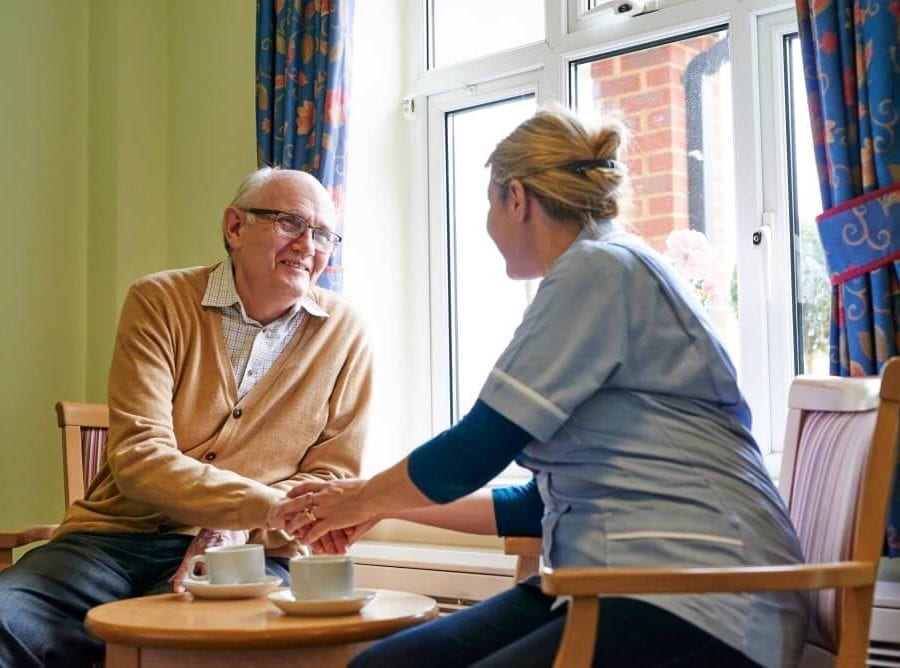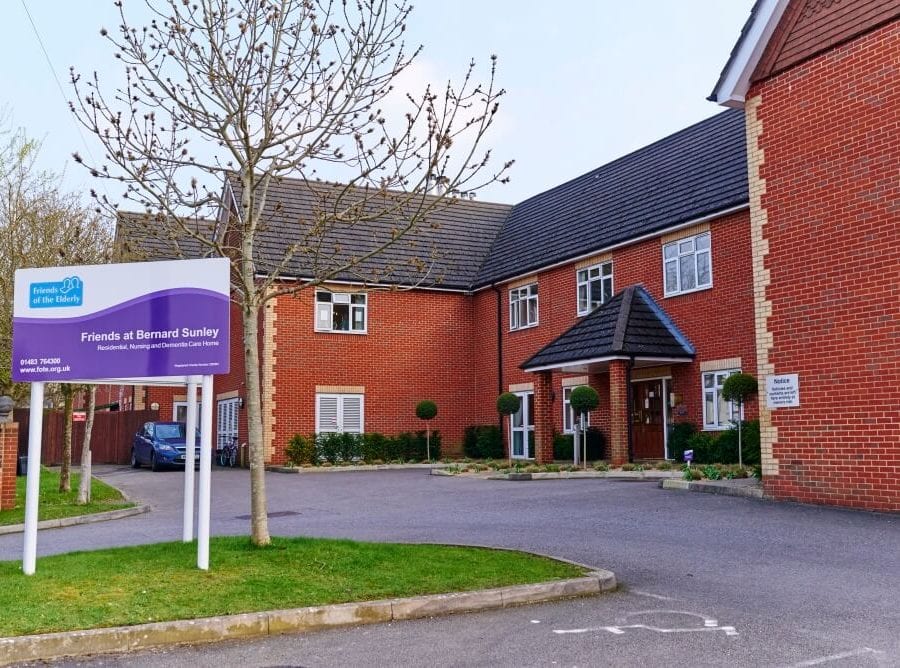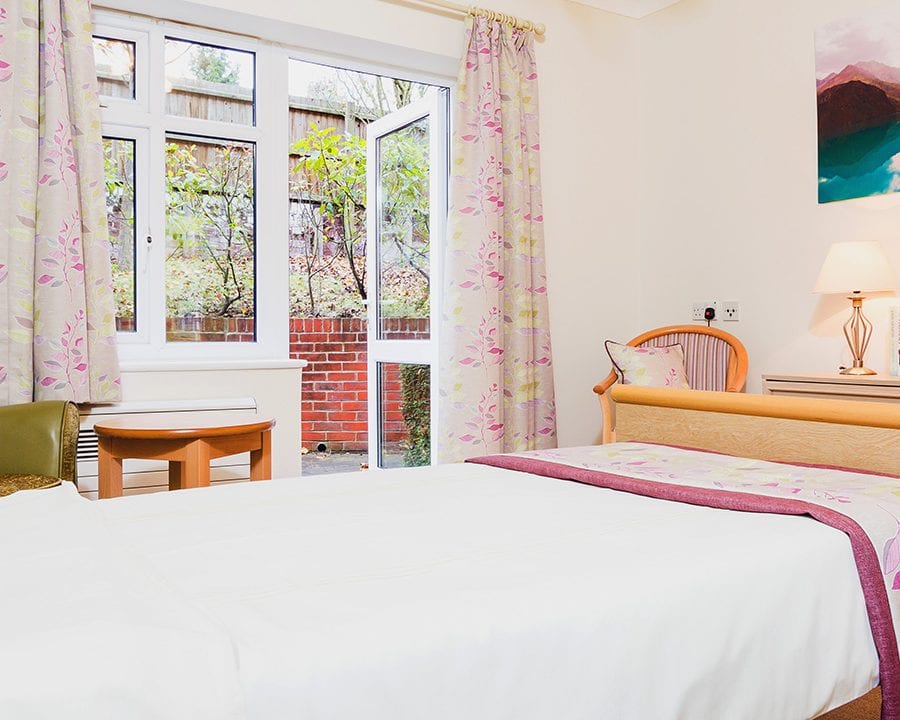 About Bernard Sunley
Category: Respite care
---
The Bernard Sunley Care Home, run by Friends of the Elderly, is situated in Woking, Surrey and provides respite care in addition to residential, nursing dementia care in modern, purpose-built facilities. All of our rooms are spacious, light and airy and have en suite bathrooms.
Respite care for the elderly is designed to provide a temporary haven for older people in order to give their carer a much-needed break. It also gives the person receiving care a chance to socialise in our home, meet and make new friends, enjoy some fresh experiences, and just benefit from being cared for by a compassionate team in a home-from-home environment.
Bernard Sunley features a cosy lounge and dining room, as well as a fully equipped hairdressing salon and the much-loved Smiles Café – a warm and welcoming café where residents can meet with each other, or friends and family, for a refreshing tea, coffee or a snack.
We have a dedicated and experienced team who provide personalised care for each resident, whether they are staying for a short respite break or a longer stay. We're proud of the family atmosphere at Bernard Sunley.
Please contact us for more information.
A respite care break at Bernard Sunley, Woking, can help you with nursing care, dementia care, personal care, administering medication, companionship and more.

Not only are our respite care residents looked after 24/7 by experienced and dedicated professionals, they also get to find out what it's like to live in one of our care homes for a short time.

This allows respite care residents in Bernard Sunley to meet all the care home staff and fellow residents before making the bigger decision of deciding whether to stay permanently.

Our staff in Bernard Sunley provide unrivalled respite care level of care and reputation is second to none, meaning you are always in safe hands with Friends of the Elderly.
CQC Report
CQC Report Overall: Good
Report highlights
Staff had recently trialled wearing pyjama-style scrubs during the night following a recent research report in to its effectiveness of improving sleep for people with dementia. Staff fed back that although people still woke during the night, they would choose to go back to bed faster due to the visual cue that it was night time.  

Pre-assessments were completed prior to people moving in to the service to ensure their needs could be met. Staff had gathered information around the person's care needs as well as information around their routine and preference

People were complimentary about the food at the service. One person told us, "The food is good. I get to choose what I want to eat." Pureed food was presentable, with effort taken to mould the food so it looked like its original form.


The environment was set up to meet the needs of people with a cognitive impairment. Memory boxes helped people identify their rooms by containing photos and belongings that were personal to them. Corridors included stimulation areas, such baskets of wool and books. Chairs were positioned in clusters to promote social inclusion.

People were able to personalise their rooms with belongings that were personal to them. This included photographs of loved ones.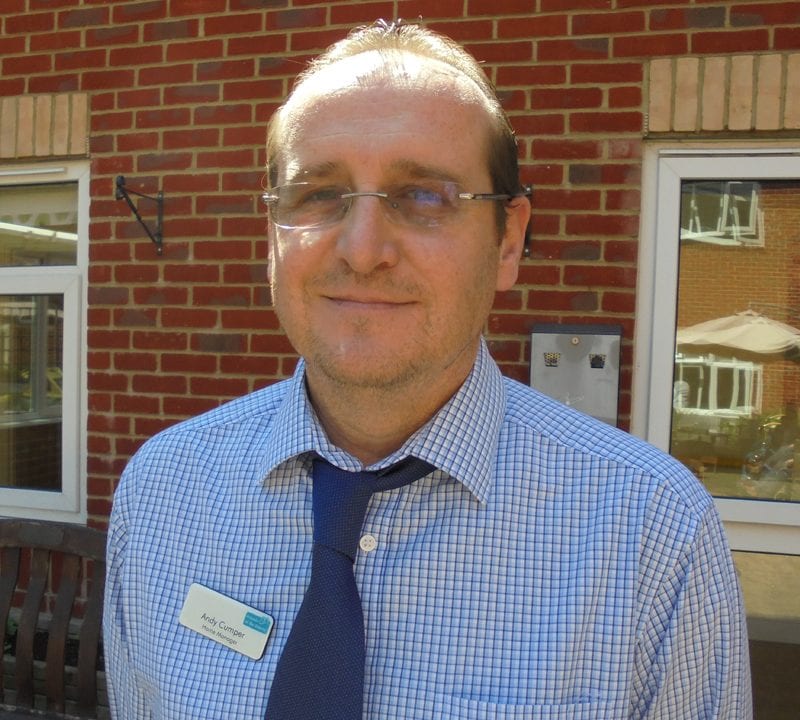 Andy Cumper, Manager
"I first started with Bernard Sunley in 2014 as an Administrator and soon progressed to Office Manager – these roles allowed me to build trust and relationships with staff, residents and their families. In early 2018 I was promoted to Home Manager and it is my vision to build a home that is fully integrated in its community and to expand on relationships with local services, groups and organisations to enhance the welfare and opportunities for our residents.
Bernard Sunley a welcoming, friendly home where residents and families are encouraged to engage in all aspects of the home from activities to discussions on what they would like to see happening at the home. The atmosphere is relaxed and staff and residents form great relationships built on trust and care.
Quite simply the best thing about my job is the people. We take the time to get to know each resident who lives with us – their likes, dislikes, the lives they have lived and the sort of life they would like to continue to live in our home. To see a family happy and at ease knowing their relative is well looked after and happy is a great reward. But perhaps the biggest reward is being allowed to share a smile, a story, a memory, with some of our residents and knowing that they are happy to give that time to me."
Contact Us
If you would like to speak to us about any aspect of finding a care home or would like to book an appointment over the phone, please call us on:
  01483 764 300 (Care home)
  03305 550 378 (Central office)
Location
Bernard Sunley
College Road
Maybury, Woking
Surrey GU22 8BT
Telephone: 01483 764300
Fax: 01483 761 900