Hello and welcome to my November blog.
This month, I'd like to talk about our day care services that support older people living with a range of age-related conditions, including short-term memory loss and dementia.  I met with Shirley Bradley, our Head of Day Care Services who has been part for the FotE family for past 17 years. I asked her to give us an overview about day care services and the support we provide for people living with Dementia.
Friends of the Elderly's Day care services
We currently have four day care services. Malvern and Kidderminster Day Care are both situated in Worcestershire while Wallington and Woking Day Care are in Surrey.
Our clients can access each of our services directly, or through a Third Party Referrer, for example a Social worker or other health professional.
Despite being in different areas of the country, with different clients and different backgrounds, one thing that is the same in each service, is the consistency of the exceptional level of person-centred care provided by our day care staff teams.
Experiences of the staff
We have 30 day care staff team members across the four services from all walks of life. Each member of the team brings their own unique skills, personality, character and experience to the job.
When employing a new person, it isn't always about their past care experience, but more about them as a person and what life experience they can bring to the role. For example, my earlier career was in hotel management. Some of the things we look for are empathy, understanding, patience, compassion, kindness and a fun nature. All of these great qualities will be nurtured, developed and supported through our comprehensive training programme.
Activities at the day care services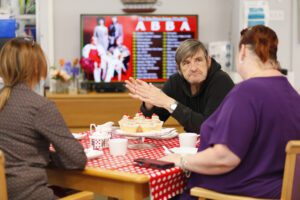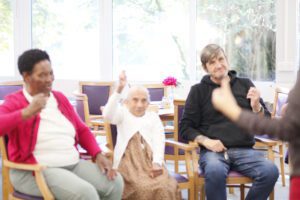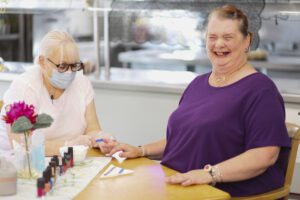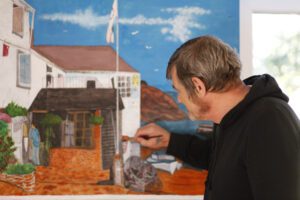 The day care team actively support clients' well-being by providing a range of activities that engage and stimulate – physically, cognitively and socially.
Some of the things we offer are structured reminiscence sessions, singing, gentle exercises, arts and crafts, nail care, gardening, baking, visiting entertainers, board games and crossword puzzles.
However, we don't stop there.
We also use different kinds of interactive activities and recently introduced Oomph! On Demand, in some of our services.
Oomph! provides our teams with up-to-date topical wellbeing resources, brilliant activity ideas and entertainment to support their existing activity plans. Animal therapy is always popular and some day care services have regular visits from volunteers with their dogs – this always put a smile on people's faces.
Support for the clients
Our day care teams also support clients with eating and drinking or with their personal care needs, should they require assistance, and do this with the utmost consideration for the person's dignity.
Each client brings a different life experience to each service. Our staff have great respect for this and try to find ways of ensuring that each interaction with that person is meaningful and inclusive.
Our staff want our clients' time in the day centres to be as happy and joyful as possible, so that even if they can't remember exactly what they have done in the day, they 'feel' like they have had a great time and, as we all know, it's feelings that matter most of all.
Staff  training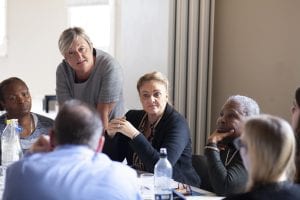 One of the things staff say that they appreciate about working for Friends of the Elderly is the high quality of training they receive. To this end, we created a Dementia Education Programme through working in partnership with the University of Worcester's Association for Dementia Studies.
The programme has been adopted throughout the Charity at all levels and is ongoing, providing Leaders and Dementia Champions across all the services. Person-centred care is at the heart of the programme and equips staff with further knowledge, skills and confidence to make changes in how they work and support people living with the dementia and their families.
The best part of my job
I'm often asked what is the best part of my job? I think the best part is seeing our clients joining in with activities, really enjoying themselves and sometimes achieving things that they perhaps haven't done for a long time – and of course, laughing. Laughter is the best medicine so they say and as I mentioned earlier, even if people can't remember what they've been doing, hopefully, they still have a lovely, warm fuzzy feeling that they've had a great day, and that's what matters.
One of the hardest things has to be the opposite of the above. For instance, when we have done everything possible support someone and, no matter what you do, the person is clearly not happy. It's heart-breaking to see someone distressed and not to be able help with whatever they may be upset about. Our unwritten motto is that we 'never give up' and we never do. We try and support someone's needs for as long as we possibly can, and work hard to make their time at our day care services the best experience we can possibly provide.
However, the time always comes that we lose a client for whatever reason and that's really hard as often you not only 'lose' that person, but also the relationship that you have built and cherished with their family too. On a happier note, we all have such fond memories and stories of our clients. We often reminisce about the fun and good times we've had over the years.
Support for carers and families
All our day care team are not just here for our clients, but for their families too. They are a friendly ear and comforting support. If any of the team notices a difference in one of our clients, they immediately tell their families so they can let doctors or medical professionals know, keeping them currently up-to-date with a person's well-being. In addition, our day care service gives care givers a respite break, not matter how small, but the time to be able to have some 'me time', rest and relax, go to the shops, visit with friends, or attend their own medical appointments.
We often receive comments from family members, and here are a few of them that I feel encompass everything I have been trying to portray about our fantastic day care services.
"My Mother has been going to Friends of the Elderly for the past 18 months. She settled in straight away. She loves to go, they do lots of activities as a group, they have entertainment, lots of different visitors, bringing a variety of different items to interact with everyone there."

"The staff are all very professional, dedicated, committed, caring, thoughtful, considerate and kind people who go above and beyond to care for my Mum. She is extremely happy there and always safe."

"Great team at Friends of the Elderly. My Mum is 90 with dementia and loves it there. When we arrive on Tuesday mornings, they treat her like their own Mother. Lots of love but, just as important, dignity."

"My Father spent three days a week at Friends of the Elderly Day Care. The staff were all lovely, caring, respectful people. We felt very reassured Dad was looked after and kept safe whilst there. Staff also extended their support to my Mum who desperately needed respite. Mum felt she could totally trust the staff in every way. I would highly recommend this day care service, 10 out of 10 for the management and all the team."

"Day care is wonderful and Malvern Day Care do a marvellous job in looking after my Husband who suffers from Lewy Body Dementia and Parkinson's. We have been married for 53 years and had never been apart, so the move to day care was a very big step for both of us. With the patience and dedication of the team, after six months, I am pleased to say that my Husband is now doing a full day and enjoys going. He comes home happy and stimulated – so well done Malvern Day Care."
Every day at all our day care services is different and we all look forward to each day's new adventure or challenge. We are all so honoured to be able to help make a positive difference, no matter how small, to someone's day.
———————————————————–
Thank you Shirley.  It just leaves me to wish everyone a very Merry Christmas and Happy New Year – I'll be back with the next Friends of the Elderly blog in January 2023.
Steve
Steve Allen, Chief Executive of Friends of the Elderly, writes a regular blog which gives insight into his role at the Charity.
He offers information and advice about important areas affecting older people and their families. Steve can be reached at chiefexecutive@fote.org.uk. 
Watch this space for more of Steve's posts.