Hello and welcome to my August Friends of the Elderly blog.
Summer is well under way, and we have been enjoying the sunshine in our homes and services. You can find out more about all our lovely summer activities here.

This month, I would like to talk to you about careers in care and the wonderful work that our care teams do at the Charity.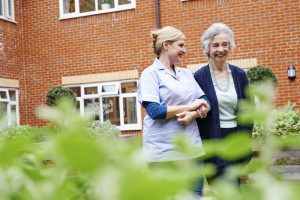 Without our dedicated care staff, Friends of the Elderly's care homes wouldn't be the vibrant and homely places that they are.
I am so grateful to my colleagues for the care and compassion they show to the older people we work with across the Charity.
So, what is a career in social care?
We hear the word 'carer' and 'care worker' used in the press a lot. And unfortunately some of that coverage is negative; but what does it mean to be a care worker?
Care workers who work in elderly care help older people with a range of day-to-day activities, such as washing and dressing and other personal care. But there is so much more to the job than that.
I'll quote my colleague Adrian here, who works in our Malvern care home,
It sounds corny being a wellbeing worker (care worker), but you do get wellbeing from the role – helping someone out. Just that little moment when you put a smile on a face. I think that's brilliant.
This is the part of the job that doesn't often get talked about in the press- the opportunity to really make a difference in an older person's life.
Exciting roles at Friends of the Elderly
We have a range of roles at Friends of the Elderly including Health Care Assistants who tend to work in our residential care homes and Wellbeing Workers who support our residents living with dementia.
We also offer a wide range of training that includes developing staff to be Medical Technicians. They are trained to support our residents to take their medication correctly. There is a really clear career pathway for care staff, and it is possible to work from being a care worker through to supervisor and care home manager. You can see more on our website here.
At Friends of the Elderly, we have members of staff on our Senior Management Team who started their careers as care workers and are now helping to set the strategy for the whole Charity. For example, our Chief Operating Officer started working for the Charity more than 28 years ago as what was then referred to as a Night Care Assistant.
Find out more
If you would like to find out more about working with us, our dedicated recruitment team would love to hear from you. We have a whole section of our website which includes videos from our colleagues about their roles, job descriptions and more. Take a look here and please let us know if we can answer any questions you have!
We take pride in working hard to maintain the wellbeing of our staff. This is done through a transparent and supportive culture which is equitable, diverse, and inclusive. There's no denying that it's often hard work, but it comes with so very many rewards.
I hope this information about careers in care has been helpful to you. If you have any questions, you can always email me at chiefexecutive@fote.org.uk
Kindest regards to you all – and I'll be back in September with my next blog.
Steve
Steve Allen, Chief Executive of Friends of the Elderly, writes a regular blog which gives insight into his role at the Charity.
He offers information and advice about important areas affecting older people and their families.
Steve can be reached at chiefexecutive@fote.org.uk. Watch this space for more of Steve's posts.