Hello All,
Welcome to my November blog! We are gearing up for Christmas here at Friends of the Elderly and have some fantastic events planned for our residents and service users. After what has been such a difficult 18 months, my colleagues are enjoying focussing on the positivity of the festive period.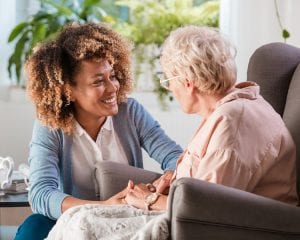 Many of us will be spending time over the Christmas period with older relatives who are living with dementia. My colleague, Francesca Simpson, manages our Day Care Service in Woking, where the team specialise in supporting people living with dementia.
Fran has put together some fantastic tips which I wanted to share with you all.
Some people living with dementia may become "restless". Ask them if they would like to go for a walk or if something is upsetting them. Listen to what they have to say, provide empathy, and validate what they are telling you. For example, "Mrs Jones, I am sorry you have lost your door key, that's very upsetting. Shall we look for it together?" instead of "Mrs Jones, your son has your keys because you keep losing them.
Arguing or disagreeing with someone living with dementia can cause further distress. Instead, join their reality, offering empathy and comforting them if they are upset or anxious.
Support Independence. Sometimes a diagnosis of dementia can lead to everyday choices being taken away. To assist with independence, reduce the choices available ("Yellow blouse or red blouse?") and show the options available (sometimes w visual aids help).
Dementia can affect how people see the world around them. If someone you care for is finding it difficult to eat, it could be due to trouble identifying types of food.. Try using a red dinner plate. This will add a strong backdrop to define their food, making it easier for them to identify the type of food on the plate.
Use positive terminology. Instead of saying someone "suffers from dementia", say they are "living with dementia". Using positive language empowers people, which in return respects them as individuals, making them feel valued and included.
I hope these tips are helpful to those of you caring for relatives living with dementia. Keep an eye on the 'exploring care' section of our website, where we will be adding further information like this very soon.
Kindest regards to you all – and I'll be back with my December blog.
Steve
Steve Allen, Chief Executive of Friends of the Elderly, writes a regular blog which gives insight into his role at the Charity. He offers information and advice about important areas affecting older people and their families.
Steve can be reached at chiefexecutive@fote.org.uk. Watch this space for more of Steve's posts.