In this blog post, I am very proud to highlight the amazing work of our grant-giving service. As a charity, we run care homes and services which support older people, but equally as important is our grants service, which supports older people who are in financial crisis and urgently need our help.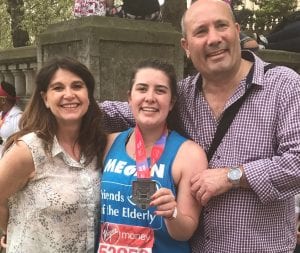 Since the charity was established back in 1905, we have supported older people with grants. Indeed, we were originally 'The Church Army League of Friends of the Poor', giving 'Penny Dinners' to London's poorest districts.
Today, we keep true to our heritage, by supporting older people who are living in poverty with our grants service. Last year, we gave away £195,848 in grants to 587 older people. One request last year was for as little as £21.50 for bedding, which highlights just how threadbare finances can become.
We receive requests every day for support, and thanks to the hard work of our busy grants team, and the loyalty and generosity of our supporters, we endeavour to meet the growing need in society.
Even after seven years at Friends of the Elderly, I am still humbled when we receive requests for help with basic everyday items that you and I might take for granted, such as shampoo, or a winter coat.
Requests for fridge freezers and ovens are common and mean that people can safely store their food and cook meals for themselves. In colder months we help lots of older people stay warm and well with insultation and heating, and we are one of the few funders who give grants to help with funeral costs.
Many of the older people we support with our grants live alone, and we want to make a difference to the alarming increase in loneliness, highlighted by the pandemic. Our grants for digital equipment offer a way of connecting older people with friends, family, their local community and beyond you can read more about this here. We help to fund mobility aids, so people can get out and about more easily, and essential household repairs, so older people feel confident living at home.
If you are one of our supporters reading this, please accept my heartfelt thanks for donating. Without you, we would not be able to do this work. If you are looking to donate, I can't think of a more worthy cause. But you would expect me to say that. So, I would at least urge you to check-in with older relatives and neighbours to make sure their boilers are ready for colder weather. Let's keep the connections we made with neighbours during the pandemic and take the time to stop for a chat – as you never know when someone might need your help.
If you are looking for financial assistance for yourself or for someone you know, please do get in touch with our grants team and we will do everything we can to help.
Wishing you all a healthy and happy October. Until next time.
Steve.
Steve Allen, Chief Executive of Friends of the Elderly, writes a regular blog which gives insight into his role at the Charity. He offers information and advice about important areas affecting older people and their families.
Steve can be reached at chiefexecutive@fote.org.uk. Watch this space for more of Steve's posts.