Hello, and welcome to my second blog instalment. In this piece I would like to talk to you about respite care, an important service that we provide across all our care homes at Friends of the Elderly.
Respite care is a temporary stay for an older person in a care home. The stay may be only for a weekend, or it may be for a longer period. In addition, a respite stay may be needed to help someone recover after injury or illness.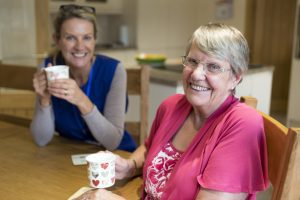 The benefits of respite care
There are many benefits to respite care for both older people and their family carers. For an older person respite can bring fresh experiences, which can be reinvigorating. New routines, new people, new activities – all in a safe, caring environment – can help to provide a change of scenery that supports independence and choice.
Respite also allows carers to have a break, which we know from meeting so many carers over the years can be vital for them. Caring for your loved one can be a full-time job and, as fulfilling as it can be, carers can often become exhausted, frustrated and, at times, lonely.
Carers UK conducted a survey with 3,400 carers to find out about the impact caring has had on them, and found the following statistics:
84% of carers that responded to the survey never expected to become a carer.
Carers stated that caring had a negative impact on their physical health (83%) and mental health (87%).
39% have put off medical treatment because of caring.
37% of carers aged 18-64 years old have had to cease working because of their caring responsibilities.
This isn't to say that caring for someone isn't rewarding, but no one doubts the impact it can have on the carer's mental and physical health. Choosing to take a break and to book some respite care can be hugely beneficial to all concerned.
Getting started with respite care
In some parts of the country respite care can be provided after you have completed a carer's assessment, in other parts it can be provided through a needs assessment for the person you are looking after.
Having a carer's assessment can seem daunting, but it is extremely important that as a carer you have the right kind of support in place.
The kind of help and support you could get from an assessment includes:
Respite care to give you a break.
Information on local carers support groups.
Help with caring.
Equipment to help you in your caring role.
There are lots of other resources about respite care online, and I urge you to look into these if you feel it might be the right option for you. Age UK has some helpful information here.
I hope this short piece has helped you learn more about respite care. If you would like to find out more about how Friends of the Elderly can help you our care home managers are happy to talk through the options with you. To set up a call please email enquiries@fote.org.uk
Until next time,
Steve
Steve Allen, Chief Executive of Friends of the Elderly, writes a regular blog which gives insight into his role at the Charity. He offers information and advice about important areas affecting older people and their families.
Steve can be reached at chiefexecutive@fote.org.uk. Watch this space for more of Steve's posts.