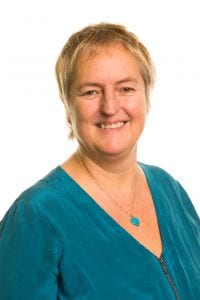 I joined Friends of the Elderly in June 2014 as assistant to the senior management team and committee secretary, progressing in April 2015 to the role of Charity Secretary. My job involves supporting the board of trustees, servicing board and committee meetings, company secretarial duties, governance advice and data protection compliance.
After an early career in local journalism and much travelling, particularly to South America, my charity governance experience began in 1997. I supported the trustee board of the Royal Air Force Benevolent Fund as I worked my way through BA and Master's degrees as a mature student at London University, eventually embarking on a full-time PhD. But in 2008 life threw me a curve ball when I met my future husband. Within two weeks we had got engaged, and four months later were married, had bought a house and moved to Norfolk. The academic books have been gathering dust ever since.
Returning to full-time work, I joined the East of England Ambulance Service in a governance support capacity. When the Trust Secretary became ill, I was thrown in at the deep end, taking on the lead governance role for a major NHS organisation providing crucial frontline emergency services covering six counties. I learned a great deal not only about how good governance helped support service delivery and meet the challenges of working in a highly regulated sector, but also about the increasing needs and demands of an ageing population.
When the role ended I wanted to return to the charity sector and was drawn to Friends of the Elderly's caring ethos and vision of older people living fulfilled lives. My role may not be at the frontline of the care and support we provide, but I am committed to helping the charity enhance the wellbeing of as many older people as possible by striving to continually improve governance. This is what motivates me and gets me out of bed every morning.
If I could give one piece of advice to my younger self it would be: believe in yourself and follow your dreams.
When I am 80, I hope I will still be laughing, learning and loving; getting annoyed with The Guardian crossword; enjoying a fine Malbec; being silly; and surprising people by tickling the ivories or going off on my travels to Argentina.