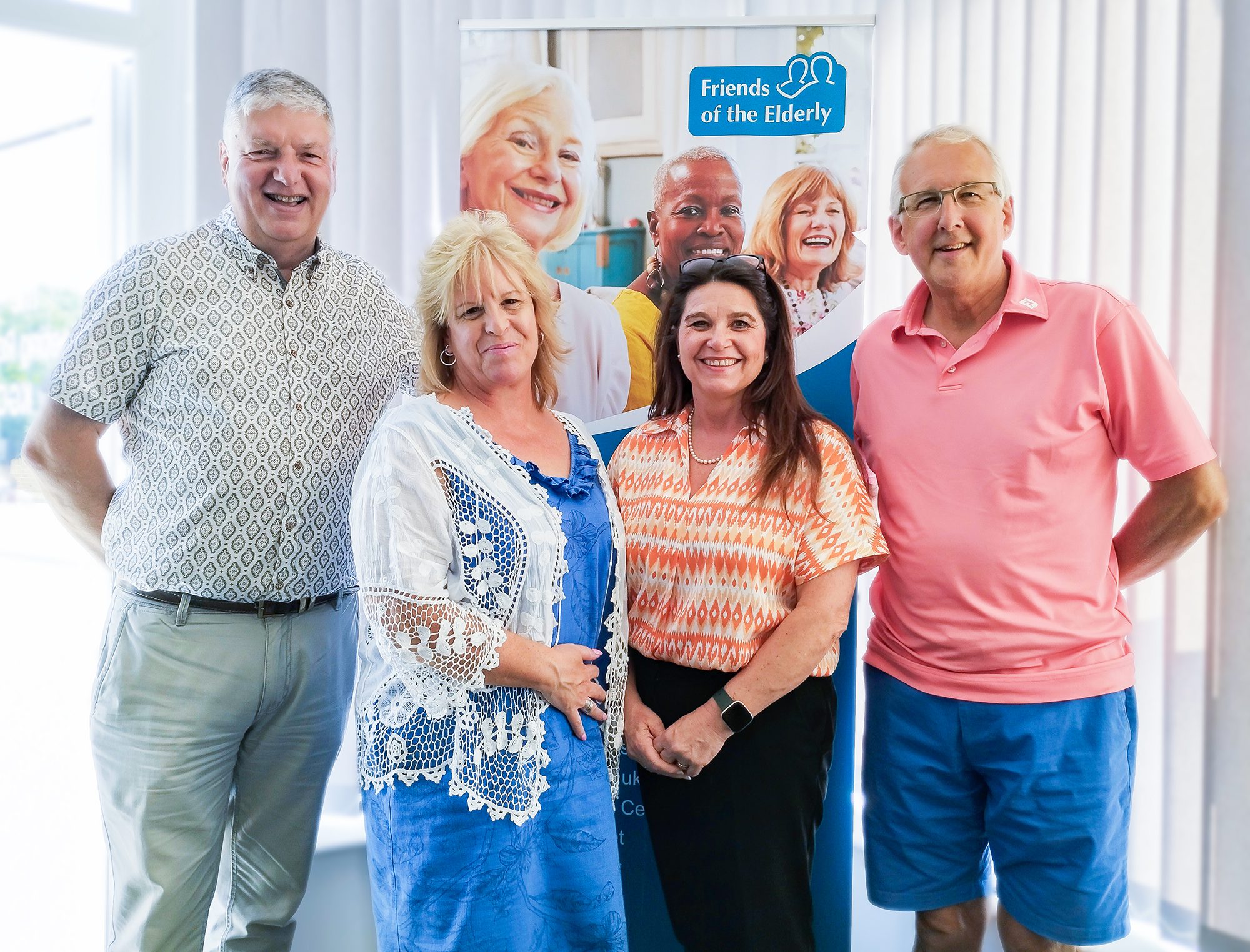 Our Kidderminster Day Care, which supports people who are living with dementia and a range of age related conditions, received a wonderful, huge donation thanks to the 2023 Kidderminster Carpet Manufacturers National Golf Tournament.
At a recent luncheon at The Kidderminster Golf Club, Shirley Bradley, our Head of Day Care Services, was presented with a cheque for £3,000 by Shaun Lewis, the Joint Chairman of the tournament. Commenting on the donation, Shirley said: "It's wonderful to be chosen again for another year as one of the charities The Kidderminster Carpet Manufacturers National Golf Tournament supports. To receive such a substantial donation is greatly appreciated."
"The annual two-day tournament saw many golfers take to the fairways and greens at Kidderminster Golf Club to take on the 18 hole course. This year's tournament was very well supported and raised a substantial amount of money that we are pleased to be able to distribute to a few local charities, one of which is Friends of the Elderly's Kidderminster Day Care Service," said Shaun.
"We will be using the sizeable, generous donation money to replace the existing blinds in the Day Care Centre. The new blinds will have lining that will keep the clients cooler in the summer and warmer in the winter and will make such a difference," continued Shirley. "At Kidderminster Day Care, we deliver person-centred day care for people living with dementia and a range of age related conditions in a safe, friendly and welcoming environment.
There's always something going on at Kidderminster Day Care for the clients to enjoy and take part in. "We offer a wide and stimulating range of interesting and enjoyable activities," continued Shirley. "They are all designed around the personal preferences, hobbies and interests of our clients. The activities include baking, gardening, quizzes, flower arranging, arts and crafts, reminiscence and stimulating cognitive sessions and our very popular gentle exercise classes.
"We constantly adapt and add to our activities programme to make sure there is always something new for our clients to enjoy – and of course, we serve tasty and nutritious meals. They always go down a treat," Shirley added.
Kidderminster Day Care is a lifeline for those who might otherwise spend their time at home alone, as well as providing carers with well-earned respite time. "We work closely with the Kidderminster local community to make sure our clients are supported, stay connected to their surroundings and are able to enjoy everyday life. We are truly grateful to Shaun and the rest of the Committee of The Kidderminster Carpet Manufacturers National Golf Tournament for being one of their chosen charities and for their exceptionally kind donation," Shirley concluded.
To find out more about Kidderminster Day Care, call 01562 825 490 or email enquiries@fote.org.uk.