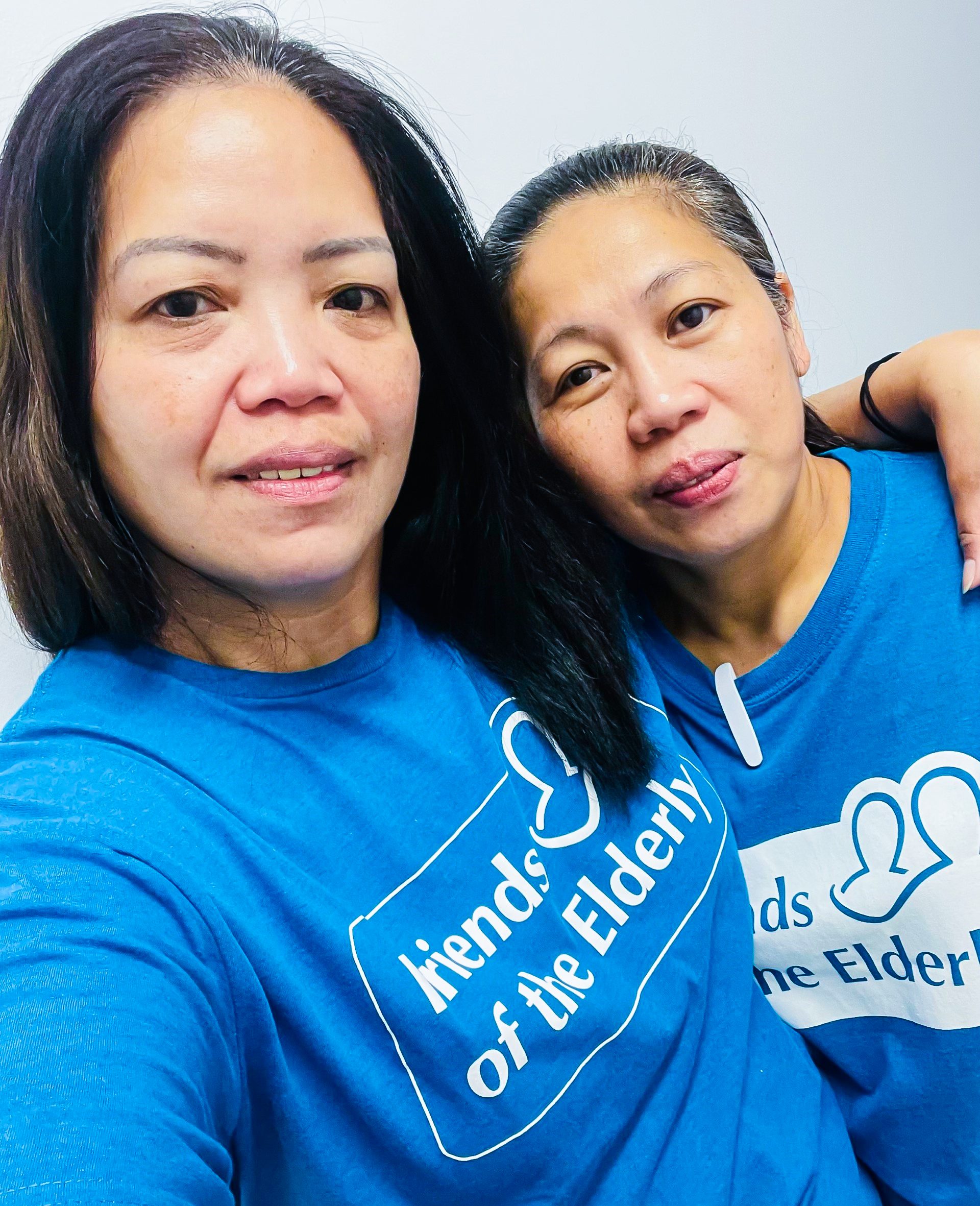 Following this year's National Best Friends Day, two members of the care team at Bernard Sunley care home have been sharing their thoughts on how lucky they are to have been best friends for over 20 years – and work together at the same care home.
Jennefer Milanbilin has worked as a Health Care Assistant (HCA) at Bernard Sunley for eight years and Ma Teresa Dablio who is also an HCA, has been with the charity for one year.  "It's so nice to be able to work with your best friend," said Jennefer. "It's especially great when we are both on the same shift as it always brightens my day."
Having been best friends for so long, Jennefer and Ma Teresa have been on many holidays together over the years. "Whilst we don't have all the same similar interests, we both love to travel and one of our favourite holidays together was when we visited Spain," Jennefer continued. "It was a great holiday; we have a wonderful time. I don't think we stopped smiling and laughing the whole time we were there."
Both Jennefer and Ma Teresa agree that the secret to their long and happy friendship is trust, honesty and understanding. "Ma Teresa is a lovely lady and a lovely friend. She's open, honest and has a down to earth attitude. I think the reason we clicked as friends is that we both have the same qualities," Jennefer added.
"We share the same sense of humour; in fact, we'd be clowns in a circus if we weren't HCAs, as we both like to make people laugh and smile – which the residents at Bernard Sunley appreciate. We are both caring by nature and are never short of something to chat about, either together or with our residents. Ma Teresa is definitely the cheekier one. In the summer, when the pollen count is high, I do suffer a bit from Hayfever. Ma Teresa is so cheeky she calls me Sneezy after one of the seven dwarfs in Snow White," continued Jennefer, "Which usually gives our residents a giggle."
In their roles as HCAs at Bernard Sunley, both Jennefer and Ma Teresa promote and support wellbeing to enhance the lives of all the residents. They do this in a number of ways through providing personalised, bespoke care to each resident whilst making sure everyone they care for is treated with dignity and respect. "We love working at Bernard Sunley," said Ma Teresa. "All the care team are so committed to providing high quality personalised care for each and every one of our residents. It really is such a great place to work, it's a real home from home environment and atmosphere."
The best friends are definitely a caring duo and always have their residents wellbeing at the heart of everything they do. "Jennefer and Ma Teresa are two professional and talented HCAs, we are lucky to have them, and so glad they have been with us for so many years doing such a great job," said Andy Cumper, the Registered Manager at Bernard Sunley. "They connect and interact with our residents so well and work tirelessly to ensure each resident's individual, specific needs are met and that each one is happier after seeing them. They really do help to ensure that our residents live well in their later years."
Jennefer and Ma Teresa provide personal care, monitor residents' conditions, make sure each resident is comfortable, liaise with housekeeping on daily domestic activities, encourage independence and provide emotional support for both residents and their families. "They are both so passionate about helping people and making a positive difference to our residents' lives," added Andy.
However, there is one thing that the pair do not always agree on. "Food," said Jennefer. "That's the only thing we sometimes don't see eye to eye on, but we do agree that sweet puddings are the best part of a meal."
"The other day one of our residents asked who we'd invite to a fantasy dinner party, if we could invite anyone, past or present. Ma Teresa and I agreed – again – we both said our Manager, as he takes such good care of not only all our residents, but of the care team too," concluded Jennefer.
Find out more about Bernard Sunley care home by calling 01483 764 300 or emailing enquiries@fote.org.uk.