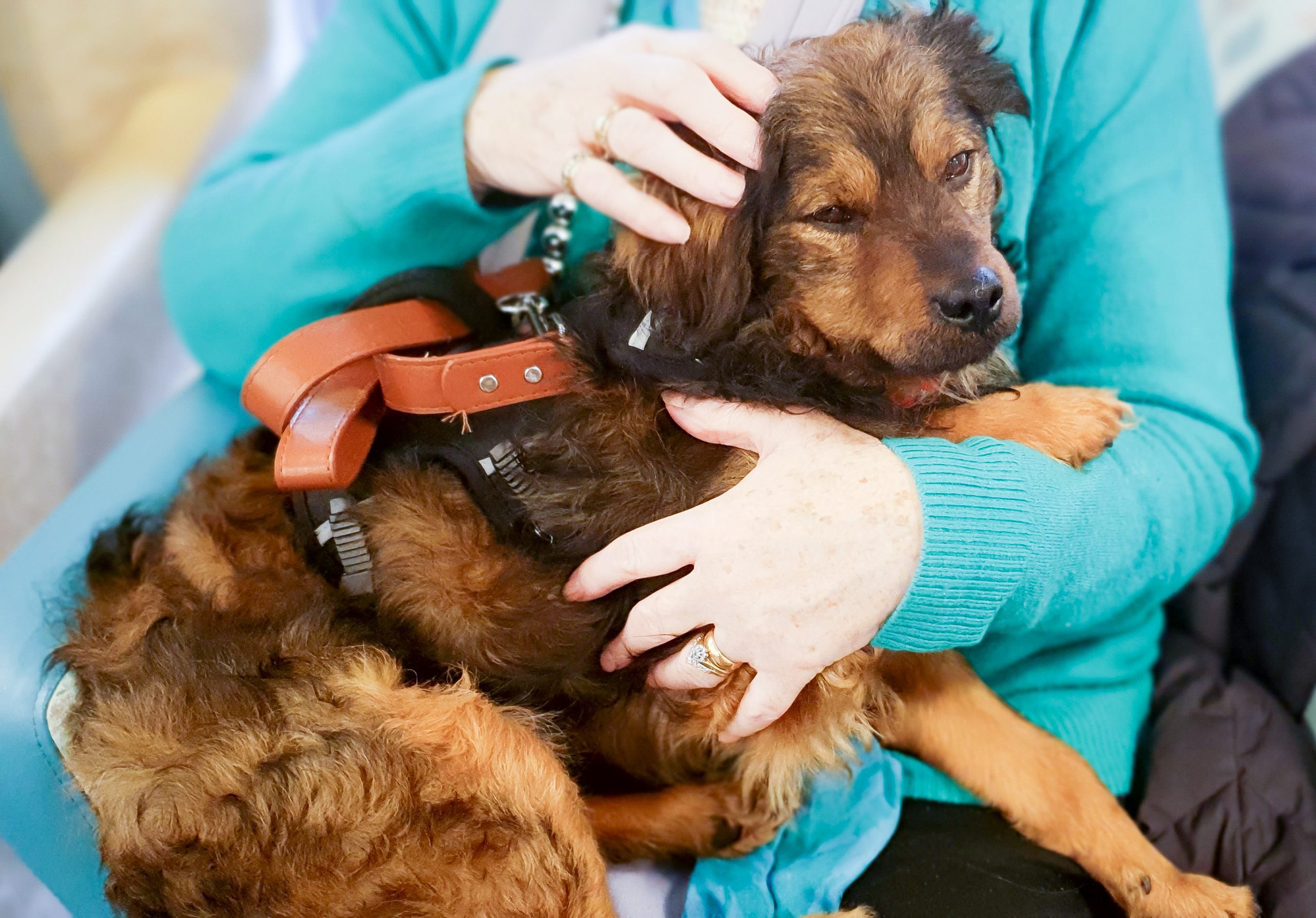 Our Woking Day Care service in Surrey added to its wide range of daily activities by introducing regular visits of the canine kind!
Thomas is a rescue dog from Danyflor in Romania. After his rescue Fran Simpson, our Woking Day Care manager, fostered him. He soon joined her at the day care service and quickly made some special connections.
Fran said: "Thomas is a loveable dog and has been a firm favourite at the centre. One of our regulars is a lady who has always struggled to recall memories from her childhood. She found it hard to recall her life history.
"After having Thomas on her lap for a short while, she began to tell us how she has always had dogs growing up as her father was a farmer. She then went on to recall details and stories of growing up on a farm in South West England. She reminisced about all the animals they used to have. The Team and I were stunned and delighted at the same time. It was amazing to hear all the different tales and memories."
Fran continued: "Another of our visitors is a lovely gentleman who we support who only engages in colouring. It was his 'role' to walk Thomas in the garden and ensure that there was water in his water bowl. This gave him another purpose.
"This gentleman used to struggle with communication and sometimes became distressed. But since Thomas began visiting, he became significantly more relaxed. He loved to take him out to the garden and walk him on the lead."
Fran fosters one dog at a time and recently, Thomas found his own, new family and is settling in nicely. But Fran is on the case looking to find another foster dog through No Boundaries Rescue.
Fran said: "These amazing dogs have had such sad and awful lives and many of them are very nervous, timid and frightened. I work with them to help build their confidence and instil a sense of happiness, calmness and contentment.
"Every dog I foster is different. It is wonderful to see them change into happy, fun loving and friendly pets. After their time with me, they are adopted into their forever homes. I've had three dogs so far, all of whom have visited the day care centre and made friends with our visitors."
Of course, Fran only allows the dogs to come to the centre once they have been assessed over a period of time. She will make sure their attitude and temperament is happy and calm, so that they will feel comfortable at the centre.
Fran continued: "A dog is the one thing that loves you more than he loves himself. I'm never happier than when I'm covered in dog hair. It's a great fashion statement! 
"The actress, Doris Day once said – "I have found that when you are deeply troubled, there are things you get from the silent devoted companionship of a dog that you can get from no other source". That's so true. I'm looking forward to finding my next foster dog and bringing he or she along to the centre to meet everyone."
Woking Day Care offers dementia support provided by a well-trained and compassionate team. To find out more call 01483 753 652 or email enquiries@fote.org.uk.