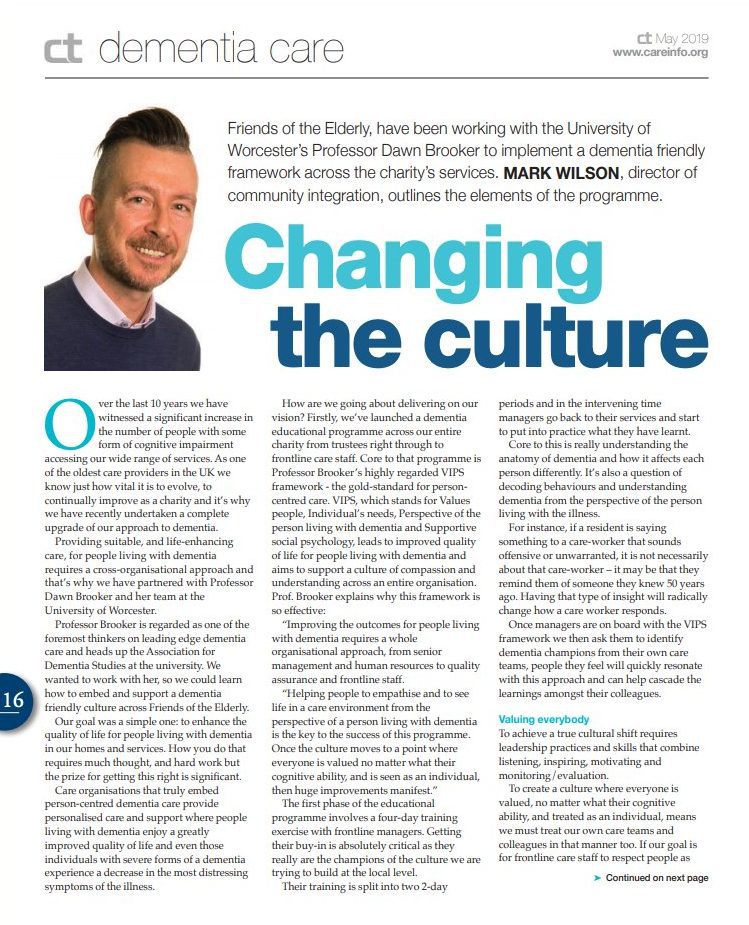 Mark Wilson, our Director of Engagement, recently featured in Caring Times. In the article he explains the new dementia care framework we have been implementing across our care homes and services over the last year.
We have partnered with Professor Dawn Brooker and her team at the University of Worcester. Together we have worked towards creating a dementia friendly culture across our organisation.
The number of people accessing our services with some form of dementia has increased significantly over the last 10 years. We wanted to work with Professor Dawn Brooker to ensure Friends of the Elderly are at the forefront of providing the most effective person centred dementia care.
The goal of this programme is to enhance quality of life for people living with dementia in our homes and services. We have launched the programme to our entire organisation, from trustees right through to frontline care staff. This implementation across all levels will ensure a culture that strives to improve outcomes for those living with the condition. 
The interview with Mark Wilson in the Caring Times article breaks down the fundamentals of the programme. This includes how it works and why Friends of the Elderly is working hard to 'change the culture' of dementia care.
It's a fascinating read that can be found on page 16 of their May publication.
For more information about our care homes and services, call 020 7730 8263 or email enquiries@fote.org.uk.