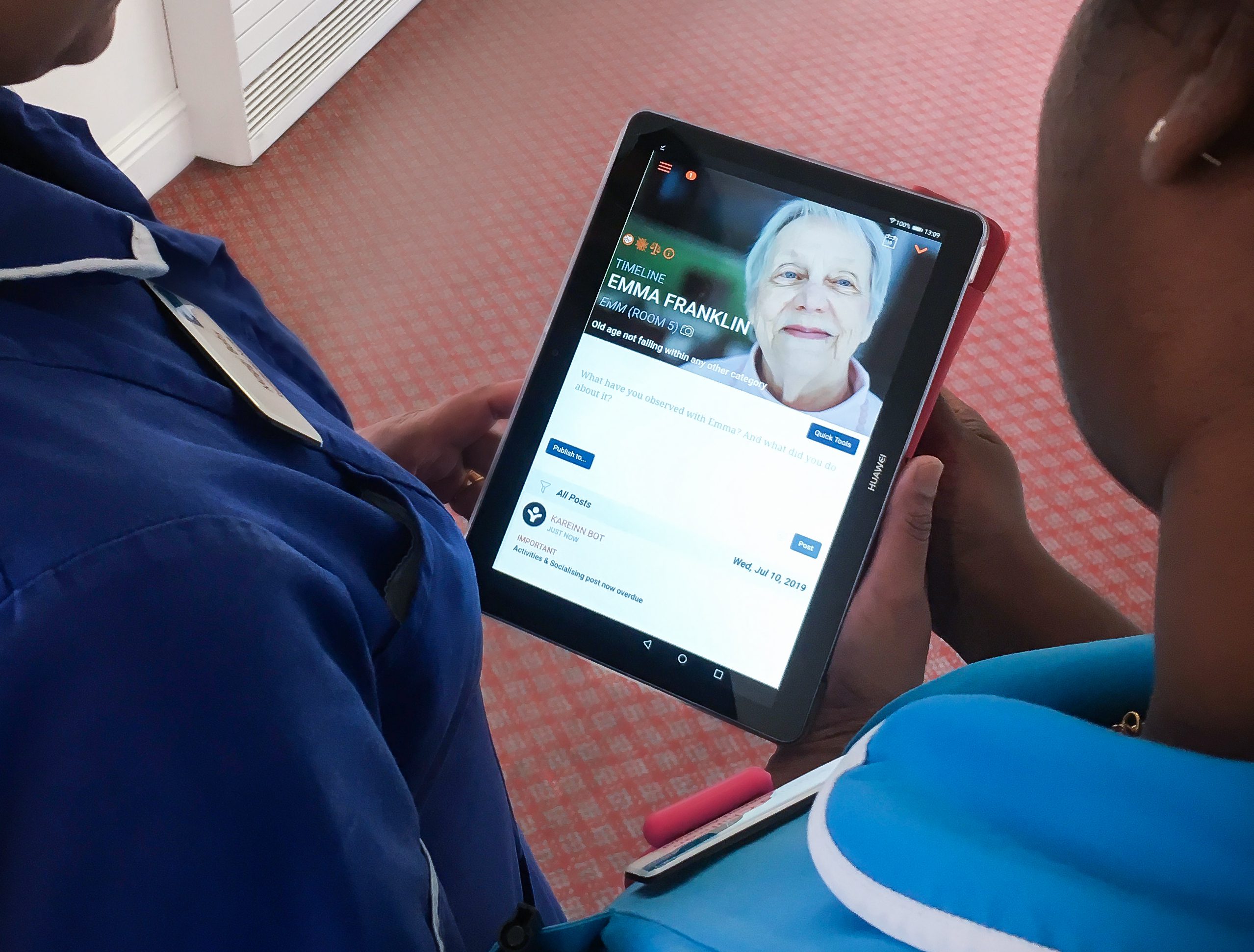 We are delighted to announce that we have been awarded an NHS digital grant worth more than £44,000. The funds will assist in the roll out of leading-edge Digital Care Planning Technology and Acoustic Monitoring across our ten care homes.
We teamed up with KareInn, who are a Digital Care Planning system provider, and Ally Labs Software, who provide wireless Acoustic Monitoring systems, won a bid for a share of the Government's 4.8 million NHS Digital Pathways grant.
The grant will have a significant impact on our work to provide the best possible person centred care for our residents. The funding will be used to increase the use of these systems at our three care homes at the Malvern care hub in Worcestershire.
Unlike traditional digital care planning systems, KareInn doesn't simply collect data. At the moment, the team are working on building artificial intelligence (AI) into the system. It would make KareInn one of the first care platforms in the UK using AI to boost its service.
Richard, Friends of the Elderly's Director for Quality and Innovation said: "AI and machine learning has the potential power to transform the delivery of care for the sector. We are working hard and will be at the forefront of this revolution for the benefits of those who use our services."
Rachelle Mills, CEO of KareInn, explained: "The new technology will look at individuals' history and patterns uniquely, rather than looking at their medical statistics alone. It can predict whether something might be wrong. It is able to spot anomalies in patterns of health."
The tool helps the staff by recommending a check if it notices something worrying or unexpected. This is a real advantage over the old paper driven system. It also gives families information much quicker when concerned about a loved one. A detailed dashboard of healthcare metrics means that care can be truly personalised for each service user through observations and trends using analytic patterns.
Rachelle added: "We were particularly excited to pool our expertise with Friends of the Elderly and Ally to help benefit the sector as a whole. I hope it's just the start of what we are capable of achieving when we join forces together."
The Ally Labs system uses highly sensitive acoustic listening devices to monitor and keep service users safe at night. It ensures service users are not disturbed when they are sound asleep, thus allowing for a better next day.
The technology can even help with early detection of possible falls, as well as chest and urine infections, all delivered using smart phone technology.
Thomas Tredinnick, CO-Founder and CEO of Ally Labs, said: "Ally Labs is thrilled to be working with Friends of the Elderly to increase the use of our acoustic monitoring system across the Malvern Care Hub.
"Together we have provided their service users with safer care and a better night's sleep. Additionally, the opportunity to integrate our software with KareInn will set new communication standards between these types of technologies and improve the day to day lives of front-line staff."
Find out more about our care homes by contacting us at enquiries@fote.org.uk or phoning 020 7730 8263.