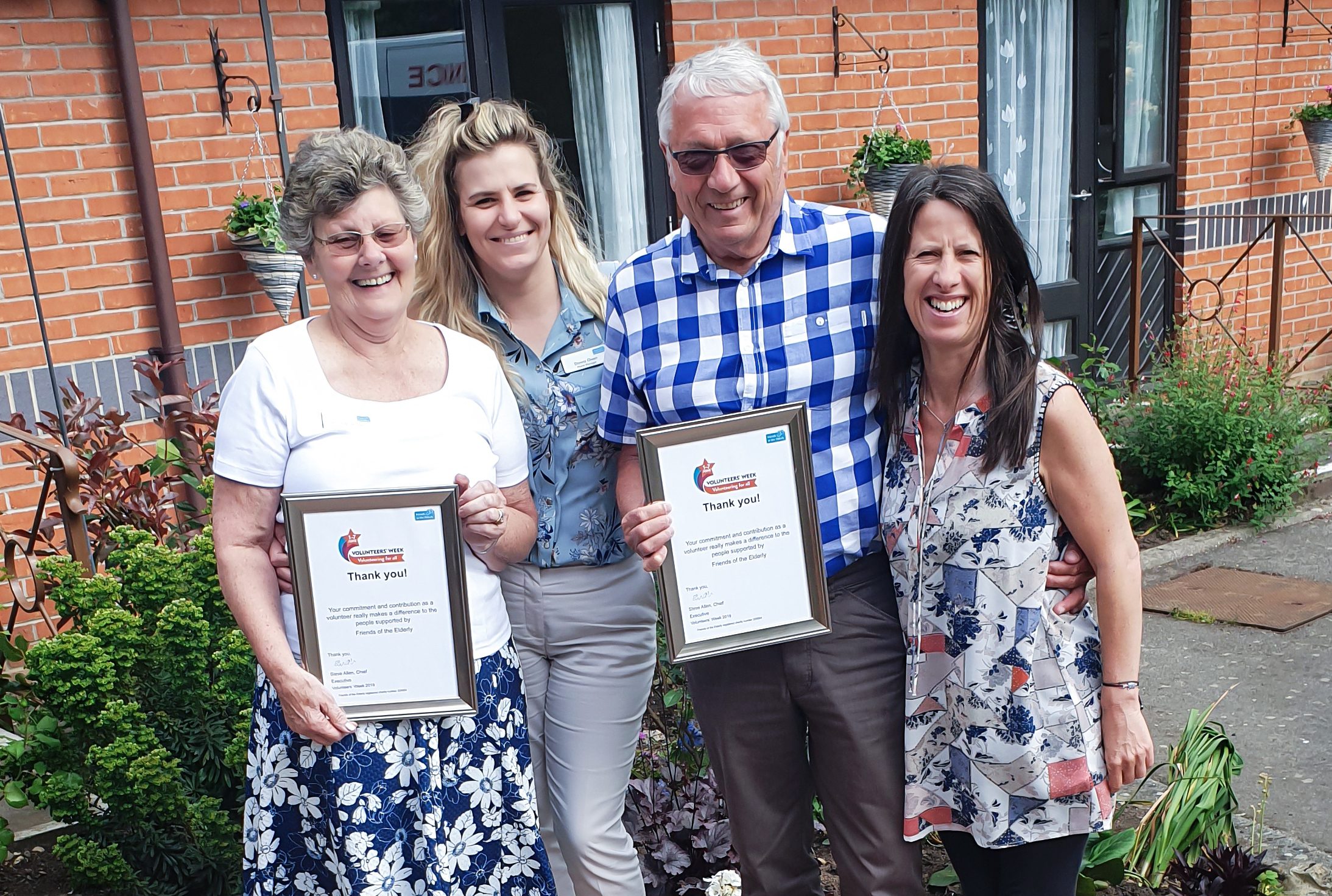 Volunteers from the local community regularly support residents at New Copford Place care home in Essex.  Last week they were invited to the home to attend a special certificate giving ceremony.
The event was held to mark Volunteers' Week, which takes place every year between 1 – 7 June. The 27 residents at our Essex care home are regularly supported by volunteers, who help with a range of activities. From bingo calling, quizzes, delivering tea and cakes to simply chatting, playing the piano for the residents and helping with gardening, the volunteers are essential.
Care home Manager Donna Owen wanted to use the opportunity of Volunteers' Week to recognise the volunteers.
Donna said: "The volunteers, who so kindly give up their time to help out here at the home, are such wonderful people.
"I know that the residents love to spend time with our volunteers. It gives them an opportunity to mix with new people and to enjoy many of the opportunities that are in the wider community.
"Our volunteers are essential to the welcoming and homely atmosphere we have created here at New Copford Place. I want to thank them all from everyone at the home."
One volunteer, Ellen Bartlett, said the home had special memories for her.
Ellen said: "Since my mum passed at New Copford Place, it has been a joy to return to complete activities with the residents that knew Mum. It can be emotional but it's rewarding spending my time here. New Copford is a wonderful place."
Others at the ceremony included The V Team from Essex University's Students' Union volunteers group, and 'Pat and Teddy The Dog'. Additional regular community partners include: Wellies-On, the local wellbeing farm, Little Hands Nursery School and Copford Nursery for children.
To find out more about New Copford Place care home, email newcopfordplace@fote.org.uk or call 01206 210 397. For information on current volunteering opportunities, contact us at hello@fote.org.uk or call 020 7730 8263.