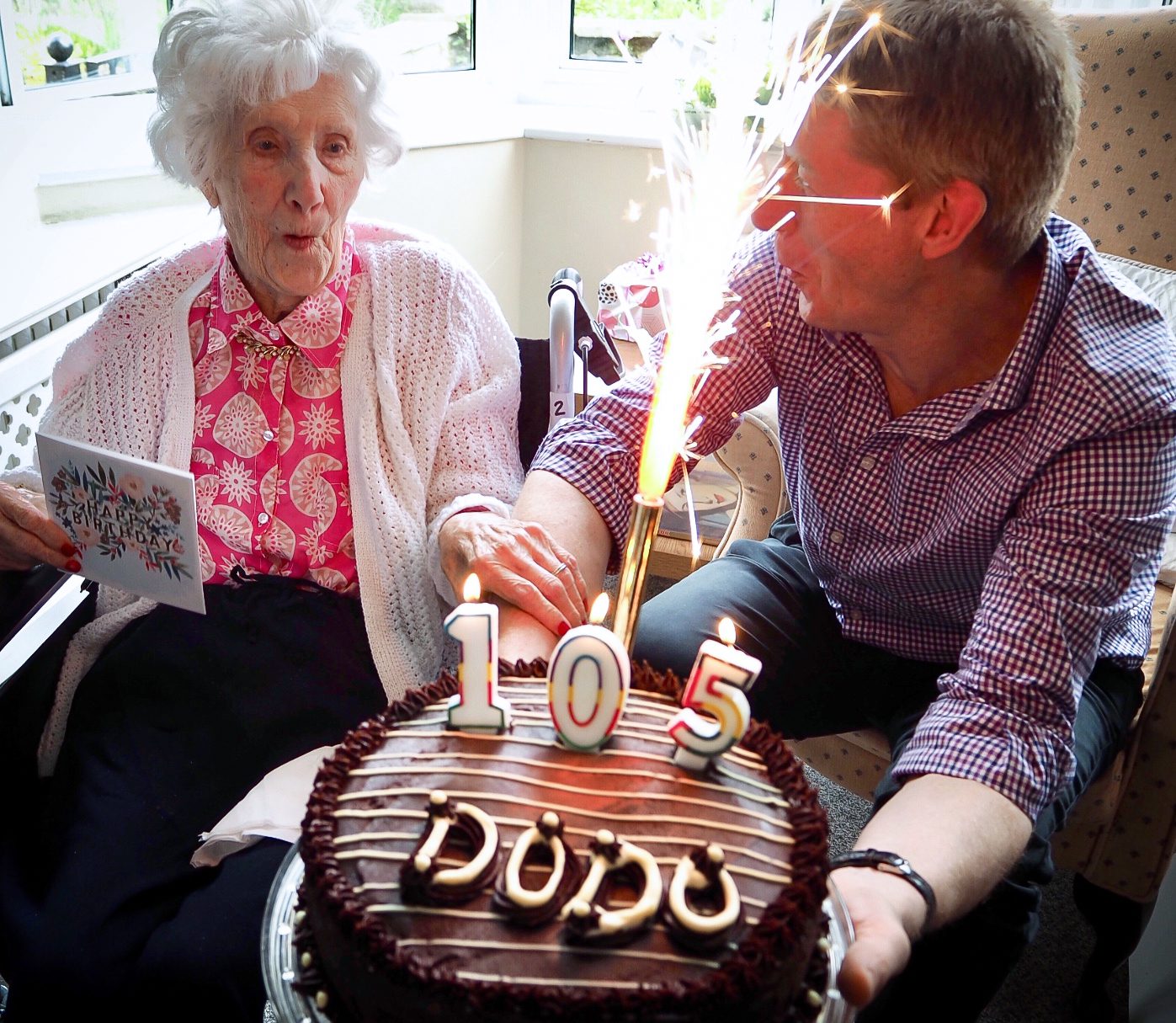 Haslemere resident Dorothy Pow recently celebrated an amazing milestone birthday – the Surrey centenarian turned 105-years-old!
On 19 May Dorothy and her family celebrated her special day at Redcot care home. Speaking at the celebrations, her daughter Liz described her as a 'doting mother and grandma'. Dorothy – whose nickname is Dodo – is also a firm favourite with the care home staff, who helped ensure her party went smoothly.
The mother of two, grandmother of eight and great-grandmother of 10 has had an incredible life. Her doctors once predicted she'd die within a year when she was just 12-years-old. Daughter Liz said that Dorothy has always defied expectations.
Liz said: "The doctors said she wouldn't live long, but Mummy's proved them wrong! She contracted a heart disease when she was 12 and had to spend a year in a darkened room. But she survived that, despite the odds.
"That wasn't the first time she had a brush with disaster. Mummy grabbed onto a kitchen range grid when she was two and badly burned both her hands. Her mother massaged them twice a day for months to help her heal and also made splints to make sure her hands grew straight. She was so successful that Mummy ended up being an accomplished piano player and worked as a physiotherapist."
Before settling in Haslemere, Dorothy travelled the world and met her husband, a banker, in the Far East just before the war.
Liz added: "Daddy signed up to the Indian army in 1941 and we followed him in a trade ship. I was just three-months-old then, so you can imagine the pioneering spirit Mummy had. They lived in Singapore, Malaya, Shanghai, and Calcutta, before Daddy retired from the bank and they set up home in Haslemere. Even today, Mummy has lost none of her social skills, she's a remarkable woman."
Few people reach such a milestone age, but Dorothy believes the secret to a long life is simple.
Liz said: "Mummy has really looked after herself all her life. She's always had a careful, rigid diet, she barely smoked and never drank much. She was a keen skier and did lots of yoga. I think she puts her long life down to that – well, that and a good sense of humour!"
Dorothy has lived at Redcot care home – which is part of the charity Friends of the Elderly – since 2013. Care home manager Sharon Fields says that all the staff think very highly of her.
Sharon said: "Dorothy is a wonderful lady with a lovely smile, and we all think the world of her.
"She doesn't hear well but we write things down for her and she's still very sharp. It's incredible to think of all the world events she's lived through over 105 years. She's told us some great stories. We were honoured to be part of her special birthday and to celebrate with her."
To find out more about Redcot care home, call 01428 644 637 or email enquiries@fote.org.uk.