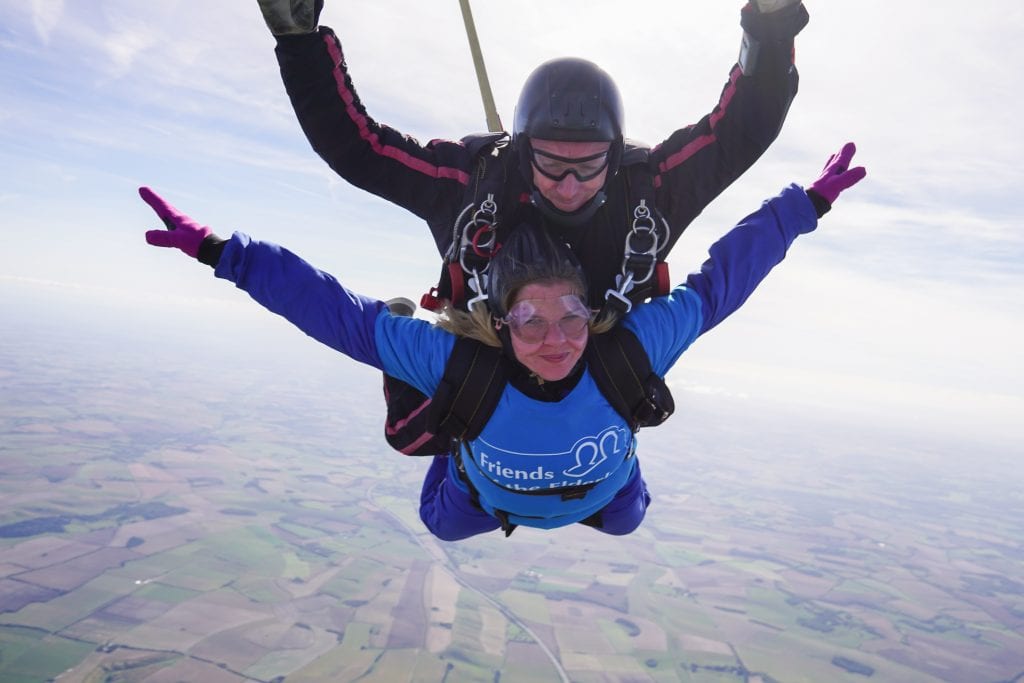 Elaine Lee, from Malvern, has raised over £800 for Friends of the Elderly's Malvern care homes by bravely jumping 10,000ft out of a plane.
Elaine is a manager at the Friends of the Elderly Malvern care home. She has been working in care for 20 years and celebrated her third year with Friends of the Elderly in September.
Commenting on her skydive, Elaine said: "At first I was really nervous. I could barely speak in the plane and struggled to keep my breath steady. But as soon as we jumped from the plane any nervousness melted away. It was an amazing experience and I would definitely do it again.
"I would like to thank everyone who supported me and I'm so pleased to have exceeded my fundraising target by over £300 for such a good cause. The residents are my extended family, especially as I no longer have my parents or grandparents with me. The money raised will be used towards extra activities for our residents, which I know they will really enjoy."
Davenham, Bradbury Court and Perrins House are picturesque care homes situated in beautiful grounds in Malvern, specialising in care for people with dementia, as well as residential care.
Contact us at enquiries@fote.org.uk or call 01905 388 720 for more information about Friends of the Elderly Malvern.
Have you been inspired by Elaine's skydive? Find out how you can fundraise for older people by contacting FundraisingTeam@fote.org.uk or by calling 020 7881 1119.