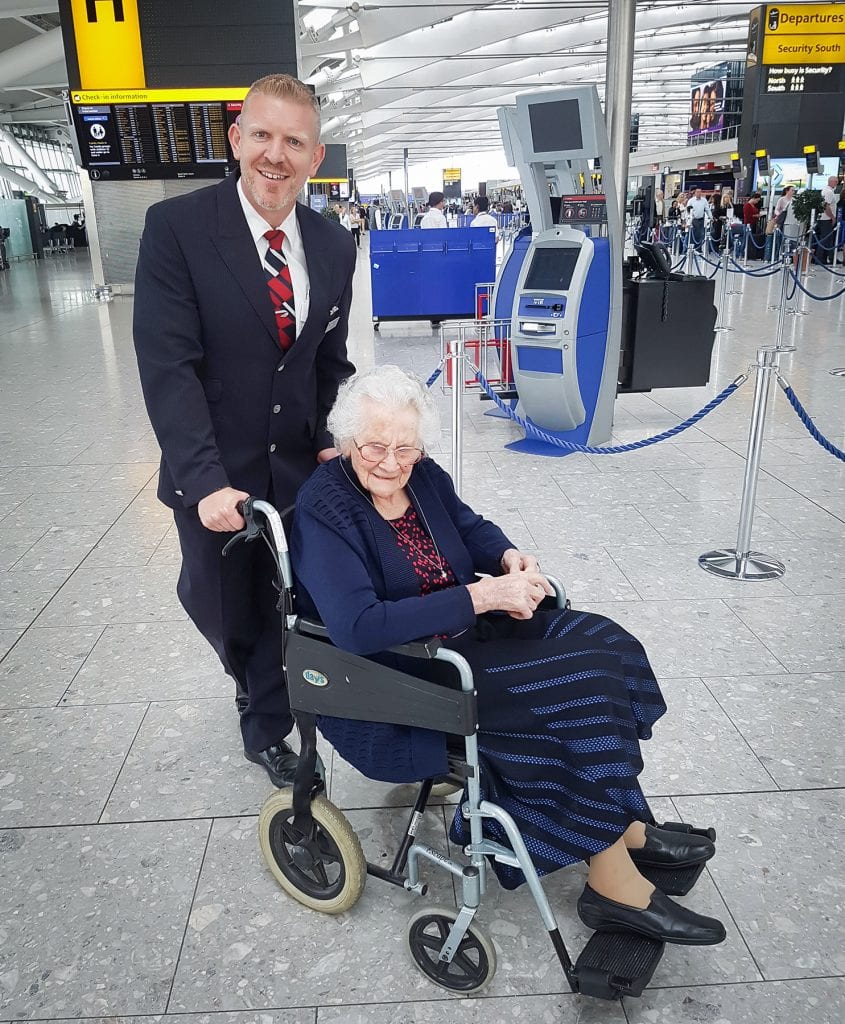 Mary Parsons, a 99-year-old resident at our Davenham care home in Malvern, enjoyed the surprise trip of a lifetime to help British Airways mark its 99th year in the air.
Derek Tennant, a British Airways ambassador, surprised Mary at the home, revealing that he was taking her to Belfast for the weekend to spend time with her family.
Mary grew up in Monaghan, 70 miles south of Belfast, but moved to England when she was 18 years old to become a nurse.
Mary was given the VIP treatment by Derek and was met at the airport by her nephew Ciaran her niece Margaret. Mary said:
"I can't quite believe I went back to Belfast. I never thought I would fly again so to see Derek walk into our home and then my wonderful family at the airport was a truly lovely surprise. It was a fantastic adventure and one I very much enjoyed, I am so grateful to British Airways for making this happen."
Mary was accompanied every step of the way by Ellie Bannister, Activities Coordinator at Davenham, who has become good friends with Mary over the six years she has been working at the home. Ellie said:
"It was absolutely amazing and I'm so glad that I could be a part of the adventure. It was really emotional watching Mary meet her family again. You could just tell by their expressions that they were delighted to see her, and they just couldn't believe that she had flown over to meet them. They shared photos and exchanged memories, it was a beautiful day. British Airways were fantastic, and they made Mary feel incredibly special."
Carolina Martinoli, British Airways' Director of Brand and Customer Experience, said:
"From one 99-year-old to another, we are so pleased we could help Mary get back to Ireland to see her family ahead of her 100th birthday. It's an incredibly exciting time for all of us at British Airways as we look ahead to our centenary and taking the airline into its next chapter."
Watch the video of Mary's trip here.