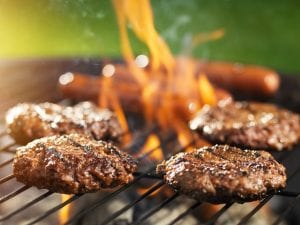 To mark Volunteers' Week (1-7 June), Visiting Friends, a charitable befriending service in Woking, will be hosting a BBQ to thank its volunteers for all their hard work and dedication. The Visiting Friends team would also like to open this invite to anyone in the Woking area who is interested in volunteering with older people. The free BBQ will take place on Saturday 2 June from 12-2pm at the Bradbury Centre, Smiles Place, Lavender Road, Woking, GU22 8BJ.
The service, run by Friends of the Elderly, is seeking new Community Connector volunteers to help encourage older people experiencing loneliness and isolation to reconnect with their communities. Feelings of isolation and loneliness are all too common amongst older people and can often be accelerated due to ill health, lack of mobility and bereavement. It quickly spirals and soon older people can lose their confidence to get out of the house and socialise. This BBQ is a great opportunity for those interested in giving their time to meet other volunteers and to find out more about the service and how they can get involved.
Sandra Smook, Manager of Visiting Friends, said: "We appreciate the work of our volunteers so much – without them we simply wouldn't have a befriending service in Woking. It's wonderful that we can use this BBQ to thank our team of dedicated volunteers who make such a difference to the lives of so many older people in Woking. It would also be wonderful if we are joined by more local people who are interested in starting a volunteer role to help us further expand our service."
To find out how more about becoming a Visiting Friends volunteer, click here.