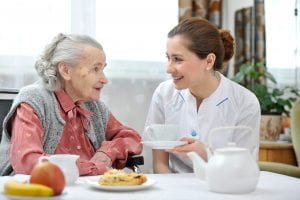 Our Oxfordshire care home dedicated to providing the best possible care for all of its residents, right up until the end of their lives, has been recognised with a 'Good' Care Quality Commission (CQC) report and a major national care award.
The Old Vicarage in Moulsford near Wallingford has recently been inspected by the CQC and has been awarded 'Good' overall and 'Outstanding' in the caring category. The home has also been accredited a platinum Gold Standards Framework recognising its exceptional end of life care. The Old Vicarage provides a range of specialist care services with rooms for residential and nursing care and a dedicated wing for dementia care.
Carol Bourne, Manager at The Old Vicarage, said: "We are delighted to continue to be a 'Good' CQC rated home and I'm over the moon that the inspection highlighted the incredible care delivered by my dedicated team as 'Outstanding'. We are also absolutely thrilled to be presented with platinum Gold Standards Framework. It's an honour to be recognised for the high levels of care we deliver, personalised to each and every resident and their individual requirements, through until the end of life."
The Care Quality Commission is the independent regulator of health and social care in England. It regularly inspects care homes to ensure levels of care are being met. CQC inspect on whether the home is safe, effective, caring, responsive and well-led. The inspectors spend time within the home speaking with staff, residents and relatives and ensure all processes and procedures are being adhered to. One relative told CQC: "This is way more than a nursing home, it's a real home."
Gold Standards Framework Quality Hallmark Awards are presented to homes that demonstrate real improvement in the quality of end of life care they provide. By satisfying the team of expert assessors who visited the home that they were still meeting the necessary 20 quality standards, ranging from leadership and support to dignity and respect, The Old Vicarage has proved that it has embedded all the elements necessary for good care for all of its residents right up until the end of their lives. Homes that demonstrate their credential for the second time are recognised with the Platinum award, as this home has.
Anne Keating, GSF Managing Director, said: "The aim of the Gold Standards Framework is to help care homes ensure they are delivering quality care for all of their residents not just today but for tomorrow and the next day. The Old Vicarage has proved that its commitment to providing personalised, compassionate care is long term and should be congratulated for its efforts."
The Old Vicarage is not just a special place to live, it is also an inspiring place to work. Friends of the Elderly is looking for passionate, dedicated and caring people to join The Old Vicarage team. For more information on the roles available and how to apply, click here.
To find out more about The Old Vicarage, or to book a visit, click here.